If you're reading the title of this post and thinking that a "pore vacuum" sounds rather satisfying then, yes, let me confirm to you that it is every bit as satisfying as it sounds! The No7 Beautiful Skin Pore Vacuum Mask* (RRP €18.25) is a bloody brilliant peel-off face mask that promises to deep-clean the skin and remove excess oils from pores. Just to note, I've actually used up my tube so, stock photos will have to suffice!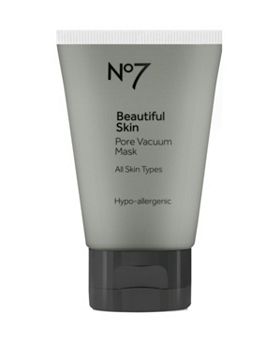 Enriched with sea silt, this purifying clay mask hardens on the skin, forcing pores to open and acting like a magnet to draw out all kinds of blackhead-causing nasties like dirt and oil. While the aim of the mask is, ultimately, to suck the gunk out of your face, it also works to reduce the size of pores and, with prolonged use, regulate the levels of sebum produced in the skin.
I'm lucky enough not to suffer too badly with spots or blackheads so, I only use the Pore Vacuum Mask once per week - No7 suggest twice per week is ideal. After a shower, when my pores are already open from the steam, I apply a generous layer of the mask to clean, dry skin (Top Tip: Use an old flat foundation brush to apply clay masks to ensure an even layer - and clean hands!). It sets fully after 15-20 minutes and is one of those wonderful masks that cracks when you move your skin!
Now comes the fun part! Grab a loose corner of the mask and begin to pull. This does hurt slightly but, is that satisfying type of pain that, in all honesty, makes me feel a tad sadistic! I tend to leave my T-Zone till last and try to whip the mask of in one fluid motion. The result, once all the mask has been peeled off, is absolutely baby soft skin that looks and feels tight and clean. I can't recommend this enough!