This is a scheduled post as I am away on holiday at the moment! I'll reply to any comments, questions or queries when I get back!
It's no secret that I love and adore lipstick. Generally, the brighter the better - I'm all for making a statement. However, I was looking through my make-up drawers recently and realised that I have rather a lot of "wearable" pink-toned lipsticks. I favour these for daytime as they are office appropriate and can bring me from drawn and tired looking to sharp and put together in an instant. For the most part, they are some variation of rose or blush but, I also have a couple of wildcards that I still consider wearable but, just with a little more pizzazz!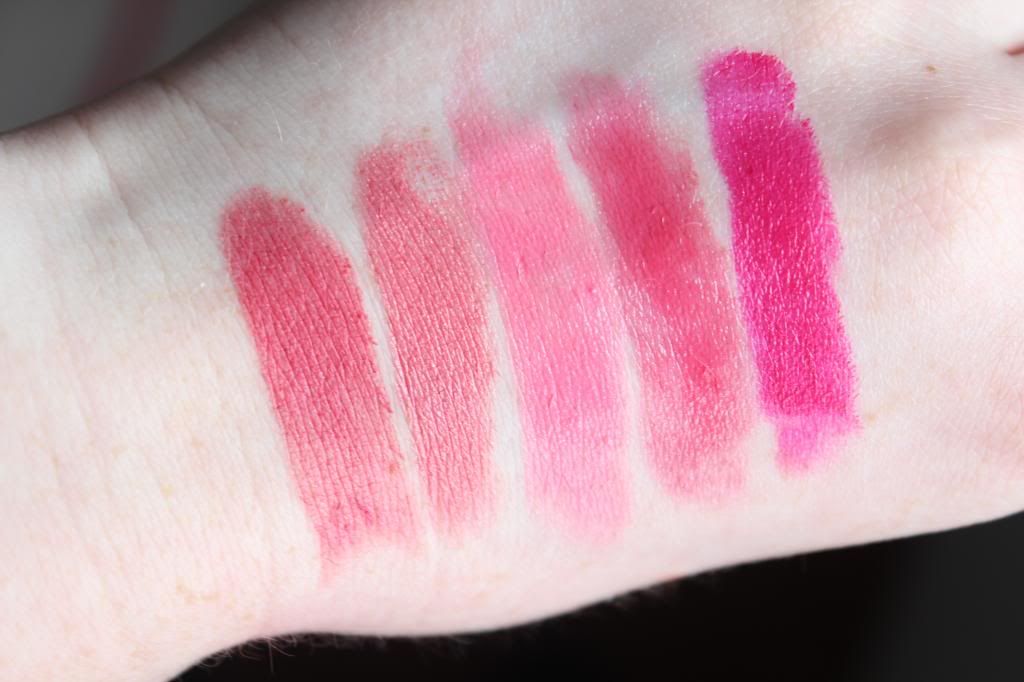 In the rose/blush toned family we have lipsticks from Kiko and No7. Sadly, Kiko is not yet available in Ireland but, I strongly urge you to check it out the next time you are away and spot one. I picked this shade, Bright Pink, up
in Berlin
last December and it has been a staple in my handbag ever since. It is a real "my lips but, better" shade and the dusky rose undertones suit my colouring very well.
From No7 is a beautiful lipstick called Waterlily*. Part of the permanent line of
Moisture Drench lipsticks
, Waterlily was part of the limited edition
Ballerina Beauty
collection earlier this year. It is a really flattering shade that, along with the slightly sheeny formulation, makes lips look very plump and full. Fun fact, I wore this for my recent driving licence photo!
For a bright-but-wearable shade, I picked Lancome Rouge in Love in the shade 345B*. This is very definitely a bright shade, almost neon in some lights but, the Rouge in Love formula is so juicy and glossy looking that it takes a lot of the oomf out of an otherwise in yo' face colour. I have no issue with wearing this in the office and that, for me, is the marker on whether a lippie is "wearable" or not! This is the perfect summer shade and looks amazing with a tan.
Darker pinks don't have to be vampy and sexy and I picked two from my collection that I consider appropriate for everyday wear. From MAC is a gorgeous shade I have
reviewed in depth
before, Lustering. This watermelon pink is really something special and doesn't get enough love online. Slightly darker than my natural lip colour, it instantly brightens my face and makes me look more alive and awake.
Finally, another MAC lippie has made the cut. From their line of Mattene lipsticks is Rare Exotic, a blue-toned raspberry pink. Of all the lipsticks here, it definitely makes the biggest statement but, I think it bridges the gap between subdued and intense lipsticks. This beautiful shade is one I reach for when I have worn very little make-up for the day and need something to jazz myself up. It is bright but, not obnoxiously so, and the only reason I don't wear this in work is because I guzzle water all day long and I would constantly be reapplying it and/or smearing it across my face!
I'd love to know if you have a "wearable pink" lipstick you turn to when you don't want to look over-the-top. I tried to include something for everyone here without having to resort to a tradition nude lipstick! Let me know your favourites!