This is a scheduled post as I am away on holiday at the moment! I'll reply to any comments, questions or queries when I get back!
When the Westernised version of BB creams arrived on the market, I didn't really buy into the hype. I was quite happy using just the Laura Mercier Loose Foundation Powder as my daily base and had heard such mixed reviews about BB creams as a whole that I just wasn't enticed by them. However, after trying (and finishing!) the Vichy Idéalia BB Creme, I fell in love with the light coverage, the insane glow and flawless finish that I felt I just
had
to get my hands on every BB worth its salt! I've picked my top three favourites to give you a brief overview of why I like them and what they do.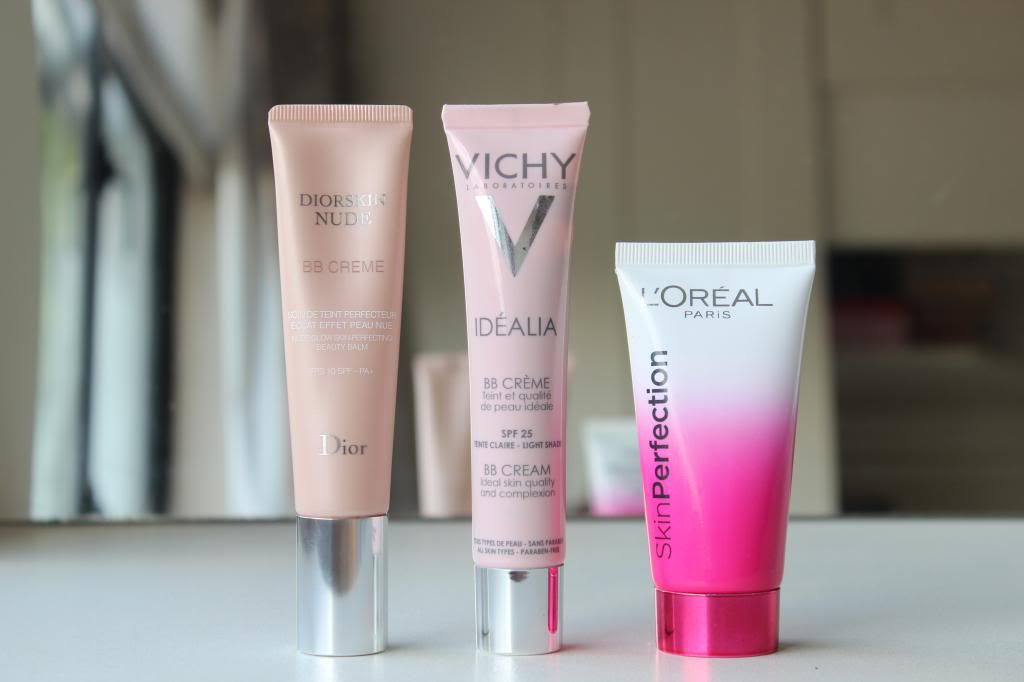 The Fancy One
The
Diorskin Nude BB Cream
is one of the best beauty products I've tried this year and definitely the best BB cream. I have a full review on it
here
but, wanted to review it again in comparison to the other BBs mentioned here and also to give you an update on it a few weeks on.
First off, I still love it. The coverage is perfect for daytime and the luminous finish is ideal for summer. It is incredibly hydrating so, I imagine that this will be an excellent addition to the make-up bag come wintertime. Well, if it lasts that long!
I suppose that's the big update I have; it runs out SO quickly! I bought this tube in mid-July and use only one pump per day, and that's not even everyday! Priced at €41.50, I would hope that it would last a lot longer than two months. It makes it hard to justify repurchasing it because, despite how much I love it and the amazing things it does for my skin, I don't think it's very economical on a cost-per-wear basis!
The Scientific One
Vichy is a brand I have a lot of time for. It, and it's fellow French compatriot La Roche-Posay, put a lot of time into developing great products, at reasonable price points, that actually work. Every single Vichy product has some kind of science, some tangible proof and evidence that it works, behind it and the brand's
Idealia BB Cream
* is no different.
I have reviewed it fully
here
and, having squeezed the last dregs out of the tube, I would just like to inform you that my feelings have not changed. The
anti-grey
technology that Vichy harped on about throughout the launch is absolutely spectacular, eradicating any signs of dullness or tiredness which was a total lifesaver for me when my sleep was interrupted by, well, life! This is almost half the price of the Dior at €23.50 and it is worth every penny.
The Cheap (er!) One
I don't have a lot of time for drugstore/pharmacy foundations and BB creams as they never ever seem to suit my skintone and always oxidise, giving my face a terrible orange cast. So, when I received a sample of L'Oréal's new Skin Perfection BB Cream*, I was mega hesitant to even try it. However, at €19.99, the upper end of the drugstore price scale, I figured it might actually have something in it that makes it worth a higher price point so, took it out for a spin and loved it!
The Skin Perfection line is aimed at women under the age of 35. L'Oréal have acknowledged that, while skin may be youthful, it's not always perfect and they have attempted to rectify this with a line of blurring, smoothing, correcting and perfecting products. The reason the BB cream stood out to me from Day 1 as the only budget BB I like is simple; the lightest shade fits my skintone and the undertone of the cream is neutral so, no massively orange/yellow or pink/red hues. I find that the coverage is great; light yet buildable and love the satiny finish it gives my skin. I brought this to London as a last minute addition to my suitcase and wore it the entire time. It held up perfectly in the heat and I really, really enjoyed using it. While it's not entirely "budget", I think it's definitely worth the extra few quid over some of the other drugstore offerings.
What BB Creams are you loving?