Now, you can take these Splurge/Save posts to mean whatever you like; a subtle message that you don't always have to empty your bank account to get good beauty products, an offering of cheaper alternatives to luxury products or just an honest opinion on two products that do the same thing but, suit different budgets. I intend for it to be the third option; a quick rundown of products that I love and giving you options for how to achieve them.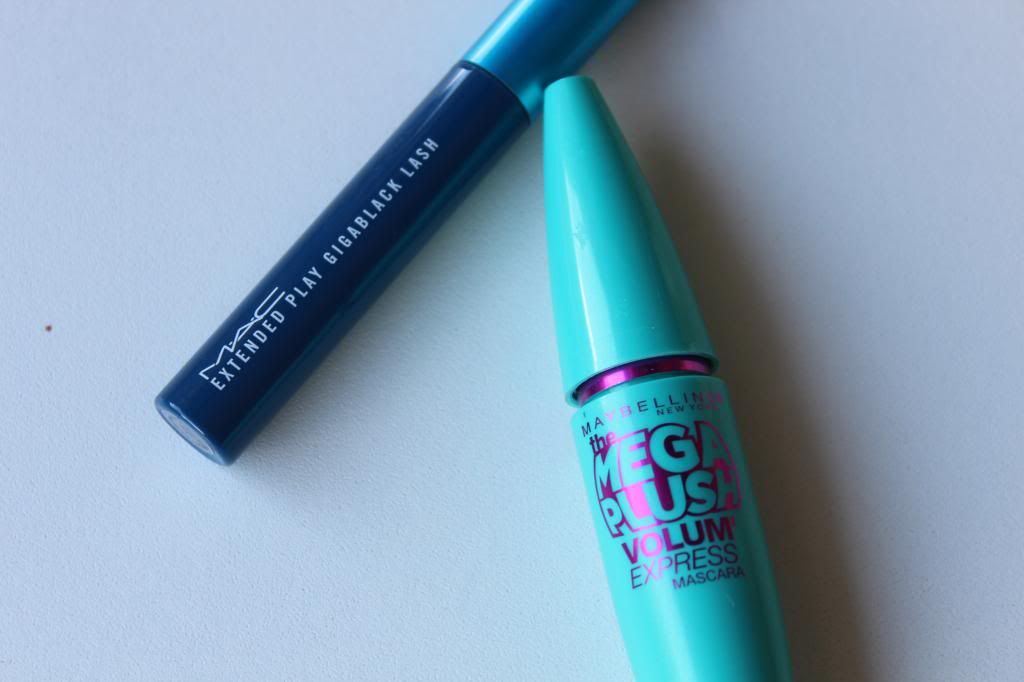 In both of my reviews (linked above) on these products, I noted how full and fluttery yet natural they make my lashes. It's surprising, reading back over those separate reviews, how much my opinions mirrored eachother, especially given how different the formulas and brushes are from eachother. From looking at the wands, you would probably assume that the Maybelline will create thick, slightly clumpy lashes while the MAC will give sharp and spiky lashes but, instead they both create soft looking lashes that frame the eyes.
MAC Extended Play Gigablack Lash will set you back €18.00 while the Maybelline Mega Plush Volum'Express comes in at €11.99 though, it is often on offer in Boots/Superdrug. Formula-wise, I would say that I prefer the gel-mousse hybrid of the Maybelline but, I love the small and precise nature of the MAC brush. Because the Maybelline wand is so obnoxiously huge, I have taken to only using it on the upper lashes and then finishing the lower lashes with the MAC mascara.
If you are looking for a natural-looking mascara, I highly recommend both of these. I would probably be more inclined to repurchase the Maybelline because it has the added benefit of being cheaper while still giving the same results as the MAC and I can deal with cleaning up smudges/taking a few seconds more to get a precise application for the sake of saving €6!