This is a scheduled post as I am away on holiday at the moment! I'll reply to any comments, questions or queries when I get back!
If you have been reading our blog for awhile, you may be aware that I have suffered a lot with eczema. I say "suffered" in the past tense because I have somewhat got it under control thanks to a combination of products (You can let me know if you'd be interested in a post on what I have used to quasi-cure my eczema!). However, it is still prone to intermittent flare-ups. For instance, I have noticed that whenever I have worn tights this summer, my legs are red, inflamed and itchy come evening time, probably as the skin can't breathe. Once this inflammation dies down, the areas of skin where I get eczema remain itchy and end up dry and flaky which leads to more itching, more inflammation and so on; it's a vicious circle.
Because these flare-ups aren't actual eczema but, rather an irritation of a dormant skin condition, I have found that moisturising is the best course of action to take to soothe and rehydrate the area. Many creams work just fine for this but, the one I have been enjoying using the most is the
Lanolips Lovely Lanolin Golden Ointment
(€23.99)*.
Billed as a Super Moisturiser for extremely dry skin, Golden Ointment combines the moisturising action of Lanolin with Manuka Honey and Vitamin E to nourish and sooth dry and irritated skin as well as problem skin issues. Golden Ointment is specifically for larger areas of dry or sore skin and is not intended for use on the lips.
As the Lanolips tagline goes, this is a "very, very rich" ointment that has an extremely thick consistency. The
Lanolin
is the moisturiser as it holds over 200% of its own weight in water and it is also the Lanolin that makes the ointment so rich and thick (and hard to squeeze out of the tube!). The
Manuka Honey
contains an enzyme that produces hydrogen peroxide which acts as an antiseptic and it also promotes rapid healing and soothes inflammation.
Vitamin E
conditions the skin and acts as an antioxidant.
After warming the tube between my hands to help the product squeeze out easier, I apply a very thin layer of Golden Ointment to the areas of eczema that are angry and dry. It is instantaneously soothing - I swear I can feel my skin breathe a sigh of relief! - and as the ointment soaks in, my skin becomes noticeably looser and less taut due to the moisturising capabilities of the product. One or two applications later and the previously dry and flaky skin is no more and most of the redness and itching has subsided. This is a very rich product and it does leave a greasy film on the skin (which I eventually wipe away) so, I wouldn't recommend this for anyone who suffers with oily or congested skin.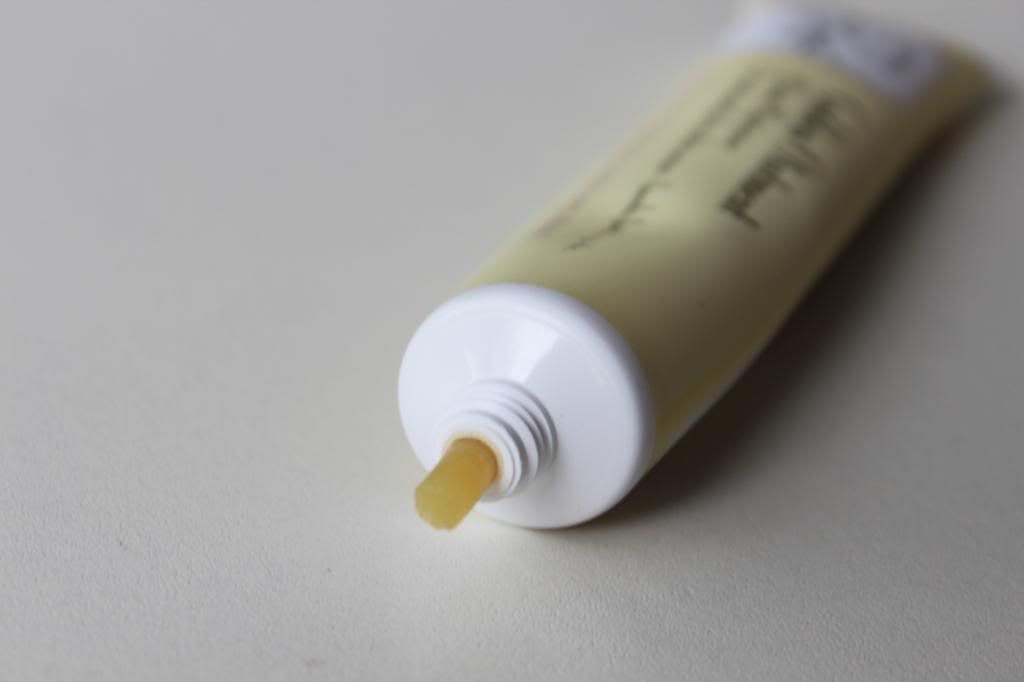 I have taken to carrying the tube around with me in case disaster strikes and I need to take immediate action and I have found it really effective at staving off the worst of an eczema flare-up. I'm sure this could also be used very successfully on very dry elbows, ankles and knees as a pre-tanning treatment and also on generally dry skin and it is one of those multi-purpose products (like
La Roche-Posay Cicaplast Baume B5
) that's just worth having to-hand.