I can't get enough of skincare. I have a whole tower of drawers dedicated to back-up skincare products (
Organised by La Roche-Posay and Vichy, Clarins, Lancome and Philosophy, Miscellaneous in case anyone cares!
) and while I love dipping in and out of these treasure troves, I do have a few staple products in my skincare line-up that I will not be without and have/will repurchase. For some products, I will be as specific as to only repurchase that exact brand and product but, for others, I just know that I always need to have that type of product to hand. So, let me share must-have skincare staples!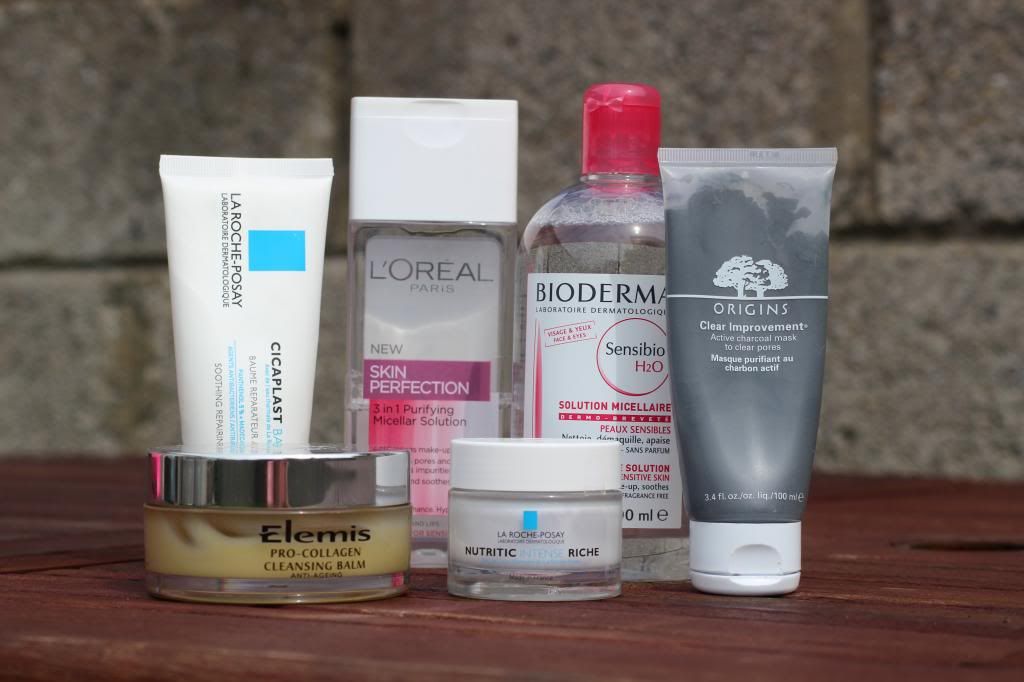 I'm not too fussed about which
micellaire water
I use, I just always have to have one on my bathroom shelf. I have tried ones from L'Oreal, La Roche-Posay, Vichy and, most recently, Bioderma, and they are all on par with eachother; yes, the famed Bioderma is
not
some amazing and revolutionary product! My primary use for micellaire waters is as a pre-cleanse, to remove my make-up or the dirt and grime of the day. I also use it in the mornings to remove any residue from over night treatments before applying my make-up.
I'm getting down to the dregs of the
Elemis Pro-Collagen Cleansing Balm
* and I'm torn between wanting to order another of the same or to try something different and, preferably, cheaper! This is probably the most effective
balm cleanser
I have used; it literally melts everything off, and it is my cleanser formula of choice as I wear a lot of waterproof make-up. If you have any cleansing balm recommendations, do let me know!
Review
I have a lot of faith in
charcoal masks
and charcoal as a happy skin ingredient and the
Origins Clear Improvement Active Charcoal Mask
is the best of them all, in my opinion. I find it to be very effective in drawing impurities out of the skin and tightening the overall appearance of pores to make them less visible. If my skin is very congested, I will use this 1-2 times per week until things start looking clearer and then it could be 2-3 weeks before I use it again. It is my absolute Holy Grail skincare product for times when my skin needs a helping hand and I will not be without it.
Review
Despite having a normal skintype, I am aware that dehydration occurs below the surface so, I always ensure that I have an intensely
hydrating moisturiser
for daily use. I absolutely swear by the
La Roche-Posay Nutritic Intense Riche
and will not be without a jar; it's like the elixir of the Gods for dry or dehydrated skin!
Review
A
multi-purpose
skincare product is always handy to have around and
La Roche-Posay Cicaplast Baume B5
is my personal choice. I think I am on my third tube of this stuff and carry it everywhere with me. It works great for soothing burns and blisters, helps repair and heal chapped skin (including eczema!), can be used as a lip conditioner and even as a deeply hydrating face mask. It was hailed as a wonder product when it was first released and, for me, it still is!
Review
Are there any skincare products that are staples in your bathroom cabinet?