Gosh, it seems like it was a lifetime ago when I was bemoaning the fact that I could not get a concealer that would sit right on my skin! Now, it is one of my beauty obsessions and I am always clamouring to try the next "big thing" in the world of concealers! Having put many different ones through their paces, I thought I would share those that made the cut and that I think are genuinely top notch!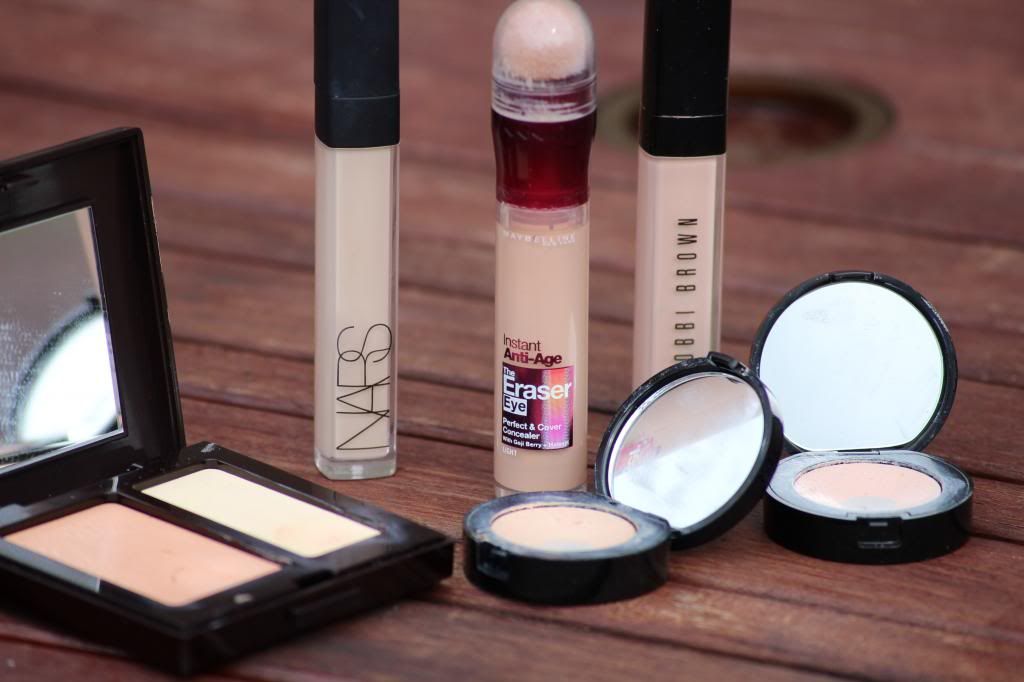 Laura Mercier Secret Camouflage
I have a total love/hate relationship with this particular concealer. It's a really waxy, really heavy coverage duo that comes with one larger salmon pink side and a smaller yellow-toned side. I find it way too heavy for the undereye area; it looks cakey and chalky and feels like it is dragging my eyes down. It is also such a bugbear that the darker shade is the bigger side when, really, us fair skinned ladies need a whole lot of the pale yellow and a lot less salmon. This makes it feel like bad value because I feel like I will never get through the salmon colour! Anyways, I digress. I do, in fact,
love
this concealer for completely covering blemishes, even those massive volcanic eruptions that you feel are visible from outer space! I use a small, pointed brush to mix up the right shade and then pinpoint it on top of the blemish and dab it in with my finger.
Review
NARS Radiant Creamy Concealer
The newest addition to my concealer drawer is the NARS Radiant Creamy Concealer and, hand on heart, I am thoroughly obsessed with it. It it a medium-heavy coverage liquid concealer that is, as the name would suggest, really creamy and it covers everything from the darkest eye bags to the worst spots. The shade selection is really amazing (take note other brands!) and I highly, highly recommend it. There's really not much else to say here except that you must try it!
Maybelline The Eraser*
This particular concealer has been the talk of the interwebs for quite some time now and it's only recently reached our shores. Aside from the massively unhygienic sponge tip applicator, this is a great undereye concealer for days when dark circles aren't too bad and you just want to lighten and brighten the area. At around €11, it won't break the bank and is massively handy for keeping in your handbag for on-the-go touch-ups.
Bobbi Brown Tinted Eye Brightener/Corrector
I have already done a huge, in-depth comparison post of both of these products which I will link below so, I won't rehash that here. However, if have to choose (
please don't make me!
), I would pick the Tinted Eye Brightener as it has a better formula and is more instantly effective than the Corrector. That being said, I recommend both and I feel it will be more a matter of personal preference whether you go for the pot or tube option.
Review
Bobbi Brown Creamy Concealer
This is what I wanted the Laura Mercier Secret Camouflage to be; a medium coverage, malleable and easy to apply cream concealer that will work for both the undereye area and blemishes. I find the finish of this to be the most flawless of all the concealers I have mentioned here and, were it not for the fact that I have so much going on in the concealer department already, I would absolutely 100% repurchase this!
Review
You would think I would be set for concealer for the foreseeable future however, I already know that I want to try the
Hourglass Hidden Corrective Concealer
! I'd love to hear some of your favourite concealers!