This is a scheduled post as I am away on holiday at the moment! I'll reply to any comments, questions or queries when I get
back!
I'm heading off on holiday today and, as usual, I wanted to share what beauty bits I'm bringing with me. I love reading these posts (and hope you do too!) as I think it's a great way to get inspiration for packing wisely and it also provides a look at what products the person can't live without for a few weeks; a skeleton make-up collection of sorts!
As you can probably tell by the title, I'm packing for a multi-part trip. We're starting with a four-day stay in Rome followed by a cruise where we will hop, skip and jump around the boot of Italy and zig-zag across the Adriatic Sea, making stops along the way, and finishing with a night in Venice. The fact that it's a cruise means that you need to be prepared for a number of different occasions; beach, pool, casual, semi-formal and formal, and that somewhat applies to beauty requirements too!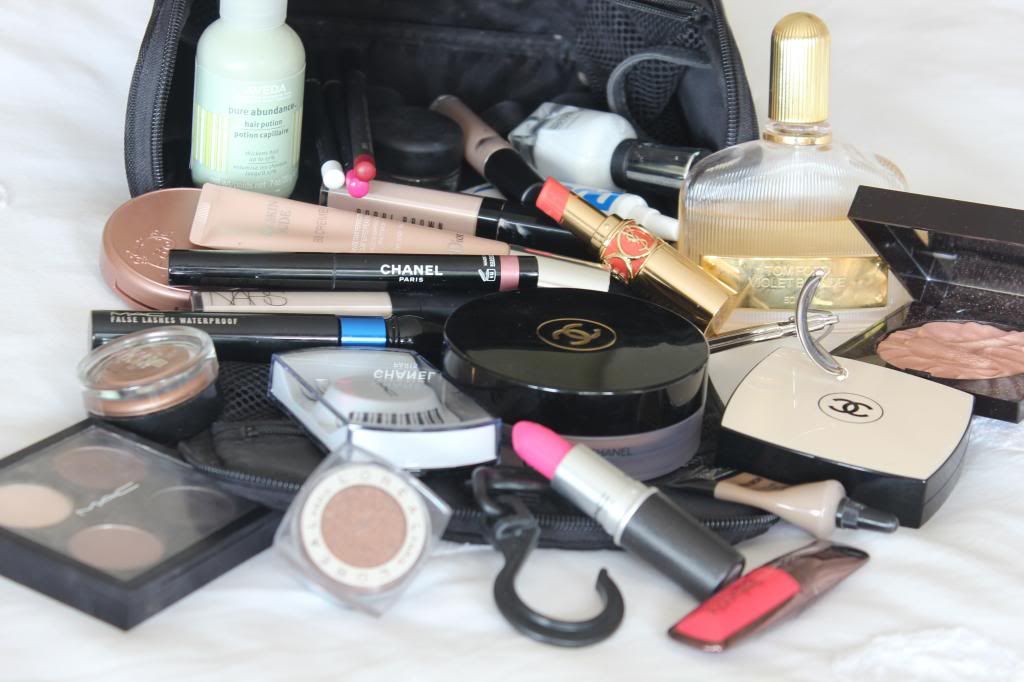 I learned a lot after going on a similar holiday last year and have tried to fine-tune my beauty (and clothes!) packing this year to allow for a more streamlined suitcase. I have already done a City Break version of this post so, have a read of that to get an idea of what products I consider best to withstand a day traipsing around a stinking hot city! I will be substituting some products in; the Diorskin Nude BB Creme and NARS Radiant Creamy Concealer especially but, same principles apply for longwearing, easy going make-up.
For the beach/pool, I might stretch to some eyebrows and mascara at most but, only because I look odd without them! Of course, the MUFE Aqua Brow is top of my list for creating a sharp and sculpted brow that lasts. The current mascara that I'm loving actually happens to be a waterproof one so, that's handy! It is the MAC False Lashes Waterproof* and it gives really full and thick lashes that can be built up for a crazy level of drama or toned down to keep things looking natural.
In terms of my overall make-up "look" for the trip, I like to keep things simple and play up the natural colour - and freckles! - the sun gives me. For this, I cannot be without the
Chanel Soleil Tan de Chanel
which I have mentioned countless times on the blog. To accentuate sunkissed skin and complement the bronzer, I am packing the
Laura Mercier Spellbound Face Illuminator
. Dee told me I
needed
this product and she was 100% right. It is the most beautiful highlighting product I have ever used and instantly adds glow and insane luminosity to the face.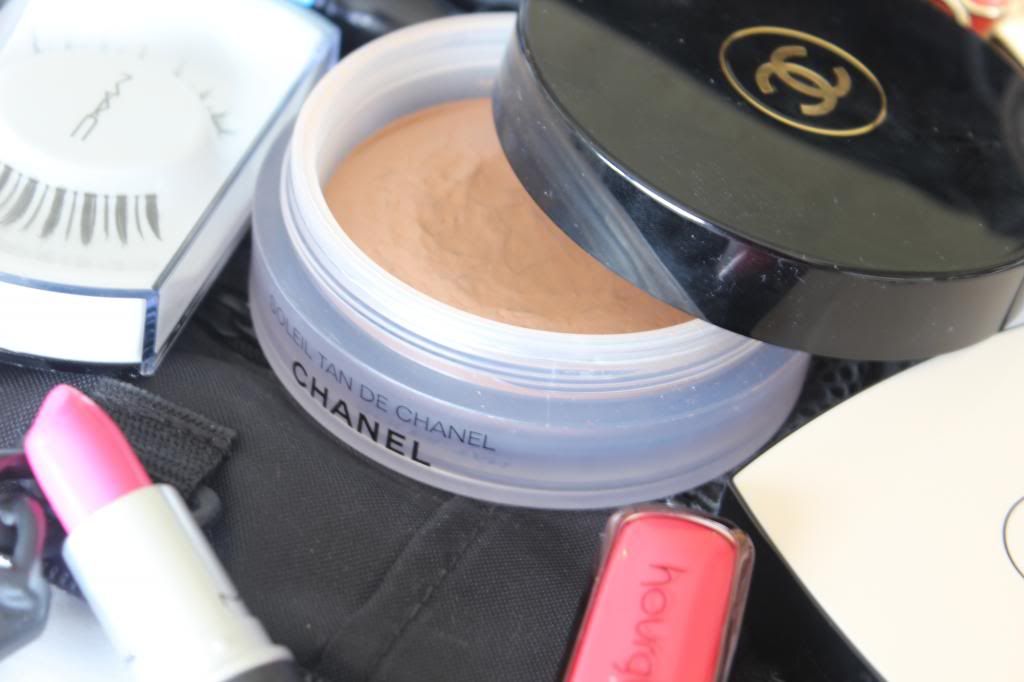 Keeping with the theme of simplicity and not piling make-up on, I will be bringing three brightly coloured lipsticks with me (as well as one neutral shade not pictured) to add a, dare I say it, "pop" of colour to my face *shudders*. The three I have picked are
MAC Silly*, YSL Rouge Volupte in Orange Shiver and Hourglass Muse.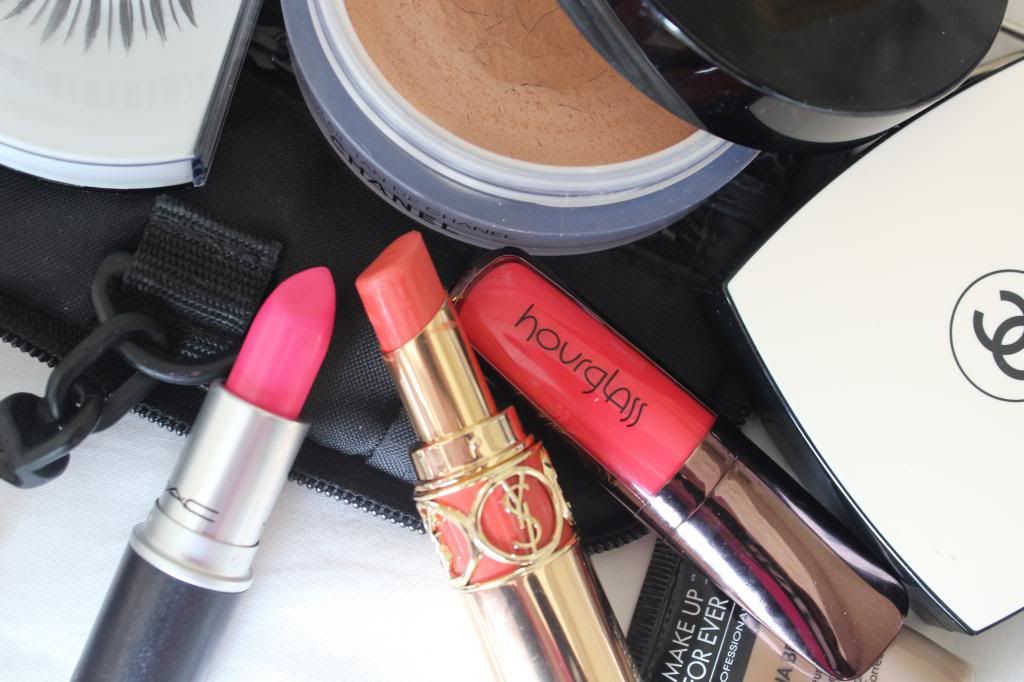 For eyes, I have packed my current favourite combo. It is a simple one - no brushes needed! - and consists of
Maybelline Colour Tattoo in On and On Bronze
with
L'Oreal Infallible Eyeshadow in Bronzed Taupe
packed over the top of it. I have also brought the MAC eyeshadow in Swiss Chocolate to warm up the crease and create a more natural fade to the brow bone. To take my look from beachy casual to something more appropriate for formal evenings, I'm packing some MAC fake eyelashes.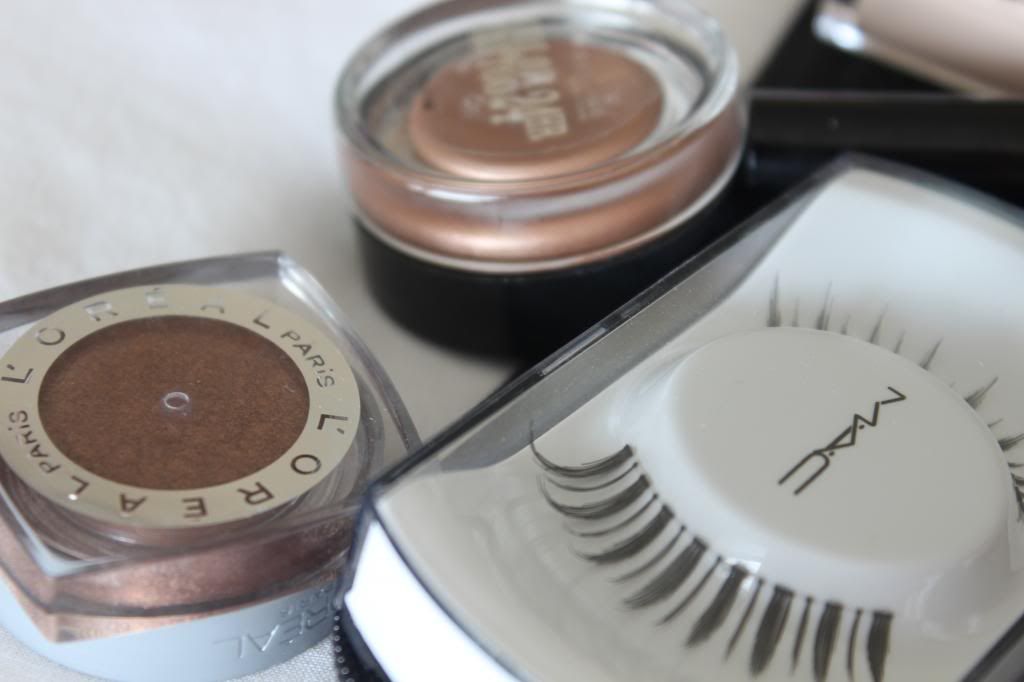 In the top picture, it looks like rather a lot of product but, everything fits comfortably insid
e the Muji travel bag I featured last year
. I get so much use out of this bag and highly recommend it! I suppose my biggest tip for packing for a multi-part trip would be to lay out everything you
want
to bring and then, with a critical eye and ruthless decision-making, begin to cull. I like to try and only bring products and clothes that can be overlapped for different events. For instance, I can formal up my standard make-up by adding some lashes and bright lipstick or I can add heels and a peplum top to a pair of daytime shorts to make it suitable for evening. I find that this keeps the weight of my suitcase down and ensures that everything goes with everything and can be mixed and matched for multiple outfit choices/looks.