It's officially July which means I can technically say that I am going on holiday next month *happy dance*! It also means that it's time for me to share what lovely bits and pieces I am coveting this month. For the first time in a long time, I have a massive beauty wishlist and it must be fate because I am going to London this month with my sisters -
hello Duty Free/Selfridges/Harrods/Space NK beauty counters!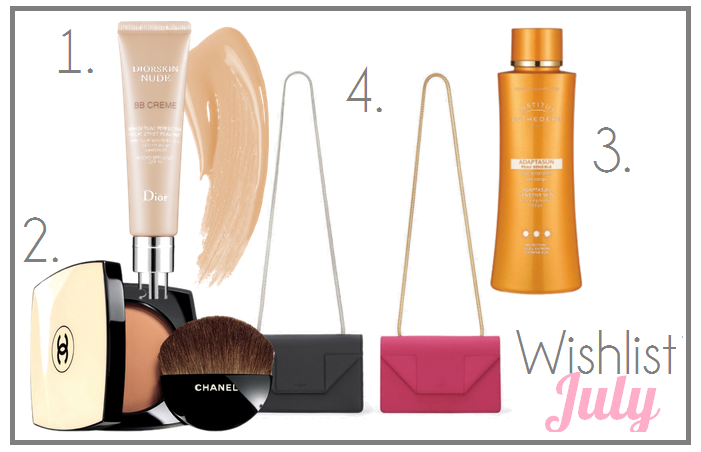 Lisa Eldridge AKA Goddess of Make-Up has sparked a huge interest in the Diorskin Nude BB Cream after posting
this video
. After enjoying the
Vichy Idealia BB Cream
so much and almost coming to the end of the tube, I decided that this would be next base purchase. I have it on good authority from
Sarah
that the lightest shade of the Diorskin Nude is
perfect
for us pale folk. Winning.
The Chanel Les Beiges powder is a rollover from
June's Wishlist
. While I admitted then that it was the beautiful packaging that sucked me in, I have since swatched it multiple times and have all kinds of feelings for it. It is silky, it is smooth, it is illuminating and it makes me excited to buy it and try it!
Last summer I recall reading a lot about the Institut Esthederm sun protection range. The Adaptasun was the product which got the most hype and I'm still intrigued by it. It and its fans maintain that it encourages the skin to self-protect and also increases melanin synthesis to encourage a deeper natural tan. Honestly, it seems like a load of bluff to me and, for €40, I really can't believe it's worth that. However, when has sensible thinking ever ruled a beauty addled mind?! If any of you have tried this, I would love to hear your thoughts.
One non-beauty wish of mine is the Saint Laurent 'Betty' bag (It'll always be YSL to me!). This is a beautiful, structured, medium-sized bag with a long shoulder chain strap. Now, these bags retail for around €1,500 which, at the present time, is not even close to a possibility for me. So, you can imagine how I felt when I saw it on sale in Brown Thomas for circa €650?! It took approximately 2.5 seconds before it sunk in that €650 is also not in my current price range. I was heartbroken! For now, I will just lust from afar!
What are you coveting this July?!