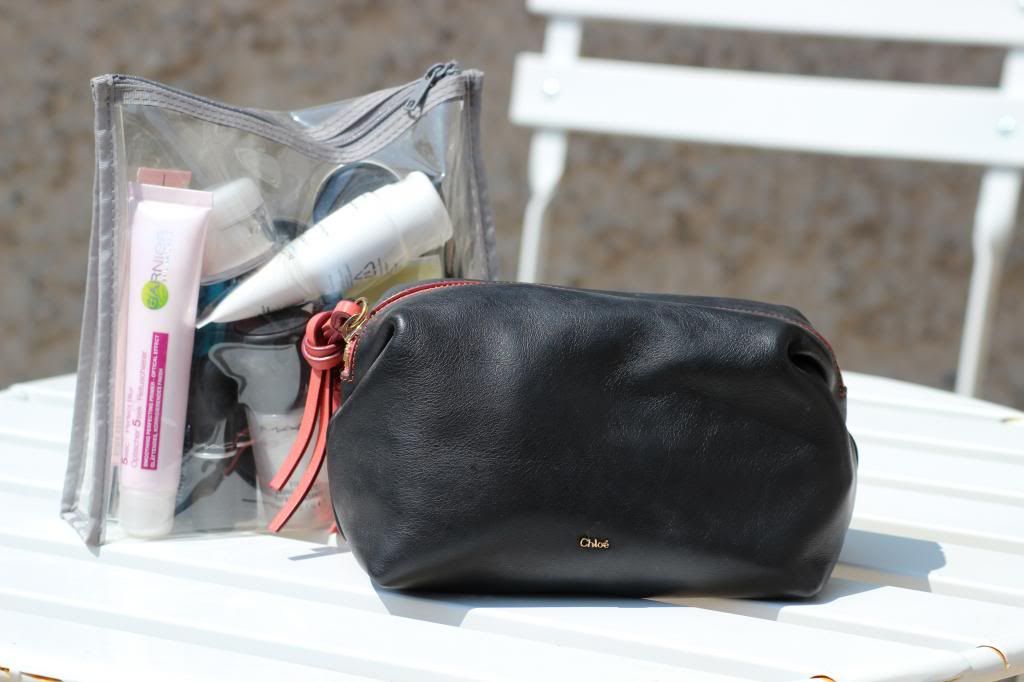 I'm off to London today on a rather impromptu trip with my sisters. London is one of my favourite places and I had been craving a visit since the beginning of the year so, when my mam offered to send my sisters and I on a girlie weekend, I obviously jumped at the chance and feel so lucky and excited to be going back!
We're really testing ourselves and only bringing hand luggage. Clothing-wise, this doesn't bother me but, when it comes to editing down my beauty bits into things less that 100ml, that poses more of a challenge! I hate to overpack so, I have put some conscious effort into deciding what I will bring so that I am covered for all eventualities.
For me, packing beauty for a city break is about two things; longwearing products and day-to-night looks. When you spend 12+ hours walking around a city, you want your make-up to withstand the heat, sweat, air conditioning and odd rain shower as you won't always have time to nip back to the hotel to touch up. Similarly, I like to bring products that can easily be transitioned from day-to-night with just a slick of a different lipstick or a darker eyeshadow in the crease. Time is of the essence when you are visiting a city for a few days so, keep things simple for yourself and don't waste time faffing about redoing your make-up multiple times a day!
Obviously, all liquids have to be under 100ml and put through separately in a regulation-sized, clear bag. I showed this Muji bag last summer (post
here
) and it has been great to have it on-hand for trips abroad; no last minute scrambling for a Ziploc the morning of your flight! In here I keep my skincare and all liquid/cream/gel make-up products. (
No matter where I go, I always just buy shampoo, conditioner and shower gel when I arrive to save on precious weight and space going over.
)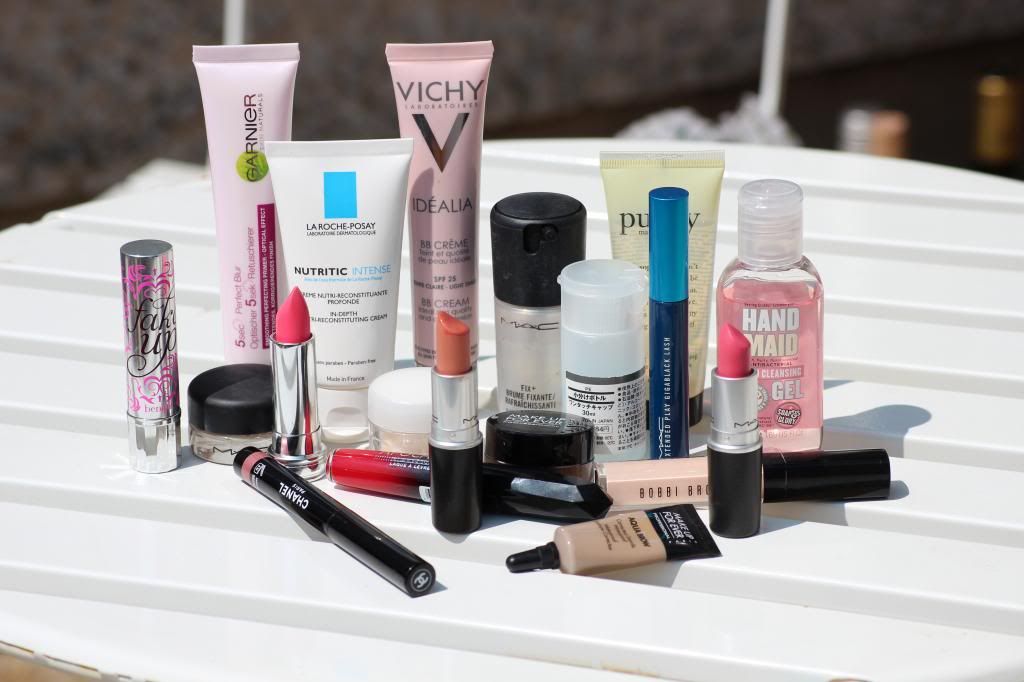 In my liquids bag I have the bulk of my make-up and skincare products;
Philosophy Purity Cleanser
Garnier bi-phase eye make-up remover decanted into a 20ml Muji bottle
MAC Fix+
La Roche-Posay Nutric Intense Moisturiser* (Review)
Soap & Glory Hand Maid Hand Sanitizer
Garnier Perfect Blur Primer*
Vichy Idealia BB Creme* (Review)
Benefit Fake-Up Concealer* (Review)
Bobbi Brown Tinted Eye Brightener* (Review)
Rimmel Apocalips - Big Bang*
MAC Lipsticks - Impassioned and Shy Girl
Lancome Rouge in Love Lipstick - Rose Flaneuse*
Make Up Forever Aqua Brow*
Make Up Forever Aqua Cream - #15*
MAC Paint Pot in Painterly
Chanel Stylo Eye shadow - Pink Lagoon* (Review)
MAC Extended Play Gigablack Lash* (Review)
For all other cosmetics I will pack them in my carry on suitcase in this super handy Chloé make-up bag that I got for a steal at the Christmas sales and have gotten so much use out of! Considering that the most of my beauty booty is in the clear bag, this pouch just contains some powder products and my make-up brushes.
Tarte Amazonian Clay Blushes in Exposed (Review)
Tom Ford Cheek Colour - Flush (Review)
Vichy Dermablend Powder (Review)
MAC DIY Quad - Vanilla, Wedge, Swiss Chocolate and Embark
MAC Veluxe Pearlfusion Eyeshadow Quad - Smokeluxe* (Review)
Burberry Sheer Eyeshadow - Taupe Brown (Review)
Clarins Bronzing Duo* (Review)
Assorted lip pencils and eye liners from MAC, NARS and Avon.
While it might look like a lot of stuff, I'm actually quite pleased with this line-up. It fits comfortably into two small-ish bags, gives me options - which every beauty obsessive knows is paramount - without going overboard and will easily take me from day-to-night with just a change-up of blush, lipstick or eyeshadow.