Well, would you look at that, we've reached the halfway point of the year! Hope you're all doing well?
May was a manic month for me. Work was busy and there was a lot of blog/magazine stuff to do in my spare time so, it felt like I didn't have a free second! I was also up to ninety preparing for my driving test which, after being too scared to sit for a very long time, I bit the bullet, dealt with my nerves and...
I PASSED!
Honestly, it's one of those things that hung over me for so long and that I built up to be something more than it was, it feels amazing to have finally passed!
I also actually got something from my wishlist for once! You might remember that I listed the orange Michael Kors Selma bag as one of my lust-haves for May and, well, after a massive search, one came back in-stock on Net-A-Porter and I was able to treat myself with some birthday money I had been saving. It's a beautiful bag and I find myself wanting it in another shade! Here's a look at what I'm wishing for this month...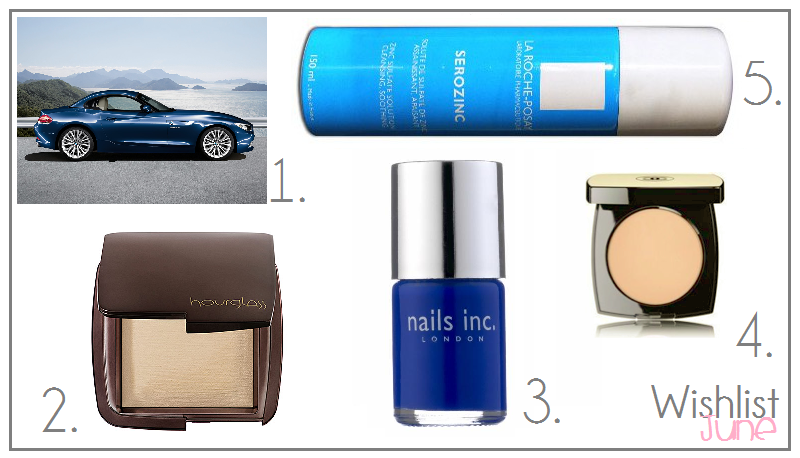 1. BMW Z4...I wish! // 2. Hourglass Ambient Lighting Powder // 3. Nails Inc Baker Street // 4. Chanel Les Beiges // 5. La Roche-Posay Serozinc
Perhaps predictably, I want a car of my own! It's not practical, feasible or cheap but, I love the freedom being able to drive gives and would love to have my own set of wheels at some point. If I was rich, maybe a Range Rover, Audi TT or BMW Z4 but, realistically, I'd be looking at maybe a Fiat 500 or a Peugeot 207...something small and nippy!
Beauty-wise, I have my eye on the Chanel Les Beiges pressed powder. Everyone who has tried it seems to love it and, while I am still loving the Vichy Dermablend, I am intrigued to see how amazing Les Beiges is said to be. It could also just be the pretty packaging that has sucked me in...!
Another powder I really want to try is the Hourglass Ambient Lighting Powder. It's not so much for setting or mattifying make-up but, for giving skin a luminous, lit-from-within appearance. I am actually, very unexpectedly, off to London next month for a girls weekend with my sisters and cannot wait to check out this out at the Hourglass counter in Space NK. Any other recommendations, let me know!
Nails Inc Baker Street is a nail polish that has been in the back of my mind since it became widely known as "Beyoncé Blue" as she wore it shortly after having her daughter Blue Ivy. While I am a
massive
Beyoncé fan, it was the bright, true blue shade that sucked me in and has made me want it ever since. It seems like the perfect alternative to summer pastels.
Finally, La Roche-Posay Serozinc has been sitting at the top of my skincare wishlist since Caroline Hirons raved about it
here
. Sadly, it doesn't seem to be available outside of France but, as far as I understand, it is a hydrating toner, particularly suited to oily and blemish-prone skin, of which I have neither but, that doesn't stop me wanting to get my paws on a bottle!