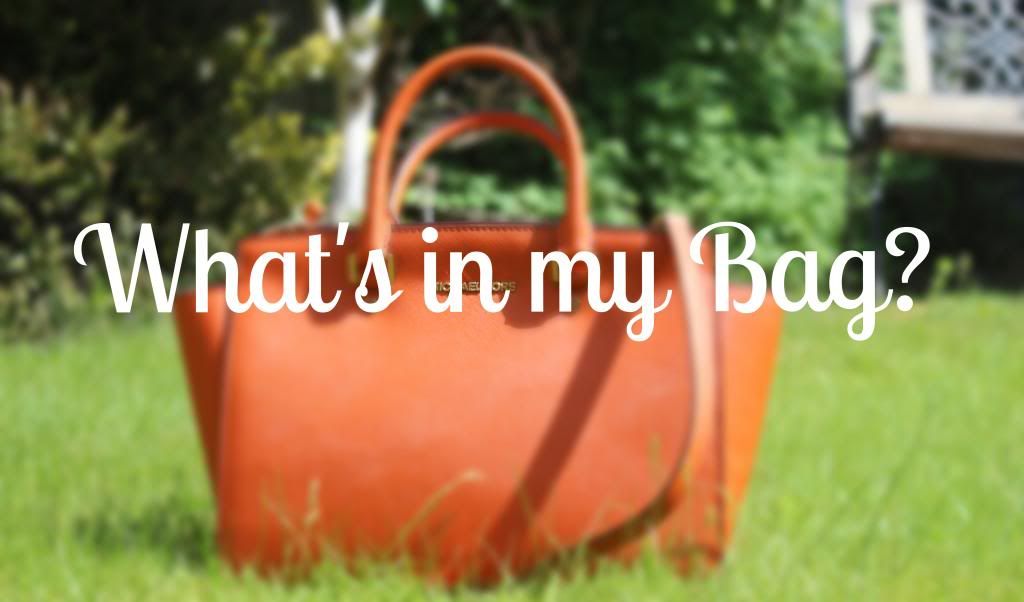 I don't even remember the last time I did a what's in my bag style post so, I figured it was well overdue! I love these types of posts/videos and have a sneaking suspicion many of you do too so, I decided to take a break from the norm and give you a glance at what I carry as well as a mini review on a bag I know is quite popular.
I tend to keep my handbags quite clean and clutter-free so that I can easily see what's inside. I am a big fan of pouches and pockets for organising the contents of my bags and heartily recommend checking out Muji for some durable pouches in loads of different sizes. Luckily, this bag has more pockets than even I need so, I don't have to jam it full of loads of separate organisers!
A bit on the bag I am currently carrying, the Michael Kors Selma. This bag haunted me for months (I even Wishlisted it
here
) and, along with my friend
Simone
, I fantasized about getting the bright orange shade for summer. As far as I know, it was a limited edition colour and wasn't stocked at any local Michael Kors stockists or on most websites. I eventually found it one day on Net-A-Porter and snapped it up using the birthday money I'd been saving for a special purchase. It must have been meant to be because it was sold out the next day when my mam went looking for it!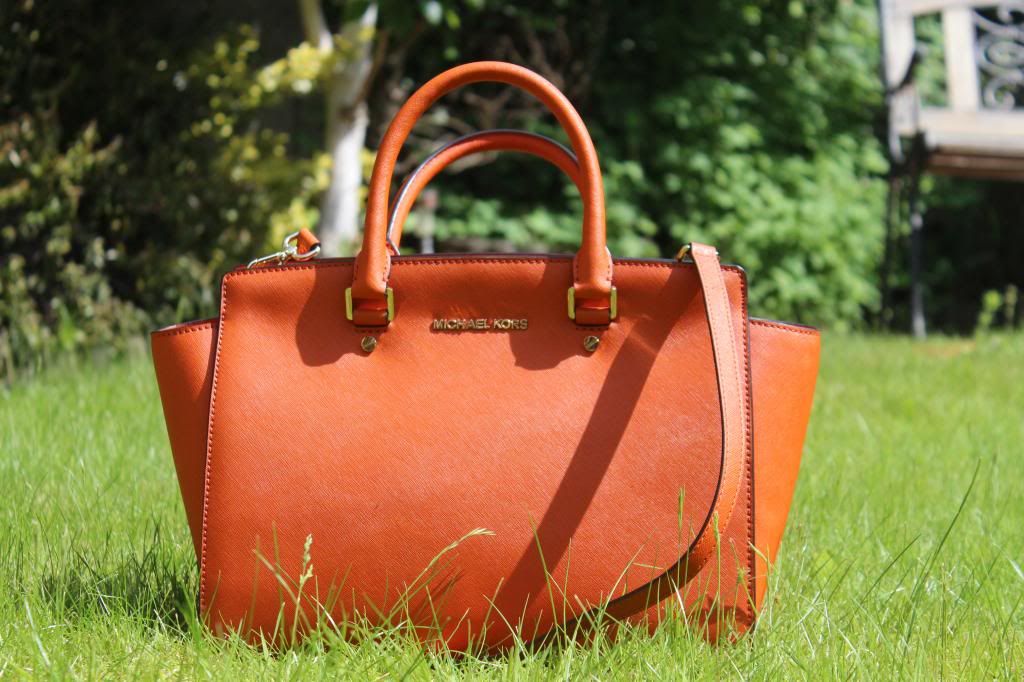 It is one of the smaller bags I own and is very structured. If you follow me on Instagram, you'll have probably seen the bag I was carrying at the start of this year, the Anya Hindmarch Pimlico, in some outfit posts and will understand what I mean when I say I had to downsize everything massively for the Selma! The Pimlico is a massive bag by all accounts and, while I love it, it became very easy to overstuff and overpack it so, it's refreshing not to have a load of unnecessary junk loitering in my handbag!
I don't buy new handbags very often as I generally save up my money from birthdays/Christmas to do so. After much thought and debate (Simone will verify!) I took the plunge and, without a shadow of a doubt, I definitely recommend the Michael Kors Selma. As bags go, it's not cheap but, it's also not the most expensive out there and, as it is the perfect size, shape and build for a day-to-day bag, you would definitely get the use out of it. The quality is really amazing and the structured nature of the bag makes it really durable. If money was no object, I would love the white one...or the emerald green shade...!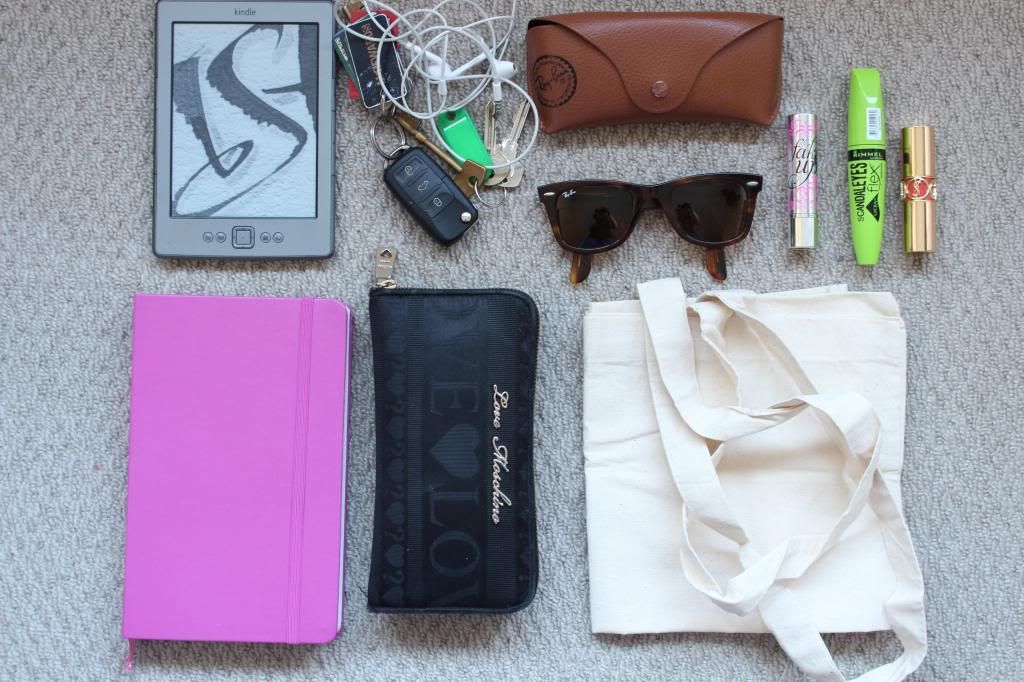 My purse is a very old one from Love Moschino and, as I mentioned in my
March Wishlist
, I am in the market for a new one; preferably one that is small and not frayed!! Next to my purse is a Moleskine diary. I have multiple Moleskines on the go at any one time and, while I do recommend them, I think my 2014 diary will have to be the small size as this takes up too much room and weighs a tonne.
The sunglasses I carry are the Ray Ban Wayfarers along with some spare contacts. I wear glasses 95% of the time but, on the off-chance the sun makes an appearance, I like to be able to put my sunnies on and still see where I'm going!
I can't be without my Kindle and use it everyday. I'm currently reading the Mortal Instruments series which, honestly, is total drivel but, I have a strange love for dystopian teen series' so, I'm kind of loving how bad this is! Any book recommendations, please send them my way! If anyone cares, my ultimate book suggestion for 2013 thusfar is
The Art of Fielding
by Chad Harbach.
I keep make-up to a minimum in this bag. I have come to realise that I am just not one of those girls who touches up throughout the day and lugging around a million different products "just in case" is just silly! At the moment, I have Nuxe Reve de Miel lipbalm which isn't pictured as my mother "borrowed" it, a YSL Rouge Volupte in
Orange Shiver
, the new Rimmel Scandal'Eyes Lycra Flex Mascara which I am currently trialling and
Benefit Fake Up
concealer.
Finally, I have my keys which usually hang on the little leather lanyard that is attached to the bag's interior, a tangled mass of earphones and, also, a little canvas shopper that I use instead of buying plastic bags each time I go to the supermarket.
I'm quite pleased with how streamlined I have kept this bag considering my previous bags have been a total mélange of notebooks, make-up, receipts and chewing gum wrappers! I hope you enjoyed this slightly different post today and, if not, normal service will resume tomorrow! If you have a what's in my bag post/video, do link it below as I love them!