Everyone and their mother seems to have reviewed the new Real Techniques Duo-Fiber Collection* (€27.99) so, I wasn't sure if I was going to add my thoughts to the pile. However, after giving them a thorough trial run, I decided I had enough different points to make another review somewhat worthwhile!
You all know Dee and I, as well as most of the beauty world, have a huge love for Real Techniques brushes. Developed by Samantha Chapman, one half of YouTube beauty cornerstones Pixiwoo, Real Techniques brushes are high quality without a high price tag and we quite often rate them above more expensive brushes like MAC. The Duo-Fiber (It is
killing
everytime I write fib
er
instead of fib
re!
) Collection is limited edition and features a trio of brushes; the Duo-Fibre Face Brush, Duo-Fibre Contour Brush and Duo-Fibre Eye Brush.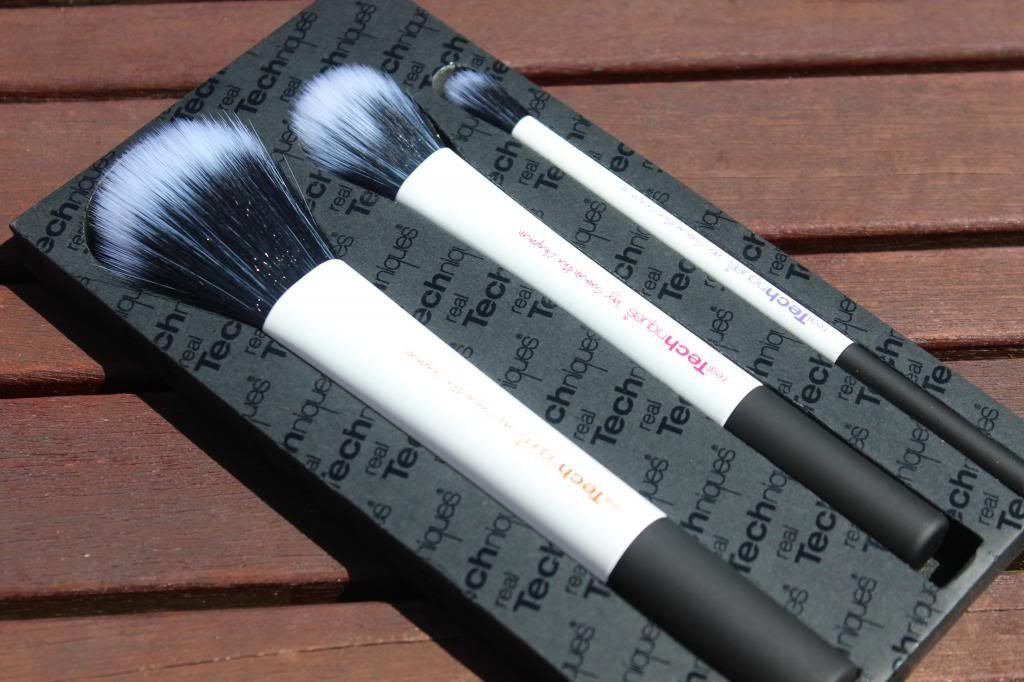 While I understand that the brushes are made of all-synthetic taklon fibres, the Limited Edition set don't feel as soft or as good quality as the existing brushes in the permanent line-up. It's hard to differentiate but, I think it's the white bristles that feel a touch scratchy and almost plastic which was a surprise to me. It's not enough to put me off using them, I do so daily but, it is a notable difference from the usual superb quality.
I absolutely love the white handles; they look sleek and new and stand out from my brush collection. I can also tell a massive difference in the weight and feel of the brushes. The handles are extended in length and are made of aluminium which feels notably lighter in the hand.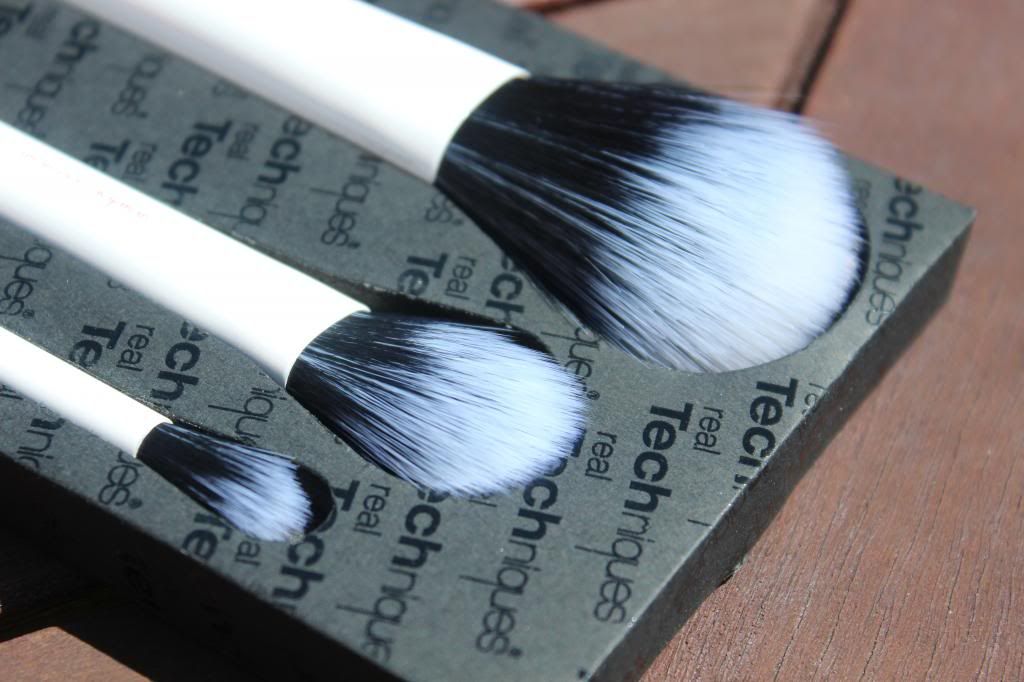 One of the consistent strains of feedback about the brushes when they first launched was that the names, or rather uses, that were printed on the handles were misleading and unnecessary so, I am quite surprised that they chose to continue in this vein for future releases.
In terms of the brushes themselves, I particularly like the large Face Brush. It works beautifully with my setting powder, Vichy Dermablend, and deposits just the right amount of product to set my make-up without making it look matte or flat. The Contour Brush, as with its predecessor in the Core Collection, is poorly named and/or poorly shaped for such a task. It is too flat and not dense enough to give a good chiseled cheekbone but, it works wonderfully for setting the undereye area and also for powder highlighter. Finally, the Eye Brush. Probably the throwaway brush of the three (there's always one!) but, I have found it quite good for blending out the crease and it is not dissimilar to the MAC 286 (though lacking the same quality unfortunately!)
The Real Techniques Duo-Fiber Collection is available for one year and is available from
Cloud10Beauty
.