I've been having a bit of a moment with fake tan. It's a complete 180 but, I'm loving being bronzed and healthy-not-ghostly looking! Not loving the maintenance so much but, hey, can't have it all!
My current tanning regime consists of one coat of Cocoa Brown 1-Hour tan left on for, err, two hours and then following up every second to third night with a layer of Karora Gradual Bronzing Moisturiser (RRP €14.99)* which, incidentally, will be the subject of today's post.
As with most self-tanning moisturisers, this is a light cream formula that gives skin a very faint golden glow. It dries quickly, has no lingering scent and contains SPF 15 which is always an added bonus! From a composition point-of-view it is entirely
organic and natural; free from parabens, chemicals, artificial fragrances and dyes.
The reasons that I like it are these; it isn't olive or orange-toned but, rather golden; it prolongs the life of my Cocoa Brown tan, meaning that one application still looks good after a week; it is surprisingly hydrating which is rare for these tan-moisturiser hybrids and I kinda wish Karora would release a non-tinted version for everyday use; the SPF15 means that, on the off-chance the Irish sun makes a surprise appearance, you don't have to worry about instantly burning to a crisp.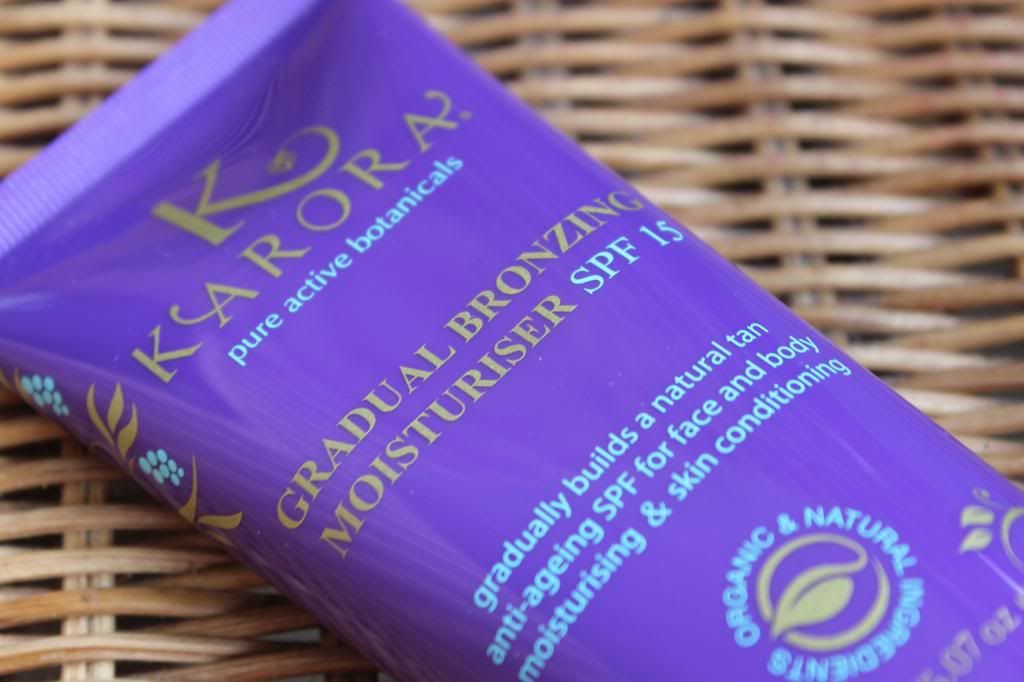 I have used it alone and don't care for it as much that way. Perhaps in the winter the slight glow will be sufficient but, in summer, I like to be as dark as looks natural to make the most of dresses, shorts etc. The only downside to this product is the price. Cocoa Brown, a brand ya'll know I love, comes in the better side of a tenner and packs a lot more punch than the Karora offering which is verging on expensive. The products work beautifully together but, independently, I don't think the
Karora Gradual Bronzing Moisturiser is worth shelling out for if you have found a cheaper tan-moisturiser hybrid that works for you. FYI I haven't!