Would you believe we have had close to 10 days of hot and sunny weather here in Dublin? While that may not seem like anything special to those of you lucky to live in warmer climates, here it is definitely a cause for celebration! And, with the change in weather comes a change in beauty wardrobe. Gone are the full-coverage foundations and heavy powders, at the moment I'm all about bronzed and glowy, light and natural!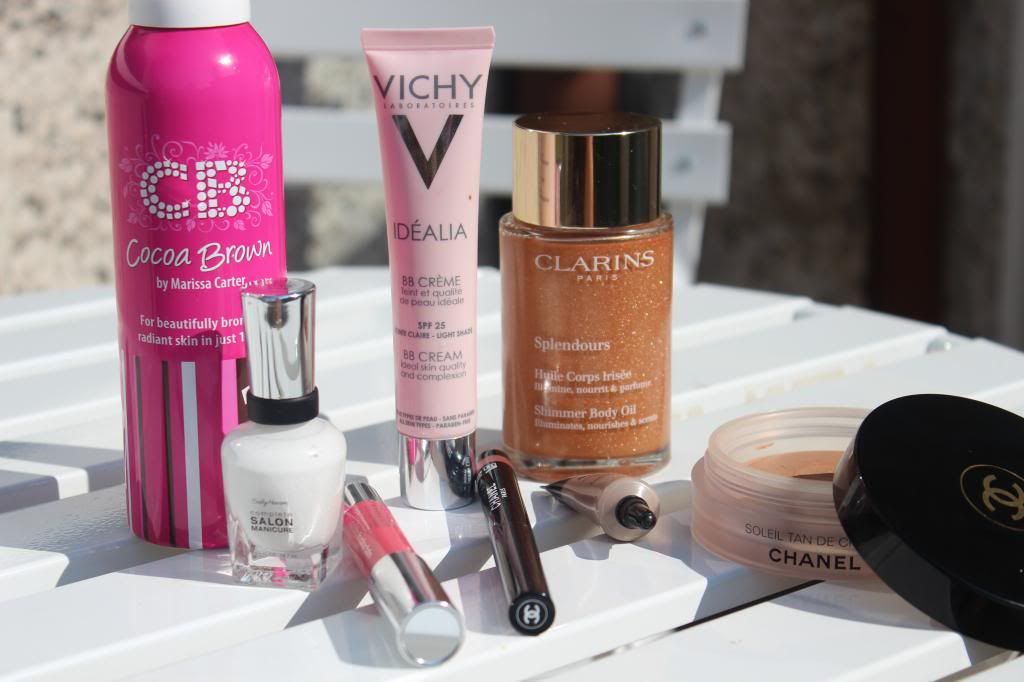 I won't get into too much detail about this as I have a full review here. However, I am still obsessed with this as the perfect tan for pale skin. The 1 hour developing time is perfect for last minute BBQ invites while the natural colour doesn't make it too obvious that you've been hitting the tanning bottle!
Clarins Splendours Shimmer Body Oil*
This is a surprise favourite for me. This shimmering body oil was released with the brand's summer collection and I kind of have it a "for the person who has everything" status. However, going to a BBQ over the weekend, I decided to apply it over my tan and fell in love! The shimmer is subtle and the bronzing effect is minimal but, just enough, making it perfect for those of you who are embracing the pale this summer.
Chanel Soleil Tan de Chanel*
Again, another product I have reviewed before so, I won't repeat myself except to say that, I love this product. Used with a MAC 182 kabuki brush and applied around the cheekbones, temples and bridge of the nose, it gives a gorgeous and sunkissed look to even the palest of skins.
I'm still so thrilled to have found a BB cream that works for my naturally pale skintone! I have used the Vichy Idealia BB Creme exclusively since I received it to trial and get so many compliments on how nice my skin looks when I am wearing it. The coverage is light but, buildable and a little goes a long way. For this summerier weather, I have only been applying it where needed; around the nose and across my cheekbones, and this creates a very natural, healthy and close to flawless complexion. Full review here.
Clinique Chubby Stick - Mighty Mimosa
I found this little beauty languishing at the end of a handbag from last summer and instantly remembered how much I loved it; don't you just love when that happens? Might Mimosa is a juicy pink-peach shade that instantly adds light and life to even the most unmade-up face! As the Chubby Sticks are much lighter in coverage than a lipstick, it feels like they are more appropriate to use when the sun shines!
Chanel Stylo Eyeshadow - Pink Lagoon*
I reviewed this shade of Chanel Stylo Eyeshadow a couple of weeks ago and, while I loved the formula, I couldn't get the orange undertones to work with my naturally pink toned skin. However, with a layer of Cocoa Brown on, I felt inspired to revisit it and OMG I love it! It makes such a beautiful glossy and shimmery pink lid and, when paired with a chocolate brown in the crease, it leads to the most perfect eye look!
Make-Up Forever Aqua Brow*
Another relatively new addition to my daily make-up routine but, Make-Up Forever Aqua Brow has become a fast staple in my eyes. Dee and I have a joint review of this product coming up so, I won't share too much except to say that it withstands everything from sweat to suncream top ups and I will never, ever, ever be without it!
Sally Hansen - Ivory Skull*
Something came over me late last week and I painted my toe nails white. Usually I hate white polish, feeling like it looks grubby and streaky, however, Sally Hansen Ivory Skull has a really opaque formula that leads to toes that look bright and fresh and clean. I have a feeling I'll be rocking this all summer long!