Having reviewed the L'Oréal Skin Perfection line for
Dry and Sensitive skin
earlier this week, I'm back today with a look at the products aimed at Dull Skin. Just to recap, Skin Perfection is an edit of nine innovative cleansing products that are formulated to remove make-up and impurities while also improving the appearance and texture of the skin. The range is broken down into three categories; Dry and Sensitive Skin, Normal to Combination Skin and Dull Skin, each containing products specifically targeted at the issues associated with each skin type.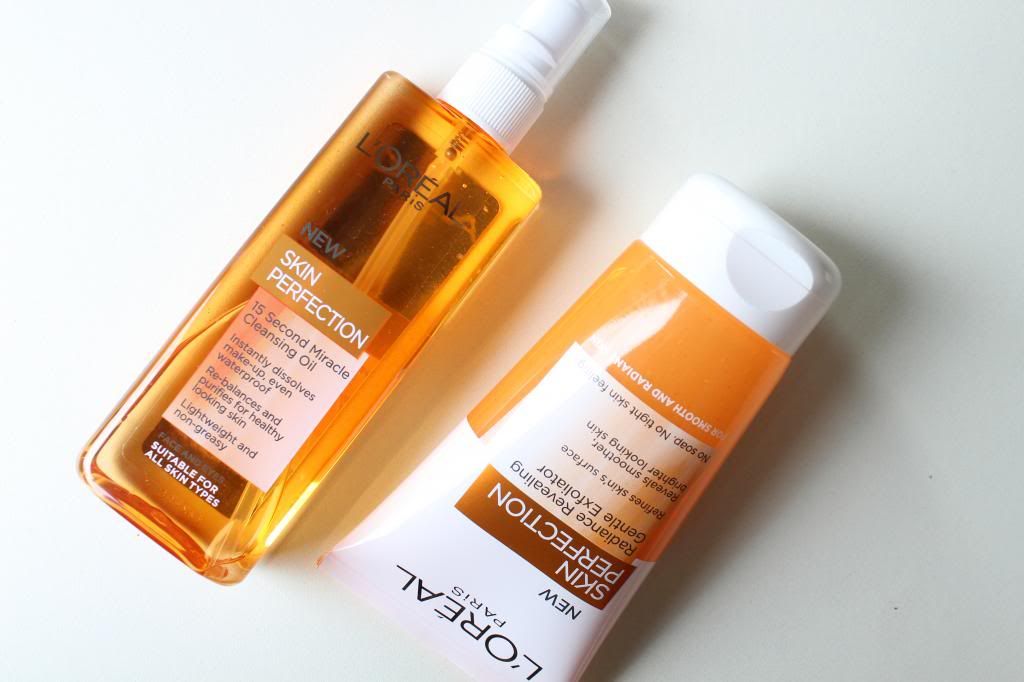 As with the Dry and Sensitive Skin range, L'Oréal are boasting about a special ingredient which is targeted at Dull Skin. LHA, or Lipo-Hydroxy Acid, is intended to exfoliate the skin, promoting epidermal cell renewal and revealing a more radiant and even complexion. Again, as with the Dry and Sensitive Skin range, this "special" ingredient is only actually contained in one of the products for Dull Skin, the Radiance Revealing Exfoliator (RRP €6.99)*, which poses the question as to why the 15-Second Miracle Cleansing Oil (RRP €12.29)* is billed as being appropriate for this specific skintype.
Now, I really, really like the Radiance Revealing Exfoliator. It isn't particularly harsh and doesn't leave my skin in anyway tender or red as many exfoliators do. I use around a pea-sized amount with warm water and massage the mixture into my skin, concentrating on my nose and chin, where my skin often looks tired and grey. I don't find the product to be at all stripping which is a massive plus as so many cheaper skincare products can leave skin feeling completely devoid of all nutrients and natural oils which, or course, we need and want in order to have a bright and glowy complexion. Massive thumbs up from me for this one!
As with the micellar water I reviewed in the post earlier this week, I feel like the 15-Second Miracle Cleansing Oil will be a top seller and a total hero product. This lightweight oil, featuring a blend of three different oils, works to instantly dissolve all make-up, even waterproof, and washes off without leaving a scummy film on the skin as so many oil-based cleansers do. While I'm not as enamoured with this as I am with the micellar water, I do love how effective it is at just stripping my skin of all make-up at the end of the day. It makes cleansing a super quick process and, while I would always follow this product up with a deep cleanser, it is definitely a sufficient alternative for those nights where you are toying with the idea of going to bed with your make-up on but, really know you shouldn't!