As total skincare junkies, nothing pleases us more than when more accessible and reasonably priced brands up their skincare game and really pay attention to where the market is heading and what types of products, often at the higher-end of the scale, are proving popular. L'Oréal seem to have done just that with its new launch.
Skin Perfection is an edit of nine innovative cleansing products that are formulated to remove make-up and impurities while also improving the appearance and texture of the skin. The range is broken down into three categories; Dry and Sensitive Skin, Normal to Combination Skin and Dull Skin, each containing products specifically targeted at the issues associated with each skin type. In this post, I'll be taking you through the Dry and Sensitive Skin line-up and, later this week, the products for Dull Skin.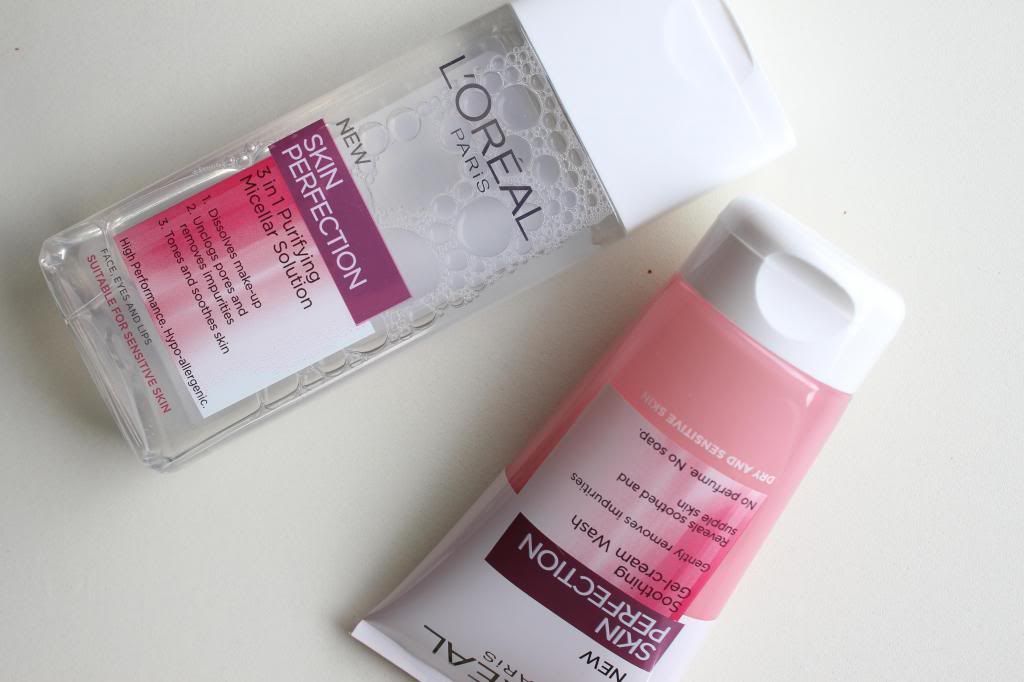 There are five products included under the Dry and Sensitive Skin banner; 3-in-1 Purifying Micellar Solution (RRP €7.69)*, Cleansing and Perfecting Milk (RRP €6.80), Soothing Gel-Cream Wash (RRP €6.99)*, Velvety Soft Toner (RRP €6.80) and Nourishing Cleansing Wipes (RRP €6.80). The aim of this range is to soothe and relieve sensations of post-cleansing tightness, though the addition of D-Panthenol, a Vitamin B5 precursor. Interestingly it is only the Velvety Soft Toner which contains this ingredient so, I am a bit confused as to how the other products are specifically suited to this skintype...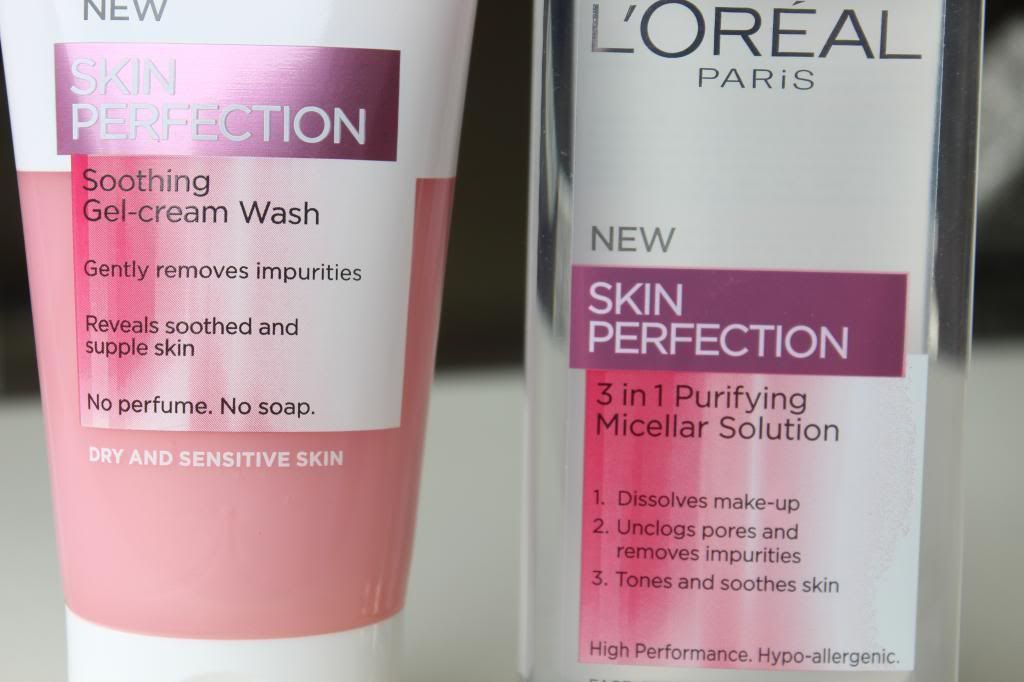 The star of the show is undoubtedly the
3-in-1 Purifying Micellar Solution
. Every beauty maven has heard of Bioderma and, with its limited availability, it has become something of a cult product. L'Oréal have obviously recognised a gap in the mass market for a micellar water and have attempted to fill it with this release.
Having not tried Bioderma myself, I can't compare. However, I do love L'Oréal's incarnation for a number of reasons. It completely removes make-up, including my waterproof mascara, and can be left to soak into the skin. Now, I would never ever use this as my primary cleanser. I personally don't think it is sufficient to deep clean my skin however, it is the perfect first step to removing my make-up and leaving my skin a blank canvas for my heavy duty cleanser to work on.
The
Soothing Gel-Cream Wash
is a bit of an anomaly as far as I am concerned. The hybrid formulation is something new and different and it definitely works to cleanse the skin well. From a personal standpoint, however, I don't feel comfortable using a product like this to cleanse my skin. Gel cleansers, by nature, are quite harsh and stripping and even though this is marketed at the sensitive skins out there (mine isn't overly sensitive) it did feel a bit stripping after a few days of use. I have since relegated it to use bi-weekly with my Clarisonic and it does seem like match made in heaven when used like this as it gives a good lather and does work itself into my skin with the help of the brush.
Overall, I like what L'Oréal is doing here. They have seen a gap and are attempting to fill it. The micellar solution will be a definite re-purchase for me and, while the gel-cream wash isn't suited to my skin, it is by no means a bad product. It's unfortunate that the brand have included face wipes in two of the three Skin Perfection lines as they are a genuine skin pandemic but, I suppose demand overrides the fact that they aren't a viable skincare solution; no matter how specifically formulated they are!
The only real issue I have is that the sterling to euro conversion is disappointingly disproportionate. For instance, the micellar water comes in at a bargain £3.99 which is around €5.90 so, I'm not quite sure where L'Oréal have pulled a figure of €7.69 from?!