I have never camped at a festival but, I have camped. While that may come as a surprise to some, I do know a thing or two about what becomes really important in the cold light of day after a night of sleeping in an overcrowded tent that was pitched, in innocence, over a beetle hill. Yep, think 4 days of pulling beetles, their larvae and their dearly departed out of your clothes, shoes, sleeping bags and hair! And don't let me forget the rude dawn awakenings from overgrown crows, smashing into the side of your tent and squawking loudly which, incidentally, I'm told, is not too unlike the happenings on a festival campsite!
With camping in mind, whether it be for a festival or otherwise, I knew these goodies from the
Elemis Freshskin
range would be ideal for keeping you feeling and looking fresh and clean following a night under the stars.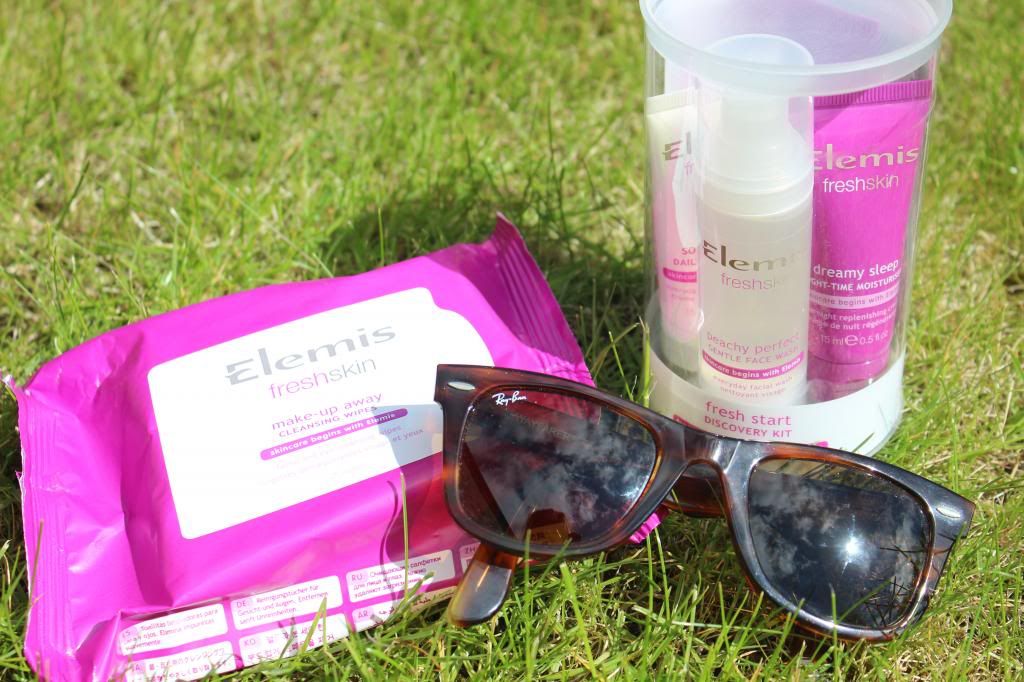 The Discovery Kit* is perfectly poised to take care of all your skincare needs during a few days of roughing it but, without taking up precious space in your luggage. The kit includes a selection of Freshskin faves in miniature size, including the Peahy Perfect Gentle Face Wash, the Skin Glow Exfoliating Face Wash, the Softly Softly Daily Moisturiser, the Dreamy Sleep Night Cream and 3 sachets of the Deep Clean Purifying Face Mask. The Skin Glow Exfoliating Face Wash is particularly lovely and gives skin that really cleansed, squeaky clean feeling. I'll probably check this out in the fullsize when this trial size runs out!
Also in the range are the Freshskin Cleansing Wipes*. While we wouldn't usually advocate using wipes on your precious skin, we do live by the motto of our skincare goddess Caroline Hirons that wipes are only acceptable for "fannies, festivals and flights" so, the Freshskin Cleansing Wipes totally fit the bill for a quick fix after a long day of dancing your heart out. These wipes are suitable for sensitive skin and they claim to be purifying so, in theory, they should be a great option for everyone.
What are your essentials for keeping camping classy?! Any festival survival tips for your fellow beauty lovers?