I have made no secret of the fact that I love skincare but, masks are a relatively new addition to my regime. I think I must have once considered them to be too confusing to shop for, always stumbling over questions like "Do I need one for dehydration or spots?" "Anti-aging or dryness?" However, once I was introduced to this particular facet of skincare by some of the brands Dee and I work with, I became braver and more able to identify what my skin needed at any one time. Now, I have a tidy little line-up of masks which help my skin repair, recover and look its best. So, I decided to review each one for you and let you know how I use it and for what!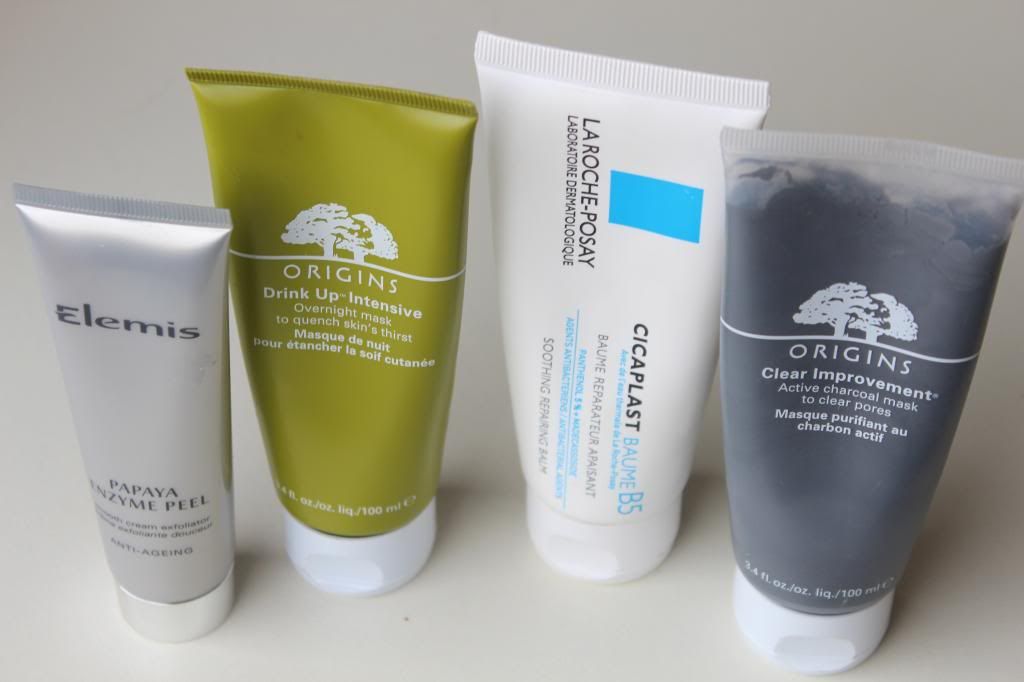 Elemis Papaya Enzyme Peel* -
The newest mask to enter my skincare regime, the Papaya Enzyme Peel from Elemis has blown up in the beauty world since it was first released 10 years ago. The mask incorporates the fruit enzyme Papain, extracted from Papaya and Pineapple, to dissolve dead skin cells and leave skin looking brighter and smoother. I LOVE this mask! It tingles slightly but, not unbearably so, and I love how it leaves my skin looking almost instantly more radiant. It also smells amazing which is a bonus! To celebrate the 10th anniversary of the product, Elemis have released a limited edition packaging (not pictured!) which, when bought, each mask equates to one vaccine for children in Africa. Ethical
and
effective, what's not to love!
Review
Origins Drink Up Intensive Overnight Mask -
While I have mentioned this mask before, I don't think I have reviewed it in full. So, here goes! The Drink Up mask attempts to given parched skin an intensive hydration boost and it definitely does that. Whenever my skin is feeling dry and tight or just looks a little lackluster and dull, I apply a generous layer of this before bed and allow it to work its way into my needy skin during the night. The result in the morning is always beautifully bright and plump skin. Be sure to wash your skin before applying make-up though as any residue from the mask has a tendency to cause cream products to separate.
La Roche-Posay Cicaplast Baume B5* -
I have a massive review of La Roche-Posay's wonder product which was actually used in promotional material for the brand so, you can read that at the link below for a full overview of the product. However, it is a little known fact that Cicaplast Baume B5 can in fact be used as a mask. I like to use this when I am stuck for time and my skin is looking irritated and inflamed. Applying a generous layer of the cream to my face for around 10 minutes and then rinsing off with lukewarm water and a muslin cloth leaves me with calm, super soft skin!
Review
Origins Clear Improvement Active Charcoal Mask -
I have reviewed this pore cleansing mask from Origins before so, I won't blab on for too long about it. However, this is one of the most effective products I have ever tried and the tube is almost empty. I try to use it about once per week on my T-Zone to clear out any build-up. The result is super clear pores which look smaller.
Review
Are there any masks you recommend?