I spent the longest time running scared of the brightest of red lipsticks. I think it was because I assumed that, being a redhead, I couldn't get away with any shade brighter than a burgundy. However, after asking a MAC make-up artist to suggest a bright, true red lipstick for me a few years ago, I haven't looked back! My red lipstick collection has grown exponentially since that day and I wanted to share my top picks with you. It wasn't easy editing them down but, I think I have selected a good mix!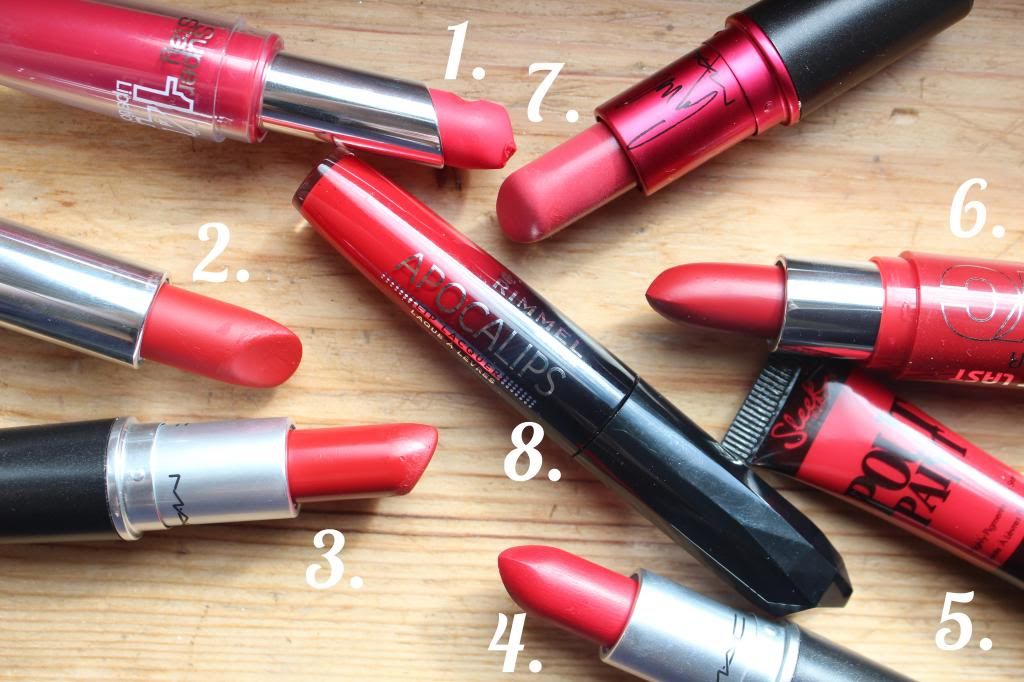 1. Maybelline Super Stay 14H Lipstick Non-Stop Red
This first lippie came about on a recommendation from make-up artist extraordinaire,
Lisa Eldridge
. She rated this shade of Maybelline's long-lasting lipstick line above many other high-end offerings and she wasn't wrong. While it doesn't entirely last the stated 14 hours, it does stay around for quite awhile. The slightly pink hue makes it a more subtle red to wear for daytime and the bluish undertone makes teeth appear whiter so, all in all, it's very flattering! RRP €10.75
2. Lancome Rouge in Love Rouge Valentine 185N*
When Lancome released the
Rouge in Love
lipstick collection last year, the beauty world breathed a contented sigh. Not only were the visuals featuring Emma Roberts perfect but, the multi-shade and multi-formula line-up was interesting and exciting. Having tried a number of the shades and formulas, Rouge Valentine is my top pick. It is a beautiful raspberry red with bright blue undertones so, again, it is entirely flattering and comfortable to wear. RRP €25.00
3. MAC Russian Red
This is the lipstick that the MAC artist first matched me to all those years ago and the one which first kicked off my love affair with a great red lip.
Russian Red
is a very true red shade; not leaning too much towards either blue or orange. The matte formula is a touch drying but, nothing a slick of lip balm underneath can't cure! RRP €17.50
4. MAC Ruby Woo
Another one from MAC that I love though, not quite as much as Russian Red.
Ruby Woo
is a very dry matte formula which requires a lot of lip preparation before wearing. However, this is the perfect "Old Hollywood Red" and I have yet to find anything that gives quite the level of glamour this does so, the exfoliating, moisturising and reapplying is all worth it! RRP €17.50
5. Sleek Pout Paint Pin Up
As the name would suggest,
Pin U
p is the quintessential pin up girl lip colour. A glossy, true red lip lacquer that stays all day. While this creates a beauty of a red lip, it is a pain to reapply without a lip brush as it a) stains your fingers and b) gets everywhere. RRP €6.99
6. NYC Expert Last Red Rapture
I won't bang on about the NYC Expert Last lipsticks too much as we have a full review
here
. However, if you want a cheaper alternative to the Lancome Rouge in Love Rouge Valentine, Red Rapture is your answer! RRP €2.49
7. MAC Viva Glam Cyndi
I was hesitant to recommend Viva Glam Cyndi as it was a limited edition product from MAC. However, I know some counters still have it in stock, as do CCOs and it is such a gorgeous product that I couldn't let this post go by without mentioning it. That it is a Lustre formula, it is a lot sheerer and shinier than many of the red lipsticks mentioned thusfar. If you are after a natural, my-lips-but-better red lip, Viva Glam Cyndi is your only man. RRP €17.50
8. Rimmel Apocalips Big Bang
The newest addition to my red lip line-up,
Big Bang
is both my favourite red lipstick and my biggest lipstick disappointment. I love the colour, the longevity, the slick glossy finish but, sadly, it bleeds so badly. Like I had never understood how annoying it was to have colour bleed into the lines around you mouth (of which I don't have many, mind you!) but, this just drives me mad. I have yet to try it with a lip liner but, I had higher hopes for this considering I love all of the other Apocalips I have tried! RRP 7.65