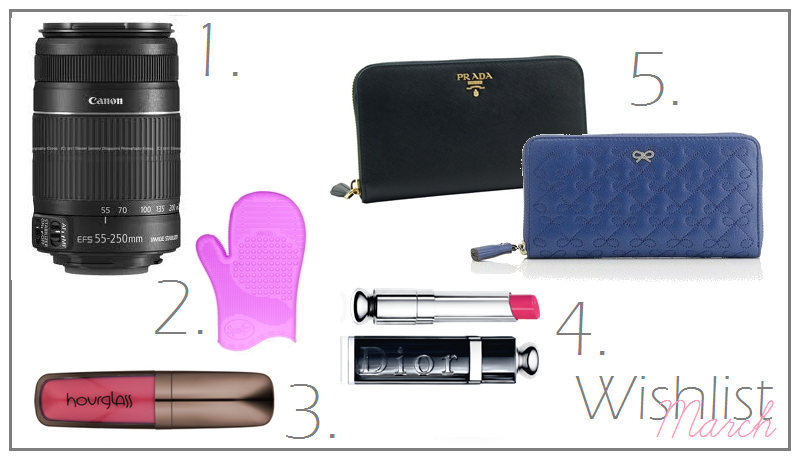 Another month, another wishlist! I hope 2013 is motoring along nicely for you so far. Where January was a month of hectic excitement for me, February was one of nervous stress; we're talking hives, sickness, the whole shebang! However, things are looking up once again and just in time too as March is my birthday month and I don't want anything hanging over me!
Due to the impending birthday, my 23rd, this month's wishlist is full of things I would be delighted to receive as gifts! While I obviously know that a Prada or Anya Hindmarch purse is not really feasible, I would love to get a new purse as my current one is looking a little bit sad and tatty so, I may put my birthday money towards that. The new Canon lens is an entry level zoom lens and would be perfect for my travels later this year.
The only make-up items I am currently lusting after are two lip products; the Hourglass Rouge Liquid Lipstick which I'm hoping to pick up in Space NK when I visit Belfast over my birthday weekend and the new Dior Addict Extreme lipsticks which everyone is raving about. After seeing this video from
MakeUpbyTiffanyD
, I also want to pick up the Sigma Spa Brush Cleaning Glove.
So, tell me, what are you lusting after this month?