We're huge fans of online beauty shopping. Not only is there a lot more variety but, there can also be massive savings to be made when shopping with e-retailers. While we have our usual haunts, we were surprised to learn that Littlewoods Ireland, the country's leading online department store, stocks most big name beauty brands including some of our old favourites including YSL, Elizabeth Arden and Models Own as well as brands on our "Must Try" list like Daniel Sandler and ModelCo.
To introduce you all to the Littlewoods Ireland beauty store, we compiled a wishlist of products we already love and products we really want to try!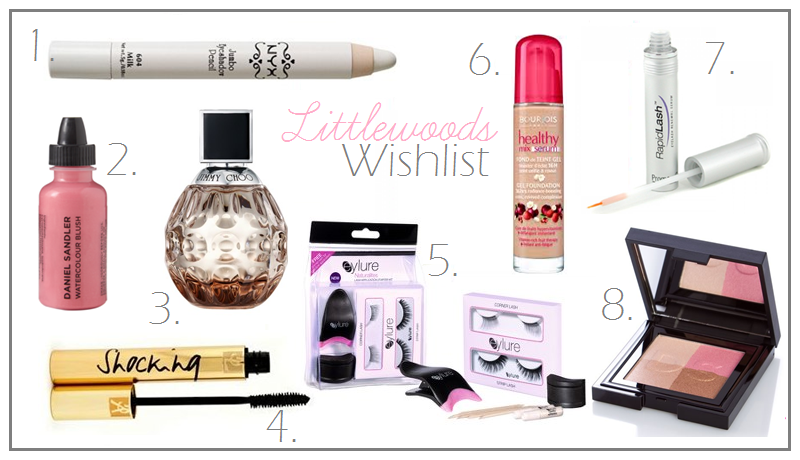 Dee's Picks
1. Ever since I started watching YouTube makeup videos, I've been coveting this NYX Jumbo Pencil in Milk. It's apparently great for highlighting as well as adding new depth to eyeshadows, and I don't know why I haven't gotten around to trying it yet!
2. The Daniel Sandler Watercolour Blush is another item which has attained cult status thanks to YouTube. I've been watching the Pixiwoo sisters use it for years, so I'd love to see if it looks as good on me!
3. Jimmy Choo EDT is one of my favourite perfumes ever. The scent holds a lot of happy memories for me and seeing as I've just run out over the last couple of months, I doubt it'll be long before I repurchase it.
4. I've tried the YSL Faux Cils Shocking mascara before and absolutely loved it. I can't always justify having a high-end mascara in my collection as they run out so quickly, but, this would definitely be a nice treat!
Sinead's Picks
5. This Eyelure Striplash Starter Kit is new to me and looks like a much-needed set to master the art of applying fake lashes (one beauty thing I consistently struggle with!).
6. Multi-tonal face products are huge for SS13 with offerings from Bobbi Brown and Laura Mercier taking centre stage. I think that this beautiful looking Daniel Sandler Radiant Sheen Illuminating Face Powder could give them both a run for their money!
7. As I'm not blessed with naturally amazing lashes, I've been looking into lash serums over the last few months. RapidLash seems to be the product of choice from the most reliable and trustworthy of sources AKA other bloggers!
8. I'm really behind the times with this one but, Bourjois Healthy Mix Serum is top of my FTT list (Foundations To Try List that is!). Everyone seems to love it and its a lot cheaper than some of my
recent foundation picks!

NB: Our loyalty remains with you, the reader, and we will only ever agree to Sponsored Posts which we write ourselves, are in keeping with the tone of the blog and are in no way overly influenced or directed by the brand in question. Sponsored Posts will always be clearly labelled as such, because our aim is to be as transparent as possible. For more information on our Sponsored Post policy, please click here.