Dee and I firmly abide by a "Would we buy this ourselves?" rule when accepting and reviewing products. If it's not something that we would naturally gravitate towards in our daily lives, we politely decline. Not only does this ensure we can give enthusiastic, passionate and honest reviews but, it means that this blog is full of (almost 1000!) posts which are a tight edit of products we genuinely like and recommend. We want to be a trustworthy source of opinion on the internet and we hope that the vast majority of you who visit everyday come and stay for that reason.
With that policy in mind, it was a very easy decision for me to make when Specsavers offered me the opportunity to try their service and select a new pair of glasses and to tell you all about the process. I was overdue an update on my prescription and my glasses themselves had recently suffered a nasty fall and were hanging on by a thread so, it was perfect timing!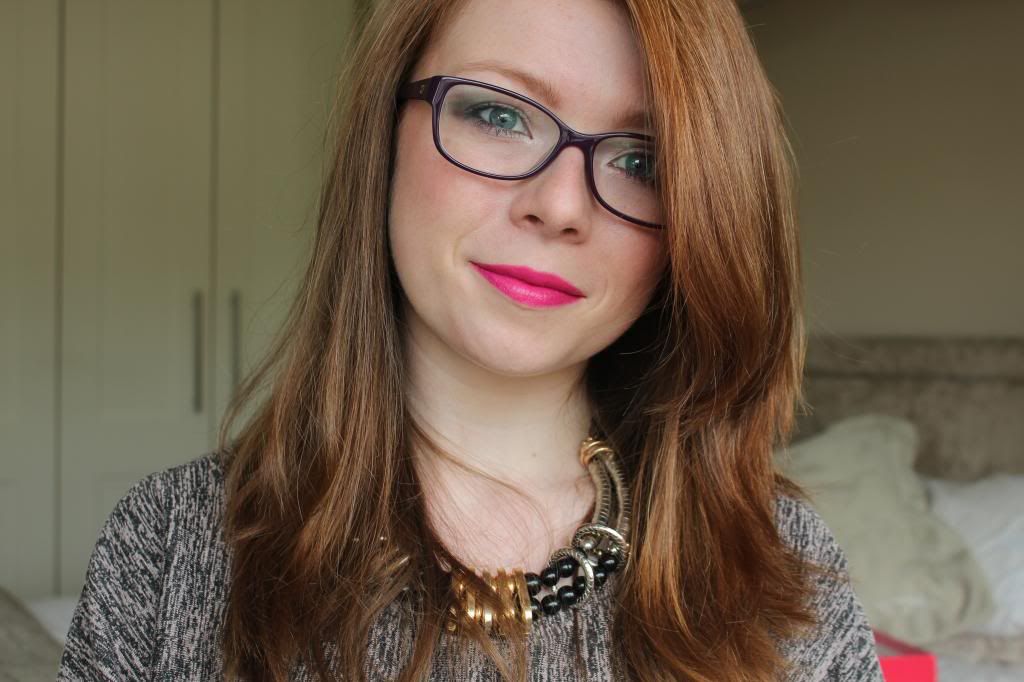 I booked into my local Specsavers (
Find your branch here
) on
Grafton Street
and had my appointment last Saturday. To ensure that I got an accurate impression of the Specsavers service and how they operate, I made sure that no one knew I was there on behalf of the company (other than the Sales Assistant who booked me in obviously!). The first stop was to take images and check the pressure in my eyes with a puff of air. I was then sent back to the waiting area before being called by the optometrist for my eye test.
The eye test was standard; read letters, pick the clearest colour, focus on a hot air balloon. It lasted around 15 minutes including the test for contact lenses and I really have to commend my optometrist, Alana Moore. She was so knowledgeable and made me feel really comfortable. I must have been with her for almost half an hour from start to finish as she explained everything to me, from the meaning of astigmatism and the change in my prescription, to the internal workings of my eyes, including the images that were taken earlier. She was incredibly thorough and, from a consumer perspective, I really value that.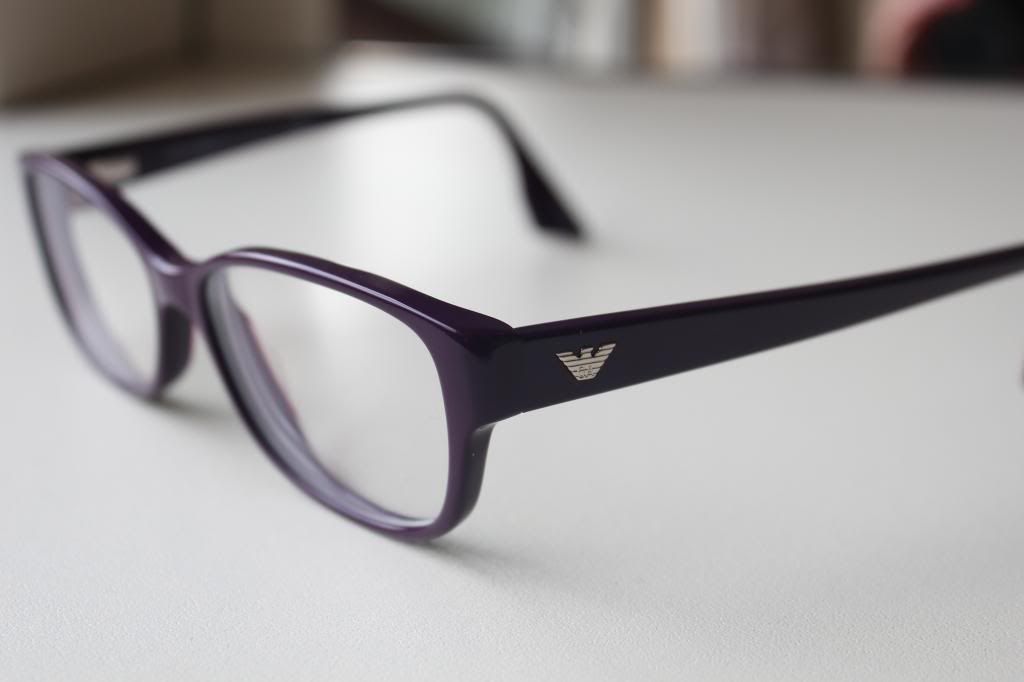 I was then passed on to a Sales Assistant who asked me what I had in mind for my glasses. My only prerequisite was that they had solid, bold frames and she, Freya, was able to select around 5 frames instantly which would suit my face shape. Having her input was invaluable as I have quite a small face and frames are often way too wide for me but, every single one she picked out suited me. This kind of client care seems to be entirely standard for Specsavers as I could overhear some of the other SAs advising and making recommendations to clients.
I eventually settled on
this pair
pictured above. They are from the Emporio Armani line that is new to Specsavers this March and are a larger frame which has taken some getting used to seeing on myself! After selecting the frames I was fitted for them and told to expect them by Wednesday at the earliest as they had to send away from the ultra-thin lenses. I got the call on Tuesday morning that they were ready; how's that for service?
I really like them and am loving how sharp and clear my vision is now! I find my poor sight (currently -2.25 in the left eye and -2.75 in the right. I am shortsighted.) to be extremely frustrating and to have a pair of glasses that I love to wear and that I know look relatively nice on me makes it so much more enjoyable to wear them on a daily basis. Specsavers have a huge range of glasses, starting from just €29
(including PENTAX standard single vision lenses, a scratch resistant treatment, case and cl

oth
)
and going up to €189 where the designers include Missoni, FCUK, Gok Wan and, of course, Emporio Armani. The whole range of frames can be seen here.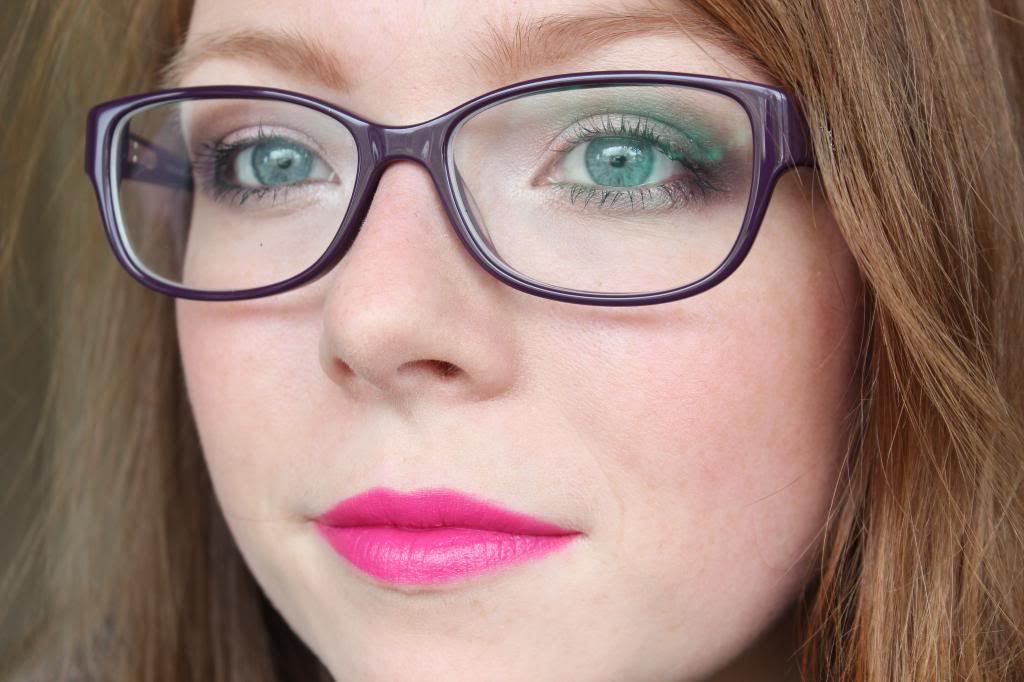 One week on and I am thrilled with my new glasses. I did have some trouble adjusting to the larger lens size (think seeing an extra step when glancing at the bottom of the stairs and stumbling multiple times per day!) but, I have since gotten used to looking through the glasses - I used to look under my old frames - and have been happy out. So, thanks a million to Specsavers from giving me the opportunity to try their service!
I'm thinking of putting together some make-up tips for glasses wearers so, keep an eye out (no pun intended!) for that in the coming weeks!
Disclaimer: Specsavers invited me for an eye test and to pick some new glasses. I paid for the contact lens test myself!