I mentioned in my
Forever Favourites
post that I have been working really hard to condense my make-up collection. I only have one face and I don't need to hoard foundation, blusher, mascara and lipstick like I'll never be able to get my hands on it again. When I looked at all the make-up that was languishing, unused, unloved and forgotten in my drawers and when I considered the amount of money I plied into feeding my beauty habit over the last few years, the realisation made me feel ill. So, I began a stage of purging, of reducing, rehoming and recycling products and my collection is a lot more streamlined and a lot more manageable as a result. I strongly recommend any fellow make-up addicts try it; it's so liberating!
With that in mind, I haven't been indulging in any cosmetic related purchases, solely limiting myself to replacements as products run out and to those products which don't cost me anything i.e. Back 2 MAC lipsticks. However, on my trip to Belfast this weekend, I decided to treat myself to just a few beauty bits given that it is my birthday today and they were good value in comparison to euro pricing! So, I thought a collective "haul", if you will, was in order to show you the few bits and pieces that have come into my possession over the last 2 months or so.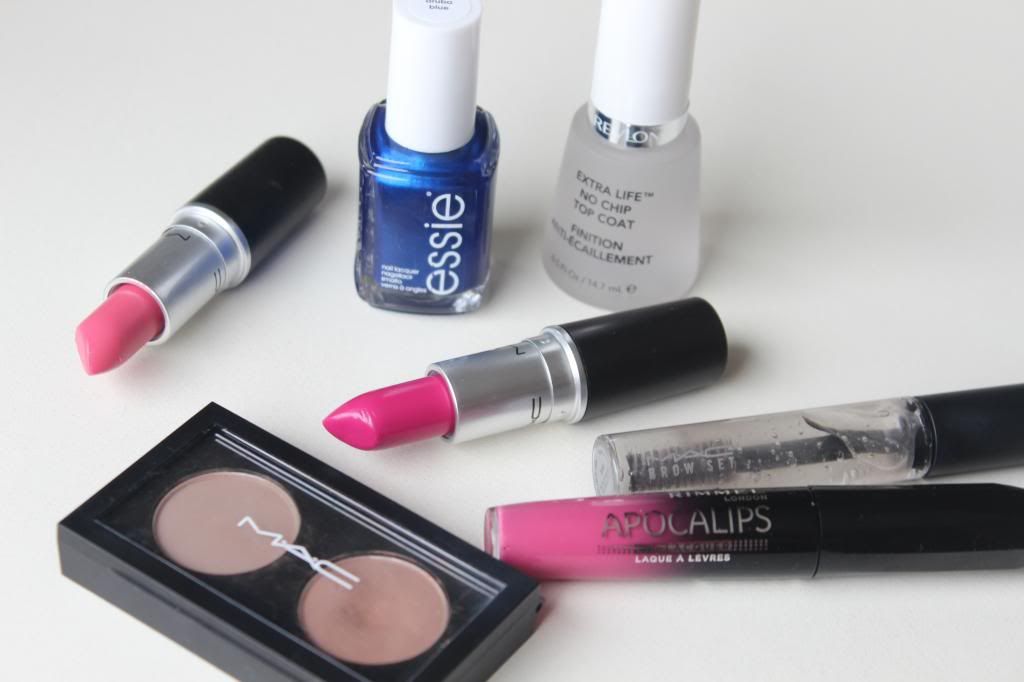 Let me take you through the lipsticks to begin with. After purging a tonne of old and never used MAC lipglosses, I decided it was time to Back 2 MAC so, took myself into Brown Thomas with 12 empties. I chose two pink shades; Chatterbox, a gorgeous my-lips-but-better shade and Girl About Town, a bright fuchsia which Dee has been urging me to get for years now. I love them both and have worn them multiple times since I got them.
As I mentioned in my
February Wishlist
, I have been lusting after the Rimmel Apocalips lip lacquers. When I spotted them in Superdrug, I decided to indulge. However, instead of taking them up on the 3-for-2 offer, I restrained myself and just selected one in the shade Nova, a mauve pink, perfect for everyday. I'm actually proud as punch at my strong will in the face of a great beauty offer!
While in Belfast, I found it near impossible not to raid every Essie stand I passed. They are in almost every Boots and Superdrug and all of the pretty colours in their lovely neat bottles get me every time. That being said, I limited myself to one shade of which I have nothing similar to in my collection. Aruba Blue is a deep dark navy with royal blue pearlescence to it. It's a really striking polish when applied and doesn't lose any of that gorgeous shimmer and shine. I also picked up the Revlon Extra Life No Chip Top Coat. I had heard
Estée
mention it in one of her videos as an apparent dupe for Seche Vite so, I decided to give it a whirl to replace my gooped up Essie Good to Go topcoat.
Finally, another few bits from MAC. After my utter disappointment with the
Lancôme Le Crayon Sourcils
I placed an order from House of Fraser last week for some new brow products. I used to use a MAC Eyeshadow in the shade Wedge for my brows but, I felt it was too red in tone and not ashy enough. So, I ordered the eyeshadow in Omega to add that ashy brown shade to my brows and also ordered one of the adorable new two pan palettes to use as my brow kit. Finally, I picked up the MAC Brow Set, a clear brow gel that a number of make-up artists swear by. So far, I am loving my new brow routine!
Hope you enjoyed my small (but, important!) bit of shopping!