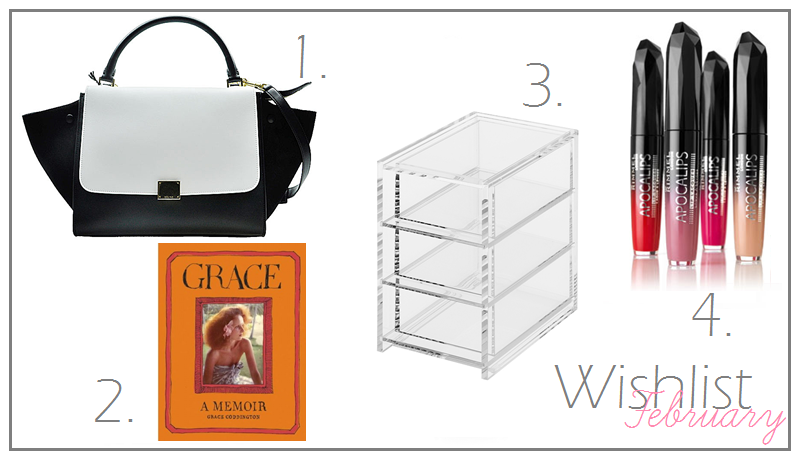 I know most people felt January dragged but, it flew in for me. There is some really exciting stuff in the pipeline and I suppose I was just so busy for the latter half of the month that it whizzed by!
As with January, I wanted to share some stuff I am coveting but, will be unlikely to get anytime soon. The Céline Trapeze bag is one of my longest bag lust-haves, alongside the Chanel 2.55, and, after seeing it on Helena from Brooklyn Blonde, my love for it is stronger than ever. I highly doubt I will ever own one but, it's nice to have a wish!
Next up are some slightly more attainable things! Grace: The Memoir, a firsthand look at the early life and career of Grace Coddington, Anna Wintour's righthand woman and Creative Director of Vogue. My make-up storage is no longer cutting the mustard and I would really like to upgrade to some acrylic storage. A ClearCube would be my first choice but, I don't fancy spending the equivalent of $300 on one so, I'm considering a set or two of these Muji acrylic drawers; deep enough to store even the bulkiest products while looking neat and tidy in the process. Finally, I definitely plan on picking up some of Rimmel's new Apocalips liquid lipsticks. The shade selection and finish look
phenomenal
!
Do you have your eye on anything this month?