Valentine's Day has just never sat right with me. To some, it's an unwelcome reminder of singledom. To others, it's pressure to show your love more so than any other day of the year. To stationary companies, it's a well-placed marketing scam that nicely fills the gap and lines their pockets between Christmas and Easter. It's a sham as far as I am concerned and we never really partake but, that being said, I never turn down an opportunity to be festive and, so long as it doesn't cost me money, I can get on-board with sprinkling a little love here and there come February 14th!
One of the easiest ways to show your V-Day spirit is by changing up your look and using what you already have to hand. While I wouldn't really feel comfortable about strolling into work with full on pink eyeshadow and red lips, I will be rocking some day-appropriate nails. Here are some of my top nail polish picks for some lovey dovey nails!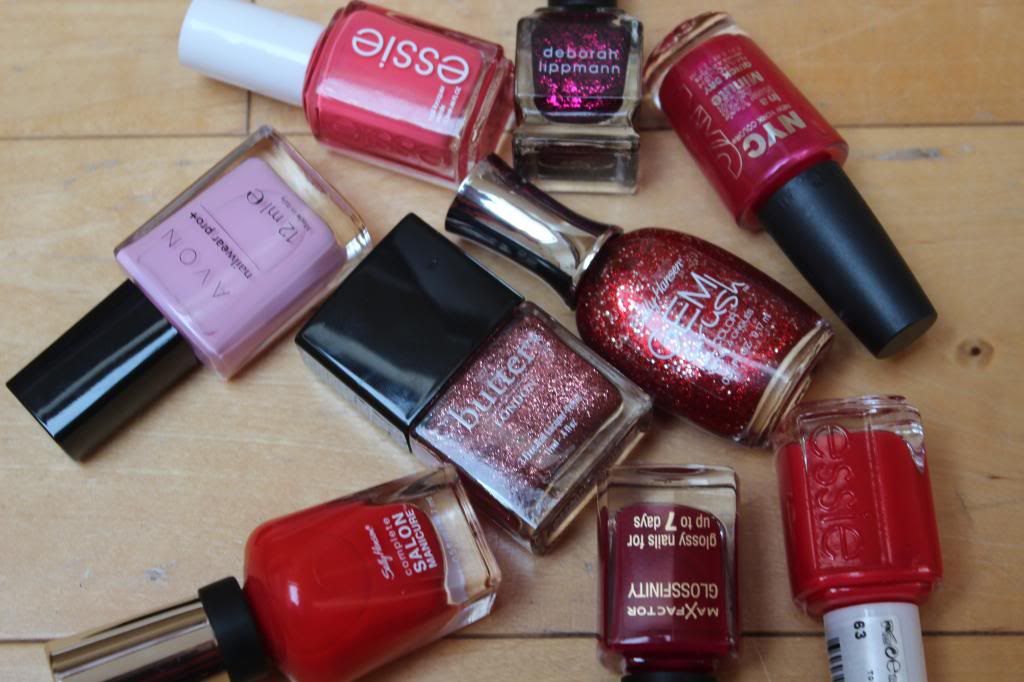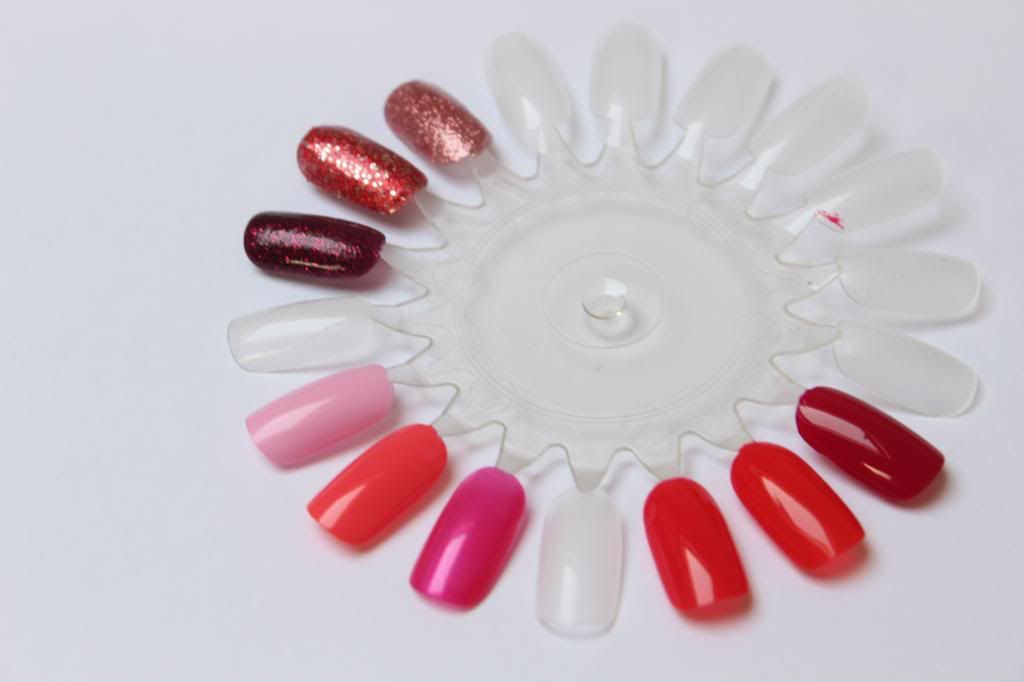 Valentine's is one time of year where it is socially acceptable for a grown woman to adorn her being with glitter (Christmas is the other!). Despite rarely using it, I have a scary amount of glitter nail polish in my collection but, these three just scream Valentine's Day to me! All are packed with glitter in a coloured base so, can be built up as below to create a serious disco ball effect or can be work sheer over any other shades. From left to right we have, Butter London Rosie Lee, Sally Hansen Gem Crush Cha-Ching! and Deborah Lipmann Razzle Dazzle!
I'm not much of a pink person. I find pale pinks to be quite insipid and sickly sweet and I am very picky about which brighter shades I wear. So, that probably explains why the three pink polishes I selected are bright and opaque with definite blue and coral undertones. On the left we have Avon Nailwear Pro+ in the shade Pink Creme, which I would be least likely to wear but, I know is a popular shade of pink. In the middle is my favourite Essie shade, Cute as a Button, the perfect bright, yellow-based pink and one the right is a new shade from NYC, the blue-based slightly metallic Midtown.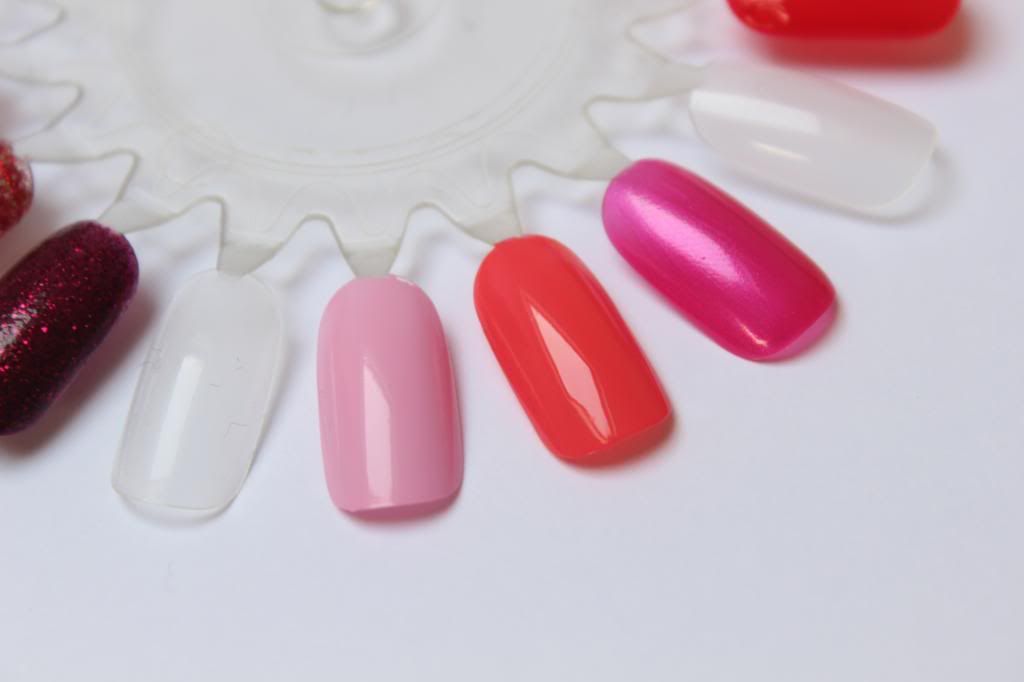 Finally, we have the reds. Ah, red nail polish, how I love you so! No matter the occasion, red nail polish just works. It is classy and vampy and sexy and fun all at once and the three shades below were whittled down from the almost
twenty
different reds in my nail polish collection. That's kind of embarrassing...! On the left we have a true pillar box red in the shade All Fired Up from Sally Hansen. In the centre is Essie's Too Too Hot, an orange based tomato shade that is my current red of choice. Finally, there is Burgundy Crush from the new Max Factor Glossfinity range which we
reviewed recently
, a perfect deep wine red.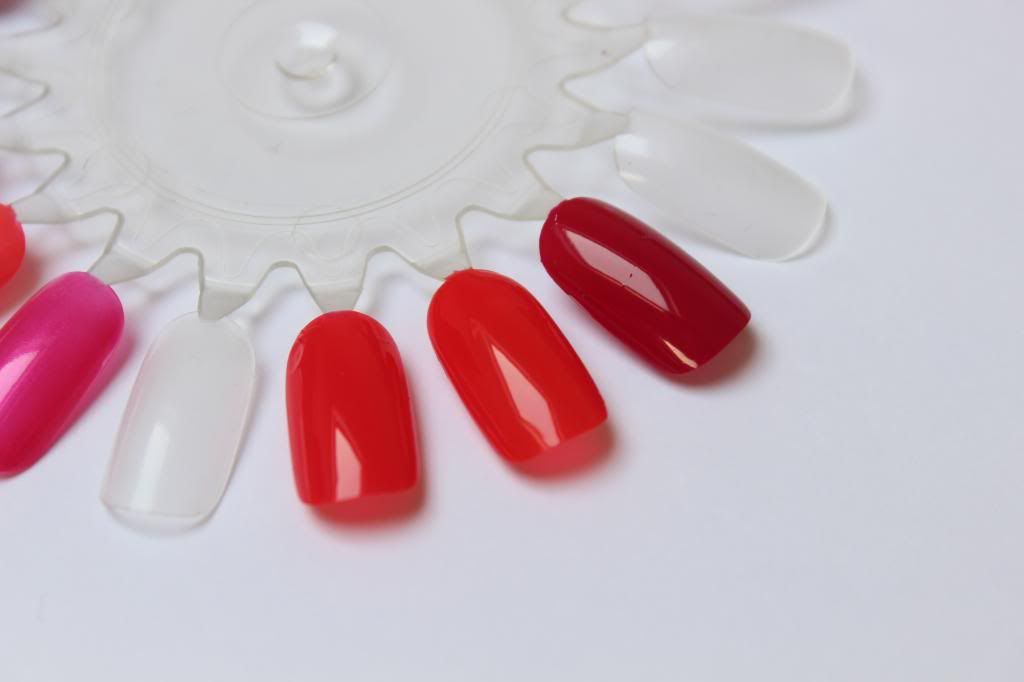 I could go all out and do a gradient effect from red to pink and top with some glitter but, this year I think I'll be sporting Essie Cute as a Button with a heart accent on my ring finger in the pale Avon Pink Creme.
Do you get a little bit festive for Valentine's?