Changing over to a new make-up bag a few days ago, I realised it had been quite awhile since I updated you all on what I carry with me on a day-to-day basis. Obviously I like to keep any make-up bag I have as streamlined as possible given that I have to lug it around with me but, as my routine and needs change, so does the contents of this bag i.e. Uniflu replaces extra SPF come wintertime. I like to think of this little pouch as an emergency stash. Whether I need a simple make-up touch-up, a plaster or a safety pin, I live comfortably in the knowledge that it all can be found in the depths of this bag.
Oh, and a note on the bag as it is the reason I thought to do this post at all; it is quite fancy pants but, fear not, it was an absolute steal amid the lacklustre and disappointing post-Christmas sales, a steal that was made all the more justifiable by being able to use a giftvoucher on it! I really love it and the little bit of luxury it gives to my everyday life and it'll be our little secret that it was heavily reduced so,
shhh!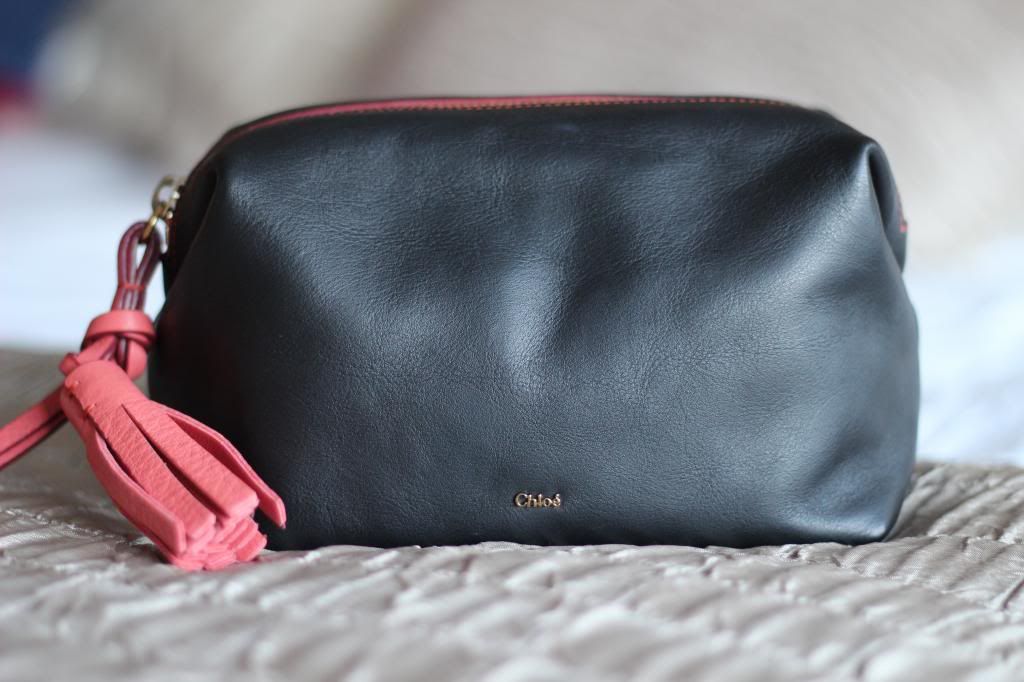 The pouch is quite roomy and I could easily cram all of my make-up for a weekend away in here with little effort. However, I try to keep the contents as purposeful as possible;
What would I need for a touch-up? What would I need if a contact lens went rogue?
and as usable as possible so, you can rest assured that whatever make-up is in this bag are products that I rate highly and know will see me through should I have a make-up emergency, last minute event to attend or become stranded on a desert island with just this bag!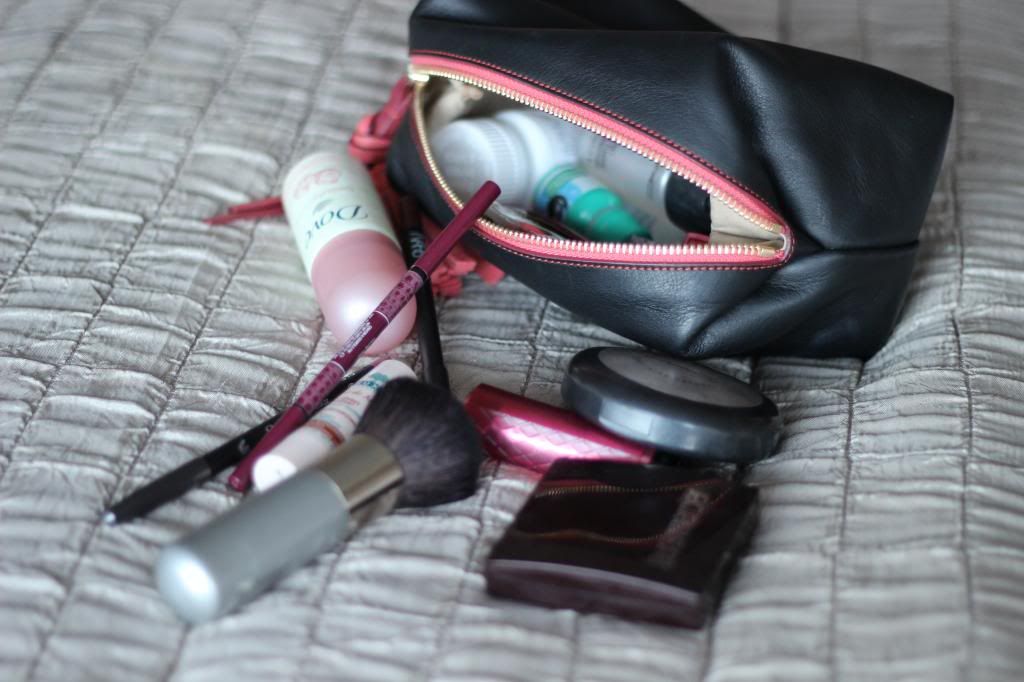 While I have just pictured some of the contents below, I also carry a myriad of other necessities; bobby pins, hair bobbins, spare contacts, deoderant, plasters, headache pills, perfume etc. Seriously, if you're ever in a bind, come see me, I should be able to help!

MAC 129S Blush Brush // Tarte Amazonian Clay Blush // Japonesque Fluffy Brush // Laura Mercier Secret Camouflage // Anastasia Brow Wiz // NARS Larger Than Life Eyeliner // MAC Mineralize Skinfinish Natural // Kiko Make-Up Lip Liner // Tweezer // NYC Big Bold Mascara // Sally Hansen Vitamin E Cuticle Oil // NUXE Reve de Miel Lip Balm // Revlon Lip Butter // Kiko Lipstick // Burt's Bees Hand Salve // Eye Drops // Korres Lip Balm // Liz Earle Hand Cream // Nail File

What products would we find in your make-up bag?