Having sensitive skin can be a scourge. Sun allergies, cold allergies, rashes and inflammations are ever present threats to those of us with temperamental skin and that's before we even consider the adverse effects beauty products and their ingredients can have on us.
While I am, by no means, an expert, I have suffered with all of the above at some point of another and also have periodic eczema flare ups which last anywhere from a week to 5 years as the latest one (now cured, thankfully) has shown. So, I definitely have to be careful with the products I put on my skin and, through much trial and error I have found a nice and tidy line-up of beauty goodies which should suit many sensitive skintypes and, also, provide some relief during times when your skin isn't playing ball.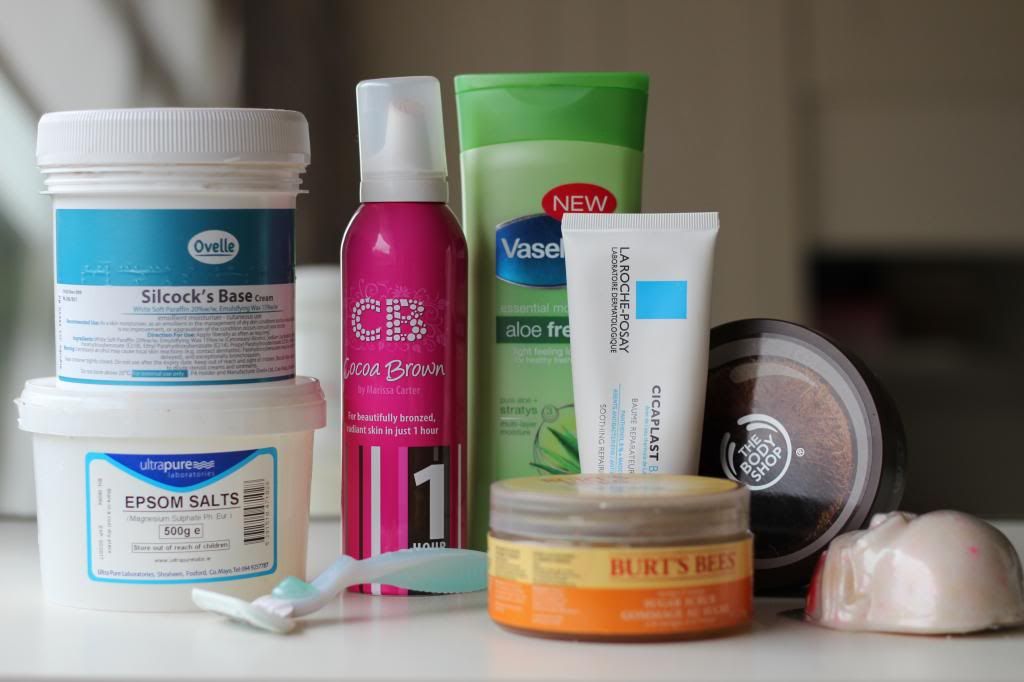 Exfoliator
: It might seem like you are playing with fire by intentionally inflaming sensitive skin but, I find that giving my body a good scrub once or twice a week makes my skin feel a lot less tight and like it can breathe. Very coarse scrubs are a no-go, as are ones that tout themselves as "peels". However, ones that are almost jelly-like work well, as do very fine grain-based scrubs. Two I have used and loved consistently over the last number of years and month are the Burt's Bees scrub and, most recently, LUSH's Sandy Santa. If you still feel that these may be too harsh, I like to make my own scrub using Epsom salts and a few drops of lemon and vitamin E oil.
Moisturiser
: Whether cream, lotion, butter, balm or gel is your preferred body moisturising product, my rule of thumb when unsure is to go for one with the least ingredients. A cheap and simple option is to use Silcock's Base, which I will touch on more later in this post, but, two branded products which I recommend are The Body Shop Body Butters and Body Lotion and the Vaseline Essential Moisture range. Neither of these products have ever broken me out or irritated my skin.
False Tan
: If ever a product was to be chemical packed and laden with all the stuff sensitive skin hates it would be fake tan. Even though I don't wear it too frequently, I do like to give myself a bit of a bronzing every now and then. Despite just reviewing it last month, Cocoa Brown tan has shot straight to the top of my list as it is specially formulated to be used on sensitive skin and it definitely shows; no itchiness, no red flare-ups, nothing!
Shaving
: I won't spend too much time on this as I have already reviewed the Gilette Venus Pro Skin Sensitive but, I still swear by this razor! It doesn't drag or pull the skin and doesn't cause any razor burn, rash or irritation.
Dryness
: The La Roche-Posay Cicaplast Baume B5 is one of those products that, once you try it, you couldn't be without it. I always have a tube of this in my skincare arsenal and have used it on everything from burns and sun allergies to eczema and blisters. It's a lifesaver if you have problem skin!
Top Tip!
: My aunt has extremely sensitive skin, so sensitive that it is, in fact, irritated by too much water-exposure (shower/bath/pool). Her dermatologist recommended that she should avoid submersing her body in water and, when showering, slather her entire body in a layer of Silcock's Base. When my eczema was at its worst, she passed this tip on to me and, by God, it works! Not only does it protect the skin, it is an intensive moisturiser and also can be used as a body wash if soap is an irritant. It's literally the most multi-purpose product and you get a massive tub for less than €5!
These are just some of the failsafe products that I always have on hand and can always rely on not to upset my skin. I didn't give any skincare recommendations, purely because everyone has different skintypes and requirements but, some brands I recommend include La Roche-Posay, Avène, Trilogy and Green Angel.