I am a big fan of cream eyeshadow bases. I love how they prolong the weartime of any eyeshadow, how they intensify colour payoff, how they prevent creasing and how they can even transform how multichromatic shadows appear. In some cases, these bases can also double as cream eyeshadows making them incredibly multi-purpose and definitely worth the price. I raided my collection and rounded up some of my preferred cream bases, some high-end and some cheaper, to give you the lowdown on the ones I particularly rate, the pros and cons of each and how I recommend using them.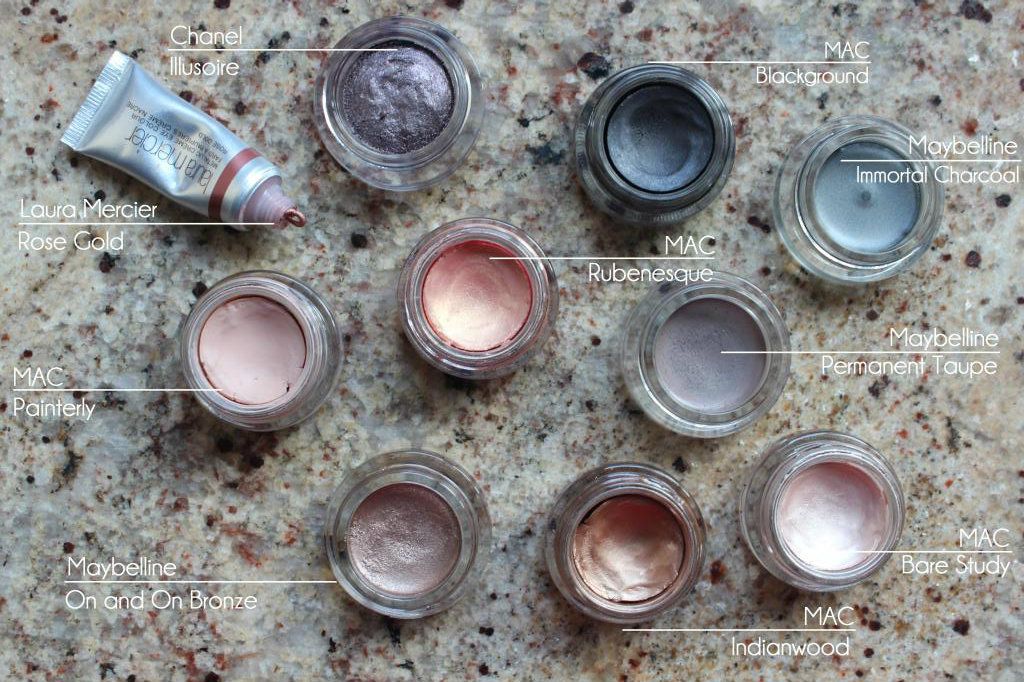 As you can probably tell, I favour MAC Paint Pots above all other bases. This is partly because, for the longest time, I only really bought MAC products. While those days have long since passed, I still buy and reach for my Paint Pots the most. The shade selection is pretty impressive and they have a good range of finishes including shimmers, mattes and glitters.
In terms of longevity, intensity and creasing, these little glass pots have never let me down. They are quite malleable when first applied (I find fingers are best and then blend with a brush) but, once they set they will not budge until you go to remove your make-up. I also find them the best for preventing fading throughout the day. The only cons I can think of are that, at roughly €19, they are not the cheapest (though they do last forever) and that, because they last so long, they do have a
tendency
to dry out (see gap around the edges). This isn't too worrisome as a bit of heat from your fingers brings them right back to their best.
Though the cheapest of the cream bases I have, I really rate the Maybelline Colour Tattoos. While the shade range in Ireland isn't as extensive as in the US, we have a good selection of neutrals, smokeys and brights; enough to create any number of eye looks.
Of the three Colour Tattoos I own, two are shimmers and one is a matte. All are gorgeous though I get the most use out of Permanent Taupe and On and On Bronze. These do work as shadows in their own right but, I find them to crease a little quicker than the MAC Paint Pots do. That being said, they do cost around €8, less than half the price of MAC's incarnation so, we can let them away with that I think! On a budget, I heartily recommend these (especially On and On Bronze)! Oh, and again, finger work best to melt and manipulate the product.
Though probably the prettiest cream base I own, Chanel Illusion d'Ombre just doesn't float my boat when compared to the others mentioned in this post. When taken alone, the colour pay-off, intensity and shade range is remarkable but, at a whopping €28, they just aren't worth the splurge when they are comparable option at a more favourable price (hence why I only own one!).
That being said, they aren't a bad product by any means and work beautifully either as a base or alone as an eyeshadow. So, if you want a little piece of Chanel in your life, these get my blessing and, in this case I find a fluffy brush best for a sheer wash of colour or else a stiff, flat brush for a high-intensity look.
Laura Mercier Metallic Cream Eye Colour
Last but, not least, we have the newest addition to my collection, the Laura Mercier Metallic Cream Eye Colour. Available in a wide range of shades, these little paint tubes are intended to be used as an eye colour but, honestly, I find them better as a base. While it could just be the shade I have (Rose Gold), I noticed a lot of creasing when worn alone as a shadow but, when used to prime for colour, it performed really well, gripping the shadow and displaying little to no creasing at all.
I think these cost around €24 (please correct me if I'm wrong as I ordered from the UK) so, again, they aren't cheap. I would probably pick the Chanel offering over these for the sake of €4 but, quality and performance-wise, they are on par with eachother. The Chanel just pips this one to the post thanks to the intensity of the shades and the more luxurious, workable packaging. A fluffy brush is my weapon of choice with this.