With 2012 wrapping up to a nice and peaceful close, we are all reflecting on the months gone by. While we are both, of course, thankful for our families, friends, opportunities and, undeniably, all you lovely readers, we are also thankful for some of the beauty discoveries we made throughout the course of the year! So, we decided to throw some awards around, crowning those products which served us well and amazed us the most with the, err, coveted Viva Adonis Best in Beauty title!
As there are two of us, some categories have two winners while others will only have one as we were in total agreement as to the amazingness of these products! To all our veteran readers, thanks for sticking with us throughout 2012 and, to all newcomers, a huge welcome to the fold to you all. We hope you will enjoy being here as much as we enjoy having you!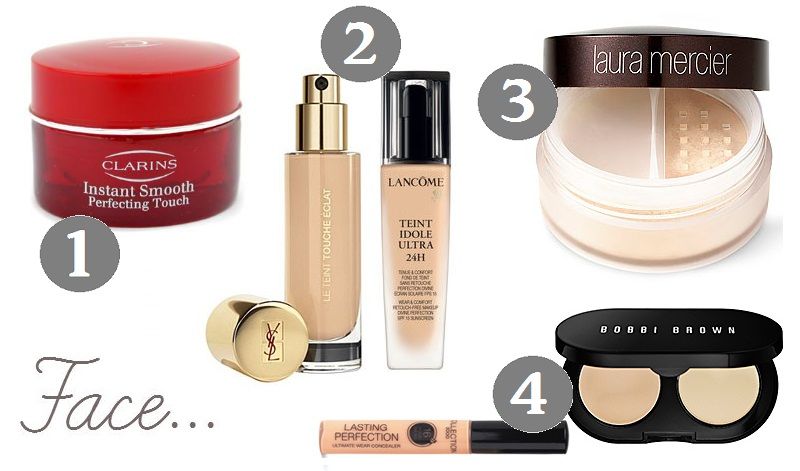 1. Primer
Sinead says; "The Clarins Instant Smooth Perfecting Touch make-up base took me by absolute surprise earlier this year. I use it both under make-up and on make-up-free days to give my skin an even, smooth finish." Review
Dee says; ''I think the best thing about this product is that it is pleasant to apply and also to wear. It makes applying foundation a dream and my foundation lasts longer when I use this. Love it and I will be repurchasing!''
2. Foundation
Sinead says; "Since receiving YSL Le Teint Touche Éclat to review, it has been one product consistently in my beauty routine. Whenever I wear foundation, this is the one I go to and I can't fault it!" Review
Dee says; ''I'm kind of sick of talking about this foundation but, here goes! As most regular readers know, my top pick for oily/combo skin is Lancome Teint Idole Ultra 24H. The finish is sublime and the wear time is amazing, my only complaint would be that I'd like to see a few paler shades available from Lancome.''
3. Powder
Sinead says; "After about the tenth time Dee told me I needed to try this powder, I knew it must be good. Dee, you were absolutely right! I use this as both a setting powder and a light foundation and I love it!" Review
Dee says; ''I'm on to my second one of these in nearly a year, so, although expensive, this powder lasts forever and I can't see myself buying a different one in the future, It sets my makeup perfectly and leaves my skin looking flawless without appearing overly matte or cakey''.
4. Concealer
Sinead says; "I have had a tumultuous relationship with concealer but, after much trial and error, I now swear by the Bobbi Brown Creamy Concealer and Correcter duo, so much so that I have hit pan on both, something which never happens!" Review
Dee says; "I've been through about five tubes of the Collection 2000 Lasting Perfection concealer at this stage. It covers my blemishes and redness without being too heavy or cakey, and it also looks brilliant on the undereye area, especially if you go a shade paler!''
1. Blush
Sinead says; "Ooh this was such a tough choice as I am obsessed with blusher. However, after looking at what I have consistently used and loved in 2012, it was Tarte's Exposed which came out on top, despite only joining my collection in August!" Review
Dee says; "My blush of the year was actually my birthday pressie from Sinéad back in July, so, no wonder it's brilliant! NARS Deep Throat is a pale shimmery apricot shade that I rely on to make me look alive on my worst days. It's universally flattering and never overpowering - I can't recommend it enough''.
2. Bronzer
Sinead says; "If you had asked me to pick a bronzer in the first half of this year, I would have echoed Dee's sentiments on the Clarins Duo. However, having learned how best to use Chanel's Soleil Tan de Chanel, it was on my face all summer long and followed me to the USA and beyond this summer." Review
Dee says; "The Clarins Bronzing Duo is just amazing, and this is coming from a girl who isn't too crazy about bronzer. It's the perfect shade with no trace of orange and also works brilliantly as a contour colour. A great buy as the compact is huge with a really generous amount of product!''
3. Highlighter
Sinead says; "It was a no-brainer that MAC Mineralize Skinfinish in Soft n' Gentle would get my award for 2012. Light, subtle and glowy, this baby has never steered me wrong!"
Dee says; "Its a bit weird how passionate I am about this product, but, honestly, Dior's Amber Diamond has been one of my best beauty buys ever. It gives a soft-focus kind of glow to skin due to how finely milled the powder is. I've used it as eyeshadow before too, and it's beautiful that way as well. I think this is my favourite make-up product in my collection - how's that for a rave review?!''
1. Mascara
Sinead says; "
Since acquiring Maybelline Full n' Soft Waterproof mascara in NYC this summer, I am blown away by the effects everytime I use it. Sadly, it's not available here but, we collectively agreed that Avon SuperExtend Extreme delivered similarly excellent results!" Review
Dee says;
''I love Full 'n' Soft just as much as Sinéad and wish it was available here! It's just pefect, easy to use and gives the most beautiful effect. Our second-favourite, as Sinéad has said, is Avon's SuperExtend Extreme. It's really black, dramatic and full-looking. I prefer to this to the famed (but overpriced) They're Real from Benefit - that's how great it is!''
2. Eye Pencil
Sinead says; "
Another tough call to me as I am devoted to my MAC Eye Kohls. However, a recent acquisition of NARS Larger Than Life Pencil in Via Appia has shown me the light and this has been my go-to pencil for a soft, smudgy bronze look everyday."
Dee says; '
'I've used and loved a lot of eye pencils over the years but my very favourite of this year has to be the Rimmel Scandal'Eyes range. The pencils are creamy, smooth, pigmented and long-lasting, and they're also really fairly priced. Can't get much better than that!''
3. Eyeshadow
Sinead says; "
We really made it hard for ourselves with some of these categories! Having loved a lot of different eyeshadow brands this year, I still have to give the 2012 crown to my beloved MAC Eyeshadows. With three palettes full of them, I use them 90% of the time and am so accustomed to how to work with them that I could do my make-up with my eyes closed. Well, almost...!"
Dee says; ''
I've built up a collection of over 25 Inglot eyeshadows since they came to Ireland, and I think that they are some of the very best shadows available - and at a fair price to boot. They do an endless array of shades, and their matte shadows are particularly amazing. You can see my top five here!''
4. Eyeliner
Sinead says; "
Gel, cream, liquid, cake, there is so much to choose from when it comes to creating the perfect cat eye. While I might not be as adept with the liner brush as Dee, my foolproof product remains to be the cheap-as-chips Sleek Ink Pot." Review
Dee says;
"I tend to flit between gel and liquid eyeliner but, overall, my most used eyeliner for 2012 is Essence's Liquid Ink. It's super-opaque, long-lasting and has the best applicator out of any liquid eyeliner I've tried, especially for achieving a perfect feline flick. Best of all, it's €3.49!''
5. Eyeshadow Base
Sinead says; "
More MAC loving from me (Heh, McLovin' geddit?!) in this category. While I have tried, and liked, bases from Benefit, Chanel, Laura Mercier and beyond, my heart remains firmly rooted with the MAC Paint Pots. A wide variety of shades which don't crease and keep shadows vibrant all day, what's not to love?!"
Dee says; ''
Laura Mercier Eye Basics in Linen was a bit of an impulse buy during the summer, but I seriously adore it and use it almost daily as a flesh-toned eyeshadow primer. It creates a much smoother canvas on my eyelid than Urban Decay's Primer Potion ever did, and it's really easy to apply shadows on top of. Adore it!''
6. Eyebrow Pencil
Sinead says;
"I cannot recommend the Anastasia Brow Whiz more for softly defined brows. Every since buying it in the US, I have been kicking myself for not buying ten back-ups! Luckily for us, the brand is available to order from Cult Beauty."
Dee says; ''Th
e Lancome Eyebrow Pencil in Brunette is the best match I've ever found for my brows. It's super-soft and easy to work with - a total failsafe product.''
1. Cleanser
Sinead says; "I think I first received the La Roche-Posay Physiological Cleansing Gel last Christmas as part of a gift from the brand and instantly fell in love with it. It's so gentle and removes all traces of make-up. It also works wonderfully with the Clarisonic."
Dee says; "I'm in the same camp as Sinéad about this cleanser. It gets rid of everything, is extremely gentle, and leaves my skin feeling soft and comfortable with no dryness. The perfect everyday cleanser for getting rid of make-up!''
2. Moisturiser
Sinead says; "This was a tough call as I find myself using a new moisturiser every other week but, the Vichy Aqualia Thermal UV has been in the back of my mind since I scraped the last drop from it and I can't wait to finish my current day cream so I can hot foot it back to this one!"
Dee says, "Like Sinéad, I've been fortunate enough to try out a lot of different moisturisers this year. The one I have repurchased (twice) and prefer above all others, though, has to be La Roche-Posay Hydraphase UV Legère. Quite simply, it ticks all of my boxes and cares for my skin; it's light without compensating on moisture, contains an SPF and sinks in quickly.
3. Night Cream/Treatment
Sinead says; "I doubt it will come as a surprise that I have found a place for Origins Drink-Up Intensive Moisturiser. This is the night treatment of all night treatments, leaving skin plump, supple and smooth come morning!" Review
Dee says; ''Another product that many of you will have heard me bleating about this year is La Roche Posay Effaclar Duo. In short, if you suffer from any form of cystic acne or spots, you need to try this. It clears breakouts and prevents future ones, isn't too harsh and doesn't dry my skin out. A brilliant product that I have found myself returning to over and over this year.''
4. Exfoliator
Sinead says; "Since I got a Clarisonic, I haven't found myself reaching for a traditional scrub half as much. I use this once a day and it gently but, deliberately sloughs the dead skin from the surface and evens the overall look and feel of my skin. Worth every penny." Review
Dee says; "I've tried and liked a lot of exfoliators this year, but I think my favourite is the Vichy 3-in-1. It smells lovely, isn't too harsh or chunky and can also be used as a face mask, so, it's a hardworking product!
1. Nail Polish
Sinead says; "Another unanimous award from Dee and I. Essie nail polish has genuinely made me so happy this year. My collection has quadrupled in the space of a few months and from the shade selection to the quality to the lovely bottles, I love everything about this brand." Review
Dee says; "We've both become, err, a bit Essie-obsessed this year. I really do think that their polished are great quality though, as are the shades. Bordeaux is my current favourite!''
2. Topcoat
Sinead says; "Another one I must thank Dee for, Essie Good to Go topcoat has changed my nail polish world. Shiny, hardwearing and quick-drying. Love it."
Dee says; "I'm still loving this top coat as well as it ticks all of my boxes. As well as being super-shiny and long-wearing, it seems to 'smooth' out my nail polish, and generally makes my manicure look the best it possibly can!''
3. Basecoat
Sinead says; "It was a toss-up between this and OPI Nail Envy but, CND Stickey has to take the crown as it quite literally bonds the polish to the nail, giving me a good week of wear."
Dee says; "I really love the Sally Hansen 4-in-1 Complete Care for under my nail polish - it strengthens, moisturises and smoothes out my nail bed, leaving it perfect for nail polish!''
4. Hand Cream
Sinead says; "I'm not as good with handcream as I would like to be but, this Almond Hand and Nail Cream from The Body Shop is divine. Thick, non-greasy and smelling good enough to eat, I just wish I could remember to use it more!"
Dee says; ''I'm also trying to use hand cream more often, but my very favourite is the Korres Calendula & Almond oil cream. It smells gorgeous and moisturises my skin and cuticles like no other!''
So, that concludes our Best in Beauty for 2012....or so we thought! We both realised after finishing this post that we totally left out lip products - fairly ironic as we're both kind of obsessed with lipstick. Overall, our most-used, purchased and coveted lip product of the year would have to be MAC lipstick. They do the most amazing and unique selection of colours and finishes, and we are both avid users of the back to MAC scheme!
Phew...that was a long one! Thanks for reading if you've made it this far, and a very Happy New Year and lots of love to you all!