Weather in Ireland consistently wreaks havoc on my skin and no more so than in winter when it is constantly at risk of becoming dry, chapped, raw and sore. This year I have, thankfully, managed to save my skin with some pre-emptive measures and a daily routine bordering on obsessive. However, my poor lips have suffered dreadfully during the recent cold snap and, after trying every balm, treatment and cream I had to hand, I decided to bite the bullet and buy one of the most talked about lip balms around, NUXE Rêve de Miel Ultra-Nourishing Lip Balm.
Now, if you have spent any time at all floating around the beauty blogosphere you will have seen at least one person brandishing this little frosted glass pot and proclaiming its wondrous properties. I have been stung one too many times in the past by buying into a hyped up product so, I held off on picking this up for fear that it would be €10 or €15 down the drain. However, I am happy to report that it was only €12 and it was not at all money down the drain!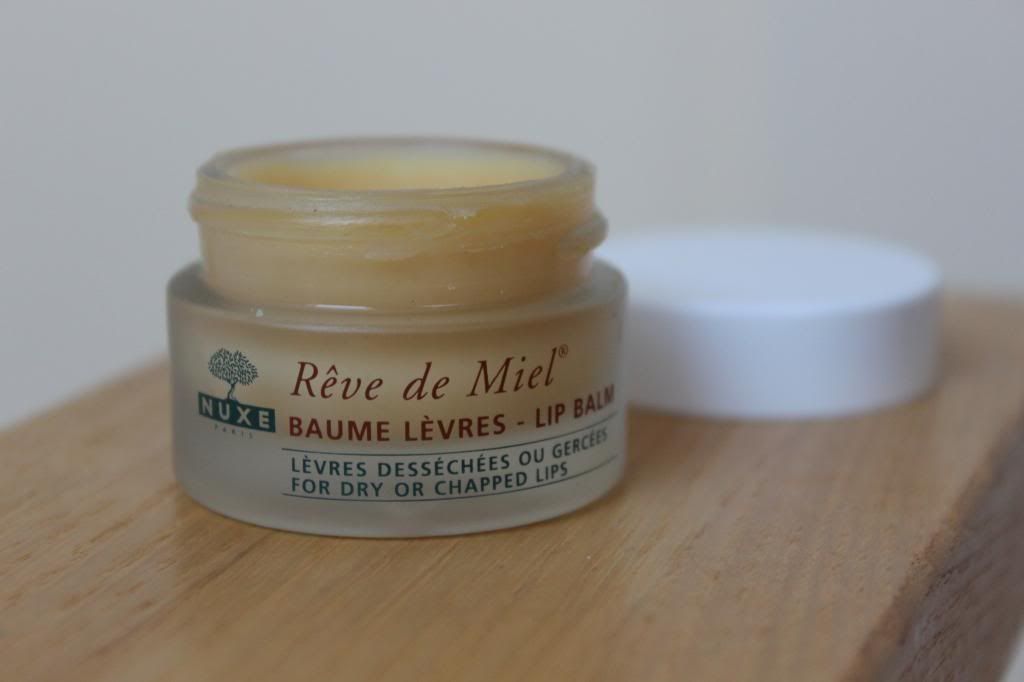 After two days of using a lip scrub (LUSH Popcorn) to remove any dead, dry and flaky skin and finishing with a generous layer of Rêve de Miel, my lips looked and felt a hell of a lot better. The balm is odd in that it gives lips a matte finish rather than one which is slick or shiny as is common with most balms. I found that the finish masked the appearance of the dry and cracked skin and it also makes for a really smooth base under lipstick.
The only thing I'm not too keen on or, for that matter, understand, is the little waxy lumps within the balm. It's not a big deal but, I don't see the purpose of the hard particles as they aren't particularly exfoliating and I usually end up brushing them off my lips. Overall, however, I think this little pot is something everyone needs in their beauty arsenal. It's a total
life
lipsaver!