Remember when we were young (er!) and Santa would leave a boxed up make-up kit containing some powdery eyeshadows, sticky lipsticks and clumpy mascara under the tree? The stuff was always utter tat; lacking in pigment and stingy on the eyes, yet, we all thought we were the bees knees, bragging to anyone who'd listen that we were "
big girls now
" and wanting to give everyone from our mammys to our grandads a full makeover.
Nowadays, I think it's safe to say we've all moved on from those cheap, possibly hazardous, kits and are more discerning with our make-up choices. However, getting older and developing more refined tastes doesn't necessarily mean we have to give up all the joy that came with getting those little beauty kits as Christmas surprises as brands like Frontcover Cosmetics, which we are featuring today, have some great sets that are chock full of great quality products.
While not strictly Christmas releases, I thought that these sets from Frontcover Costmetics would make for some excellent gifts so, I wanted to include them under the festive category! We have the True Colours (£25.00) and the Sparkler (£16.00) kits to show to you all . Apologies for not having the Euro prices but, you can order these from the
Frontcover website
and, if you order before 12th December, you'll have them in time for Christmas! Now, on to the beauty kits!
True Colours, the bigger of the two, contains everything you could need for eyes, lips and nails to get ready for the party season. There are 6 baked eyeshadows, 5 satin eyeshadows, 5 lipglosses, 3 brushes, 2 nail polishes, a mascara, an eyeliner (
and a partridge in a pear tree!
)
all housed in a sleek little box that would sit well on any dressing table or bookshelf.
I would have been here all day if I had swatched everything from the set so, I just took a quick swipe of three baked eyeshadows just to show how buttery soft and highly pigmented they are. This is literally one touch off the top of the domed shadows and I think that's pretty incredible!
The Sparkler kit, at almost a tenner less, contains a lot less product and is a whole more specific, catering just to eyes and lips. It comes with 3 pots of loose glitter, 3 metallic nail polishes, 1 glitter sealing gel and 1 double ended applicator. All of the glitters are safe to use on eyes and they can also be mixed in with nail polishes to create different finishes. If you have a nail art addict in your life, this would definitely be a great gift!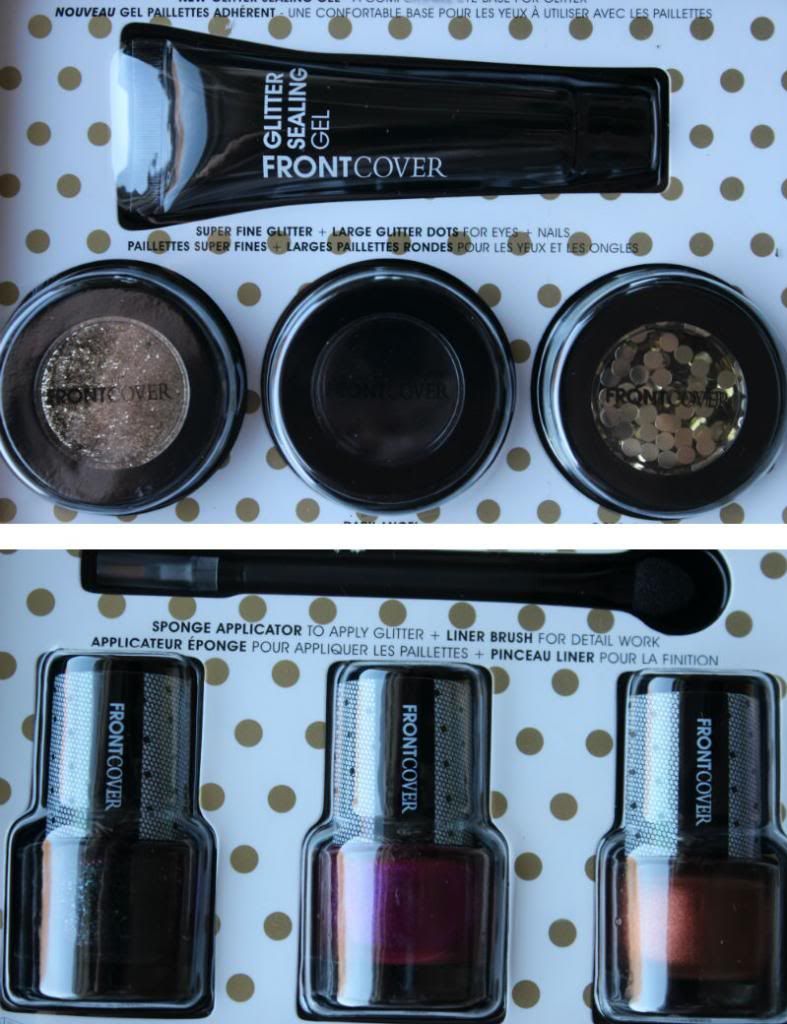 These gifts would be great for any pre-teens or those just starting to get into make-up and build their beauty collection. However, the kits, especially the True Colours box, would be a welcome present for even the most advanced beauty boffin! Oh, and the brushes are really soft and really good quality!