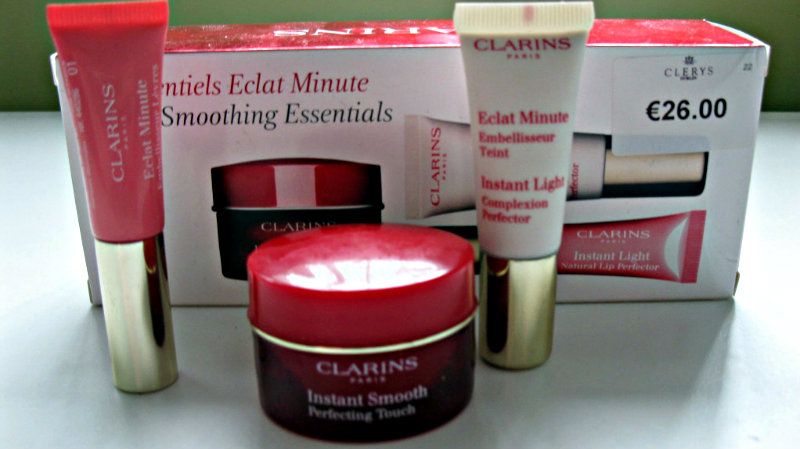 Let's face it: it's a rare thing to walk away from a high-end counter in any department store feeling like you got a bargain. I'm all for justifying the purchase of high-end, quality products on a cost-per-wear basis, but, the reality is that a lot of these items are damn expensive and it is rare to get a good deal. So, I was pleasantly surprised with what I got for my money at the Clarins counter in Clerys recently!
On the hunt for a nice birthday gift for my mam, I decided that Clarins would be a safe bet and picked her up a gift set with a trio of their famed hand and nail cream. Of course, some self-gifting also ensued. I'd been lusting after their Instant Smooth Perfecting Touch primer for an age after Sinéad did a
rave review
about it, and so I decided to bite the bullet and finally buy it. When I asked the assistant for it, she was helpful enough to show me a set that they had just got in, which included the full-sized primer as well as a radiance primer and lip product for the same price that the primer usually retails at.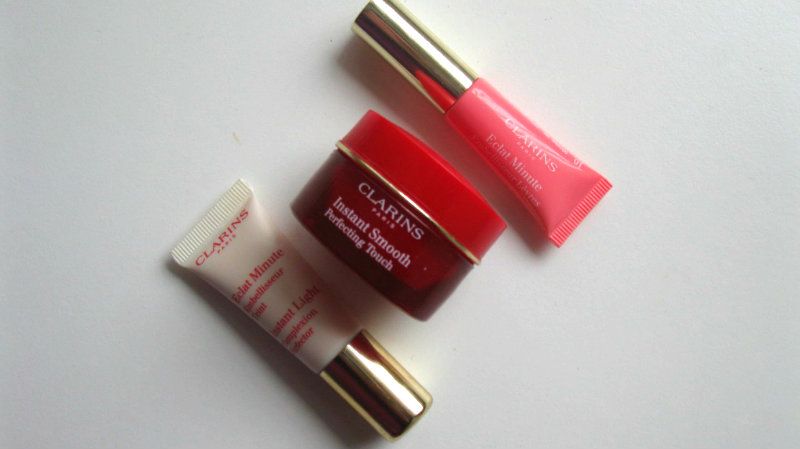 I won't say too much about the Instant Smooth Perfecting Touch as Sinéad has already done a detailed post about it, but suffice to say this is probably the best primer I have ever used, and I will be repurchasing! It fills in every crevice of my face and makes my makeup go the extra mile - just to give you an idea of how enamoured I am with it, I prefer it to Smashbox Photofinish, and Benefit's the Porefessional!
The Instant Light Complexion Perfector is a really useful little product which I've seen the brand's head make-up artist, Claude Defresne, use on multiple occasions. You can use it as an all-over glowy base (great for combatting winter dullness, especially for mature skin), or you can use it as a liquid highlighter on top of your make-up. I've been doing the latter as I need a matte base, and I adore it.
The Instant Light Natural Lip Perfector is another product that Sinéad has written about previously, so I won't go on about it too much either. As I'm not really a lip gloss girl, I wouldn't have chosen this myself, but I have been keeping it in my pencilcase and have actually used it quite a lot to touch up at college. It's a nice little product, especially if you're a fan of a pale/nude lip.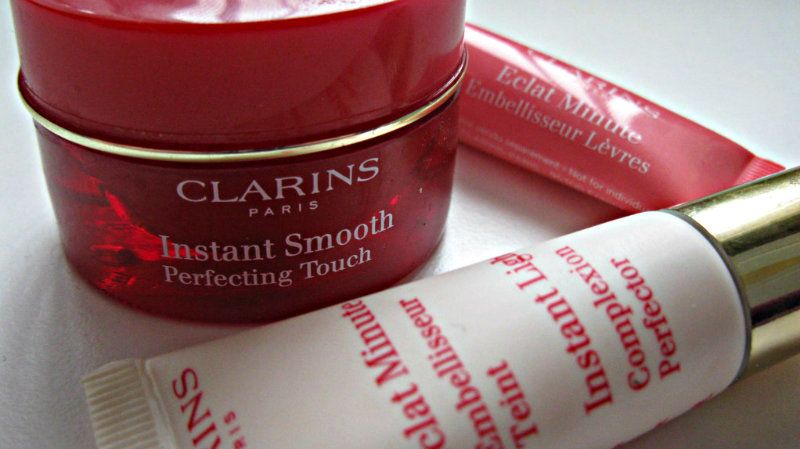 So, overall, I'm just delighted that I got such good value for money, and kudos to the very helpful Clarins lady who showed me this set! They have a brilliant range of gift sets so, if you're organised enough to be doing your Christmas shopping already, I would definitely check them out.