This post was initially supposed to be on my entire nail polish collection and storage. However, when I actually dragged out all my boxes of polish and started to photograph them, I realised that I had way more than I thought, around 120, and that the post would be too long and too picture-heavy! So, I decided just to start off by showing you my ever-growing Essie collection as these are my current favourite polishes and you can let me know in the comments if you would like to see the rest of my collection in future posts!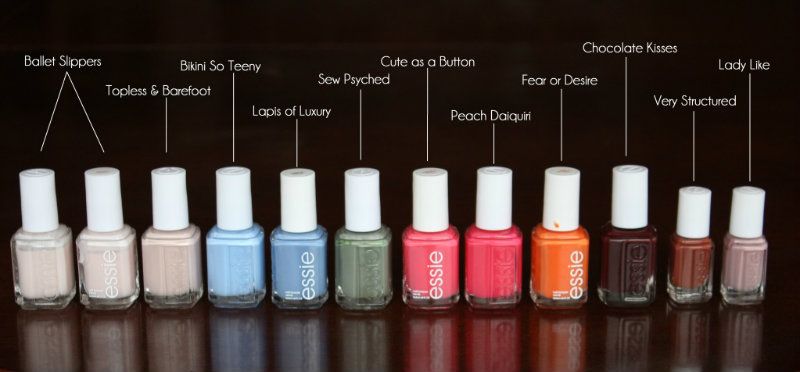 My Essie collection isn't exactly massive but, considering that it's grown by around 75% in the last few months, I would say it is safe to say I have something verging on an obsession! I bought the majority of the shades in New York this past summer (
See here
) as Essie isn't too widely available here. I did receive Chocolate Kisses, Very Structured and Lady Like as press samples while the second bottle of Ballet Slippers was given to me at this year's L'Oréal Colour Trophy Awards.
It does strike me as a bit odd that I am so, shall we say,
enamoured
with one particular brand. Usually when I obsess over a beauty product, it is a general category, like lipstick, as opposed to a specific brand. However, Essie just makes me happy. From the bottles (
I prefer the newer ones with the white font FYI
) with their chunky glass bodies and sleek white caps to the slimmer-than-average brush, perfect for those of us cursed with poor nail beds and small nails, I have a hard time finding fault with any aspect of the brand.
Thankfully, the brand is becoming more widely available in Ireland and not before time. Boots currently stock the diffusion line, as do Superdrug but, you are paying for the privilege instant gratification as a bottle will set you back around €13. To save myself a few bob and to have a wider shade choice, I tend to order online so, I thought I would share some of my favourite stockists with you in case you too are feeling the love for Essie!
Essie (
as well as most things!)
can also be bought via eBay but, in my experience, this isn't always as quick or as cheap as ordering through one of the stockists above so, tread carefully if you are going this route! My current favourite shade is Bikini So Teeny, a bright sky blue shade I picked up on sale from Asos last week. It was part of the Summer 2012 collection but, was sold out everywhere in NYC so, I'm glad I finally got it! Also, if you like nail polish/beauty history,
this interview
with Essie founder Essie Weingarten is worth a read!

Let me know if there are any shades I simply must add to my collection and if you would be interested in some future collection posts!

None of the links in this post are affiliate links. I just included them to be helpful!