One of the constant gripes about drugstore/pharmacy brands is that there is not enough shade variation and choice when it comes to skintone-specific products like foundation, concealer and powder. Where higher end brands can often cater for upwards of 20 different skintones and undertones, counter space is a lot more limited in a pharmacy-type setup and, logistically, brands can't meet consumer demands.
However, Maybelline has recently seized on this opening in the budget cosmetics market to produce a range of foundation, powder and concealer that not only caters for the very pale and very dark skintones as well as those in-between but, also for different undertones. Introducing Maybelline Fit Me.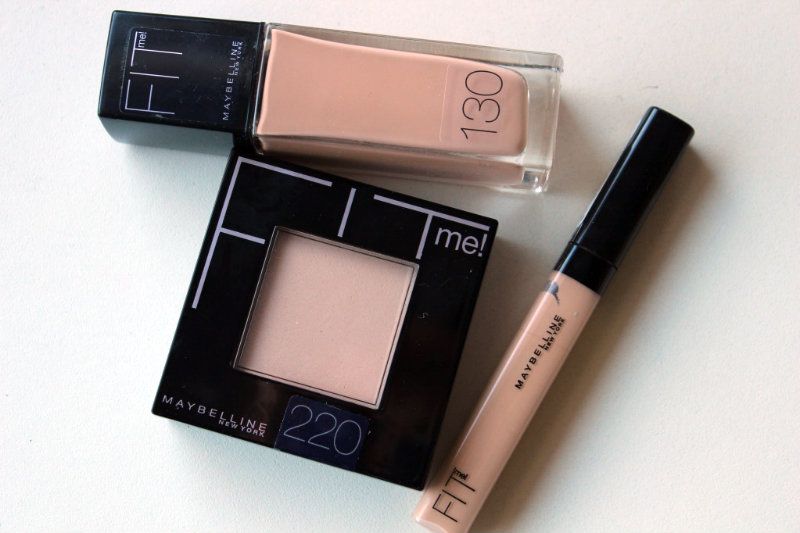 The idea behind Fit Me is that skintones are broken into categories Fair Skin (100s), Medium Skin (200s) and Dark Skin (300s) and are then sub-categorised into undertones, either yellow or pink. Each category offers foundation, powder and concealer so that you can, in theory, find the perfect fit for your skin.
While there are two shades of powder and two of concealer, one pink-toned and one yellow-toned, offered for each skintone, the number of foundation shades vary greatly and this is where I forsee the line could run into problems. For instance, there are five shades of foundation for Fair Skin but, only four for Medium Skin and three for Dark Skin. Within each of these skintones, the undertones are unequally catered for with, in the worst case, only one pink undertone for Medium Skin out of the four available shades so, consumers could effectively be matched to the right shade but, the wrong undertone.
I was sent a foundation*, powder* and concealer* to trial but, unfortunately they were all yellow-toned, whereas I am pink-toned, and ranged in shade from the darkest Fair Skin foundation to the Medium Skin powder and concealer, all of which were far too dark for my, ahem, porcelain complexion! So, ironically, Maybelline Fit Me didn't exactly fit me!
However, I did try to make these work for me as much as possible so as to give you some actual feedback on the products themselves. The star of this trio is definitely the
Fit Me Powder
. Even though the shade was technically too dark and too yellow for me, the product is lightweight enough for me to use for touch-ups without looking noticeably mismatched. In fact, I would go so far as to say that this is the best dupe I have come across for MAC's famed Mineralized Skinfinish Natural powder - for a fraction of the price. Next in line would have to be the
Fit Me Concealer
, a viscous liquid product that sits especially well under the eyes. It is, perhaps, a touch too light and runny for covering blemishes but, it is undoubtedly a great drugstore concealer and actually reminds me a lot of the Collection Lasting Perfection Concealer. Finally, the
Fit Me Foundation
, a product I am not too keen on. While the formula itself is one that I generally like; weightless, light coverage and glowy, it just didn't sit well on my skin. I found that it settled into lines and gathered in random places over the course of a day and felt like it was just sitting on the surface rather than enmeshing itself with my skin.
While I personally found the Fit Me range a bit hit and miss, I would definitely recommend checking out the powder. While the shades I got weren't suitable and the foundation didn't work well with my skin, I must commend Maybelline for doing what other mid-market brands have yet to attempt. I think with a more even dispersal of shades and, perhaps, some skintype-specific (oily, dry, combination, normal etc.) foundations to complement the different undertones and skintones catered for, Maybelline would have the market cornered.