Burt's Bees is one of those beauty brands that, while not typically popular, every beauty boffin has a favourite product from. I've heard YouTubers going mad over the hand soap and bloggers swearing by the spot treatment while my ultimate product from Burt has to be the body scrub.
However, one product that always comes up again and again is the brands famed beeswax lip balm. A tube of this has been a constant in my beauty drawers for more years than I can count as it is the perfect lipstick base and, this year, Burt and his team have come up with some adorable duos of the tinted lip balm; perfect for stocking stuffers or Secret Santa gifts!
There are two duos to choose from; Hibiscus and Red Dahlia* or Pink Blossom and Rose*. Each of the full-sized balms comes encased in a heavy cardboard tube and you could easily buy one set and split it between two gifts or pop the cute honeycomb-esque box in someone's stocking. I haven't tried it but, a crafty idea could be to add some thread or ribbon to each tube and create cute, girlie Christmas tree decoration that your guests can pick off the tree as they visit your house.
And, of course, these duos aren't the only festive favours from Burt's Bees. The brand have a number of sets, suitable for every budget and every taste.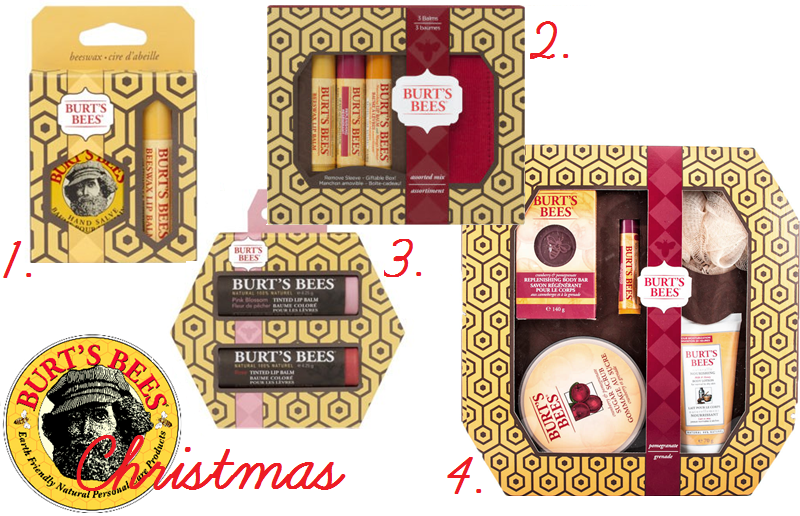 1. Burt's Bees Basics €7.95
2. Burt's Bees Lip Balm Trio €11.95
3. Burt's Bees Tinted Lip Balm Duo €12.95
4. Burt's Bees Favourites - Pomegranate €24.95
So, lots of lovely sets to choose from for Christmas 2012. See anything that catches your eye?
<link rel="image_src" href="http://http://www.vivaadonis.com/2012/11/burts-bees-christmas-2012.html" />