Can you believe that this day four weeks will be Christmas Eve? It is probably my favourite day of the whole year and I can't wait to do some our usual traditions like watching Christmas movies with my sisters in our (matching) Christmas pyjamas; spending the evening with Kev's family for Christmas dinner #1; and curling up with my mam and sisters later that night to watch (quite bizarrely, I understand) Calendar Girls! I really think it's our own traditions that can make Christmas so special.
But, I digress. While Christmas Eve is all well and good, the run-up to the season itself can be quite stressful with parties to organise, meals to plan, trees to decorate and, of course, gifts to buy. While we have been giving you the lowdown on some of 2012's festive collections over the last few weeks, I wanted to put together a gift cheat sheet, with a beauty theme of course, that could be referred back to if you're stuck for ideas over the next few weeks!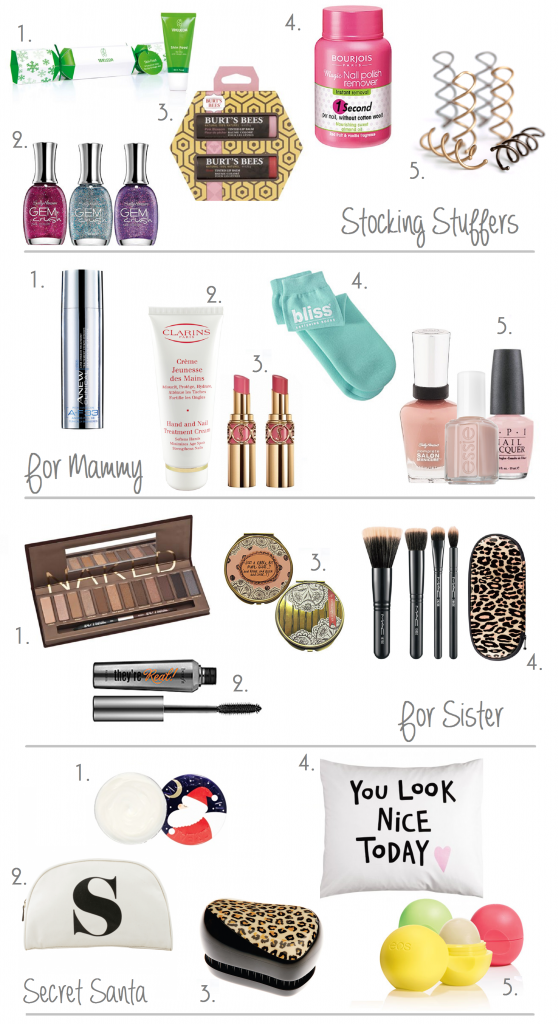 Stocking Stuffers
Is there anything more exciting on Christmas morning than getting a stocking stuffed with lots of little trinkets that you weren't expecting? I don't think so! This year I am putting together some special stocking-inspired gifts for my sisters (more on that later) so, I have been scouring the shelves for some beauty bits that will be unexpected yet, importantly, very practical.
2. Sally Hansen Gem Crush (€8.95)
Review
5. Goody Spin Pins
For Mammy
I don't know about you but, I find my mother one of the toughest people to buy presents for. Her birthday also falls in December so, there is double the amount of pressure to come up with some decent, thoughtful and useful gifts (Can you tell that I love to give presents that people actually want and use?!). Most of these gifts come Mammy Approved and, to put it mildly, are suitable for any women in your life who are over a certain age and like to take good care of themselves! Oh, and who also have a penchant for neutral hues!
1. Avon ANEW Clinical AF-33 (€39.00)
5.
Essie Ballet Slippers
/
Sally Hansen Mudslide
/ OPI Coney Island Cotton Candy (€7.93 - €11.69)
For Sister
I have two younger sisters; one 16 and one 18 so, Christmasses in our house are always vastly beauty-oriented. There are a few standout products that are sure to go down a treat as well as some fail safe, more general, options. All of these gift ideas are entirely covetable for beauty boffins while still being practical and subdued enough for those who aren't entirely obsessed! I think something like a vintage-esque pocket mirror would also be a really thoughtful gift that any woman; mother, sister, aunt or friend, would get infinite enjoyment and use out of!
3. Ornate Compact Mirror (Variety Available Online)
Secret Santa