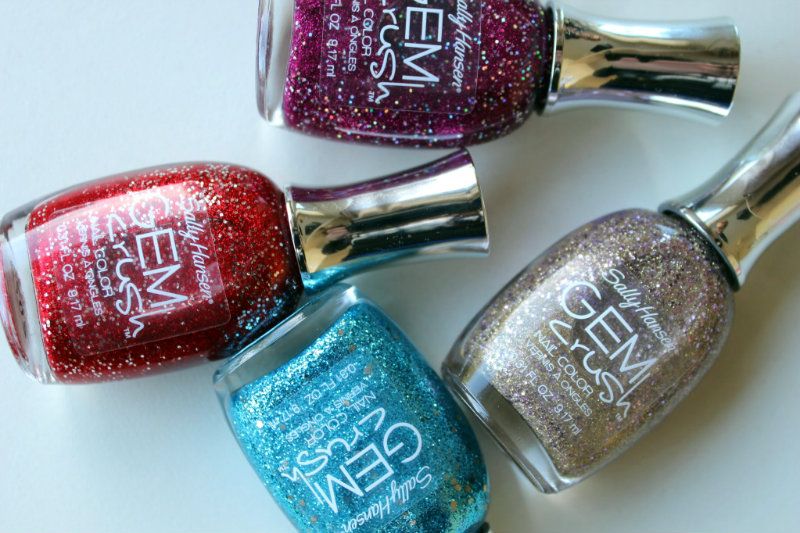 Oh. My. God.
They're here!
Dee and I have literally been sitting on the news that Sally Hansen's uber-popular Gem Crush* glitter nail polishes are coming to Irish shores for months now and we finally got our impatient mitts on them! These glitters are full coverage and high on sparkle and come in at a relatively reasonable €8.95. We have four shades of the eight here to show you so, read on for swatches, first impressions and more!
Firstly, let me apologise for the utter state of my nails and cuticles. The cold weather seems to really have beat them up over the past week or so and they are chapped, flaky and raw. Time to break out the gloves I think! That being said, I did want to show you these on the nails to give you a good impression of how densely pigmented they are, the type of finish they have etc. So, I'll show you the swatches first and then give my overall thoughts and opinions at the end!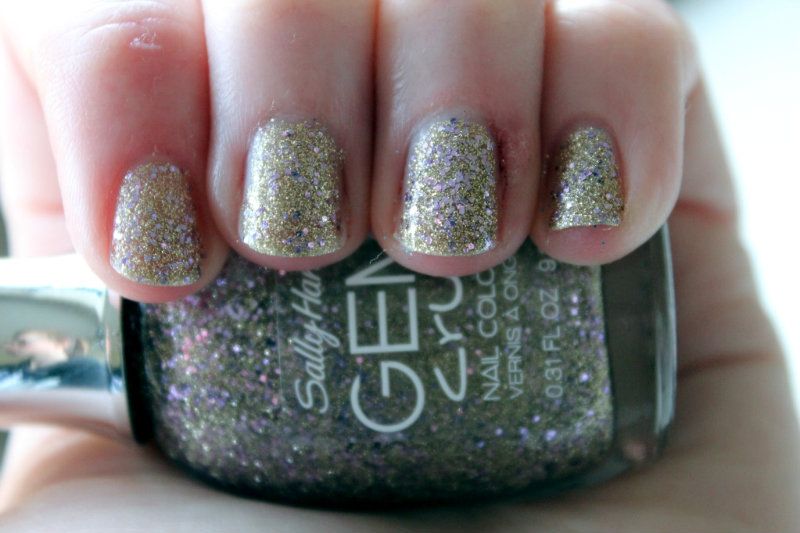 Big Money (Gold glitter with lilac glitter pieces)
Cha-Ching! (Red glitter with silver glitter pieces)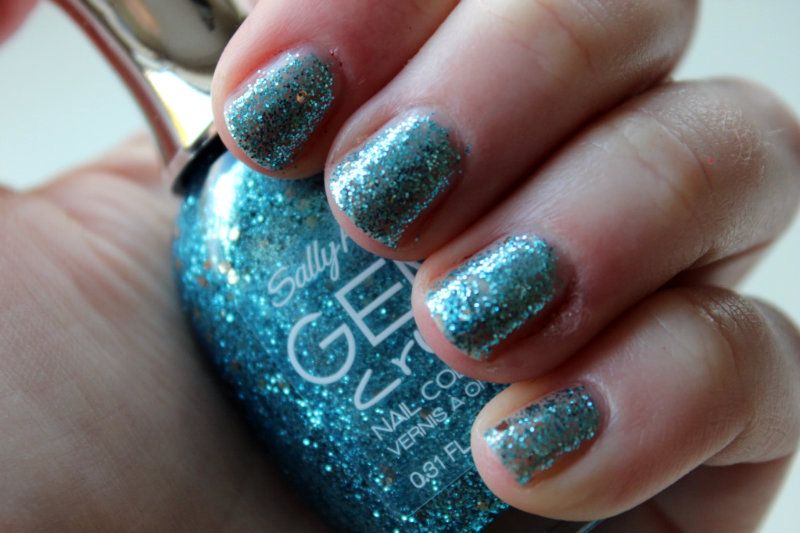 Bling-tastic (Sky blue glitter with blue glitter pieces)
Lady Luck (Magenta glitter with multi-coloured glitter pieces)
So, first off, these look absolutely mesmerizing in the bottles; I could just stare at them twinkling and glittering away all day! However, it is fair to say that they don't all transfer to the nail as beautifully. Lady Luck was the one that caught my eye first as I am a sucker for multi-coloured glitter. Unfortunately, the formula of this particular Gem Crush was thick, gloopy and hard to work with. I feel like my nails look super untidy in the above picture, raggedy, I would almost say and, while stellar in the bottle, the rainbow glitter just doesn't have the same pizzazz when on the nail.
Contrastingly, Big Money looks totally uninspiring in the bottle but, I am absolutely in love with it on my nails. The gold glitter base is finely milled and one coat is enough to give nails decent coverage (I went with two coats for that extra oomph!). The lilac glitter is an unexpected accompaniment but, one which works really well to create a unique, delicate and feminine glitter nail that I don't find at all tacky!
Bling-tastic and Cha-Ching! fall in between Lady Luck and Big Money. Neither are as stodgy as the former but, nor are they are easy to work with and nice on the nail as the latter. Cha-Ching! will be my absolute go-to around Christmastime though, I do wish the glitter pieces were in gold instead of silver as I feel it looks a bit stark. The shade of Bling-tastic wouldn't be my cup o' tea in general but, I know loads of you love that bright sky blue so, I can definitely see it being a popular colour.
Overall, I think the Gem Crush polishes were worth the wait. If you're a sucker for glitter, these are a must-have in your collection and can be used as an accent nail, glitter top coat or all out glitter polish so, you do get your money's worth. Given how good the formula of Big Money is and how the other two have decent application too, I sort of think that I may have got a dodgy bottle of Lady Luck so, definitely don't rule it out without swatching as it is the most striking glitter polish I've seen in a long time. I definitely want to get my hands on the other four shades so I can have a complete glitter nail wardrobe!