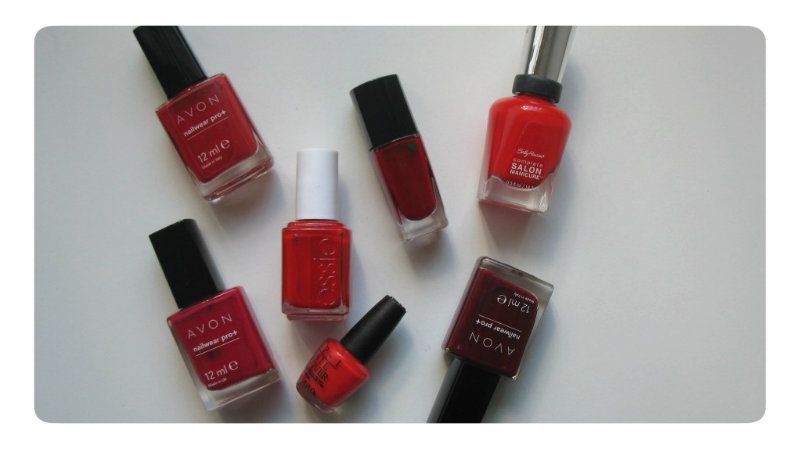 Red nail polish has got to be one of the most classic beauty products of all time. It's been a staple for me for years - long before I became a nail polish freak, in fact, and I always, always come back to it. No matter the season or occasion, it's something that you can put on without too much thought and know that you look decent, classy and presentable, although the conservative 'lady' in me probably wouldn't show up to a job interview sporting scarlet talons!
There are an array of reds to choose from - if you thought red was just one colour, then think again! I have a selection of dark reds, orange reds, fire engine reds and 'blue' reds to do a little show and tell about...read on if you're interested!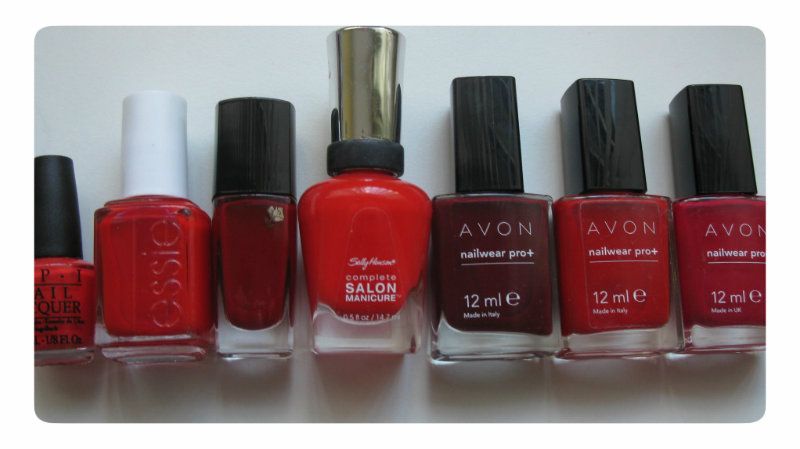 L-R: OPI Red Lights Ahead...Where? Essie Russian Roulette, Lancome Rouge in Love 179M, Sally Hansen All Fired Up, Avon Cherry Jubilee, Avon Real Red, Avon Red Reveal.
1. OPI Red Lights Ahead...Where?
I got this in a set of minis from the OPI Holland collection at a beauty show last year, and I didn't really expect to love it as much as I do. It's a loud orangey-red - think MAC Lady Danger in nail polish form. It's a nice, bright twist on a normal red and I love it a lot.
2. Essie Russian Roulette
The latest addition to my family of reds came when I bought this at Professional Beauty a few weeks ago. It's a real fire-engine red, not too blue or orange-toned. This has quickly become one of my favourite shades like, ever. Essie may be known for their quirky shades, like pale blues and muted browns, but judging by this red, they know how to do a classic, too. This dries to an extremely glossy finish before I even touch it with a top coat, and it also wears extremely well. I've gotten three days out of this without chipping, which is a really great run for me as I do a lot of typing as well as general fiddling with my nails!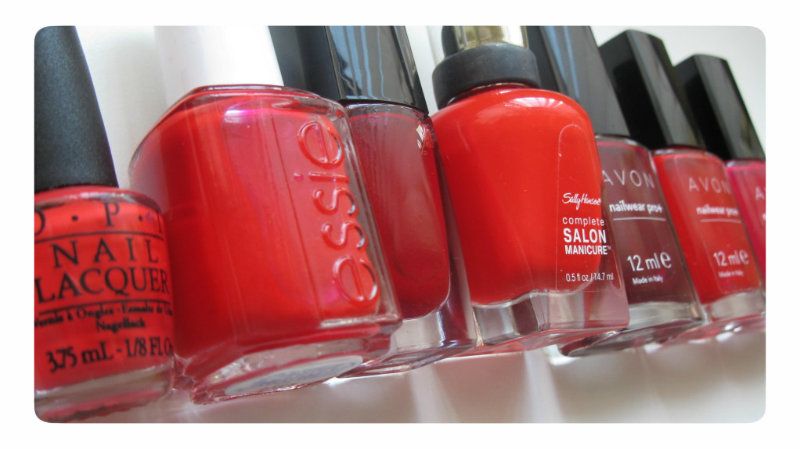 3. Lancome Rouge in Love 179M
This is an amazing, classic old Hollywood shade. It's a rich, dark, scarlet red, which is beautiful for winter and looks amazing against pale skin. The formula is really rich and opaque in one coat, although I always go for two! The brush is wide and easy to work with, ensuring perfect, mess-free application. It lasts for about three days on me, which is no easy feat. I could go on and on about this stuff, and how I think it really is worth shelling out for, but I have to keep this short! I'll finish by saying that I think this is probably my favourite nail polish
ever
- how's that for a recommendation?
4. Sally Hansen All Fired Up
At the risk of running out of metaphors, this is a really pretty tomato-red with a hint of orange to it. This is one of my failsafe nail polishes for when I am in a rush, as it goes well with pretty much anything, dries fast and applies like a dream. I do usually use a base and top coat, but, you can easily go without when using this polish and it will still wear well without staining your nails.
5. Avon Cherry Jubilee
I'm including three Avon polishes here because their formula is great, and they're hit the nail on the head when it comes to producing 'different' reds. This first shade reminds me of black cherries or red wine - just a bit lighter than the likes of Chanel's Rouge Noir so the scarlet still shows through. It's
almost
a dupe for my beloved Lancome shade, but not quite!
6. Avon Real Red
Real Red is er, a good example of a real, normal red colour. It's clean and doesn't lean too blue - nice and normal. I remember having Revlon Red for years and this is the exact same kind of colour. It's universally flattering - if you don't have a lot of nail polish, do make sure that you have something like this!
7. Avon Red Reveal
My current favourite. This is a really juicy raspberry red with strong blue undertones. It's really striking on, especially against pale skin, and, well, it looks lovely. There's only so much I can say about red nail polishes and I think I've just run out of steam, but rest assured that this is a gorgeous, bright shade of red!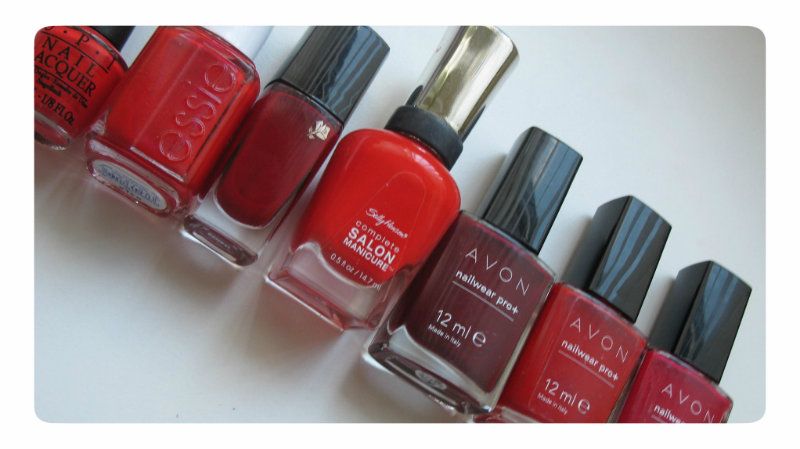 So, here's to the end of another rant about nail polish - I'll be pretty shocked if anyone actually reads this far! What's your favourite red?