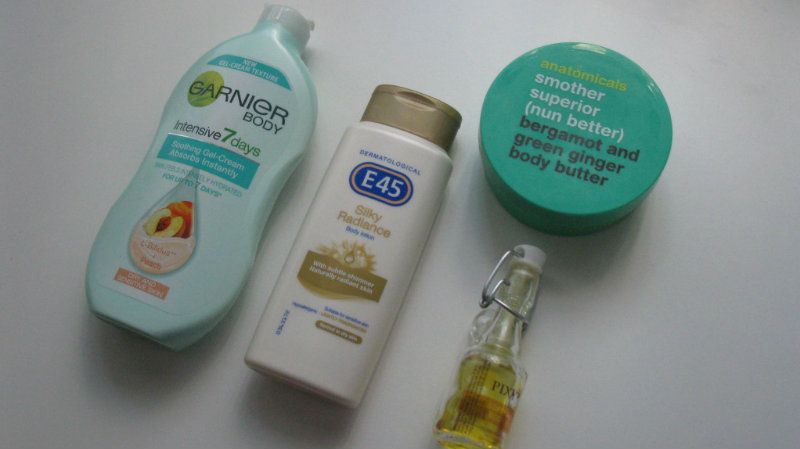 Body products = boring products, right?! For a cosmetic junkie like myself, not so much, although I'd much rather but a lipstick than a body lotion! That said, I do enjoy slathering myself in a nice body moisturiser (be it a body butter, lotion or oil) post-shower, hopping into bed and waking up with baby-soft skin. I usually have a good few body products on the go at once, and these are my current little group of goodies that I've had on rotation - read on for four quick-fire reviews!
1. Garnier Intensive 7 Days Soothing Gel Cream
I picked this up on a whim in Boots a while back - I needed an everyday body lotion and this one was only €6, plus I'd read a few positive reviews of it. I found this really easy to apply, plus it sinks in fast, but I didn't think it was in any way sufficient at hydrating my skin for seven days, plus I found the formula to be far too synthetic for my own taste. There is a sharp smell of alcohol off it (presumably to help the lotion 'sink in' faster), which I hated and, although it is quick and easy to apply, it didn't do anything wondrous for my skin at all, and I won't be buying it again.
2. E45 Silky Radiance Body Lotion*
I received this
months
ago, and have been using it sparingly because I love it so much. It's a creamy, light lotion that really softens my skin (I love and recommend all of the lotions in this range, actually), as well as adding a little bit of radiance. Now, nothing too glittery or tacktastic, just a fine shimmer that looks great for a night out, especially on top of a tan. It smells really pleasant and inoffensive, and I love it.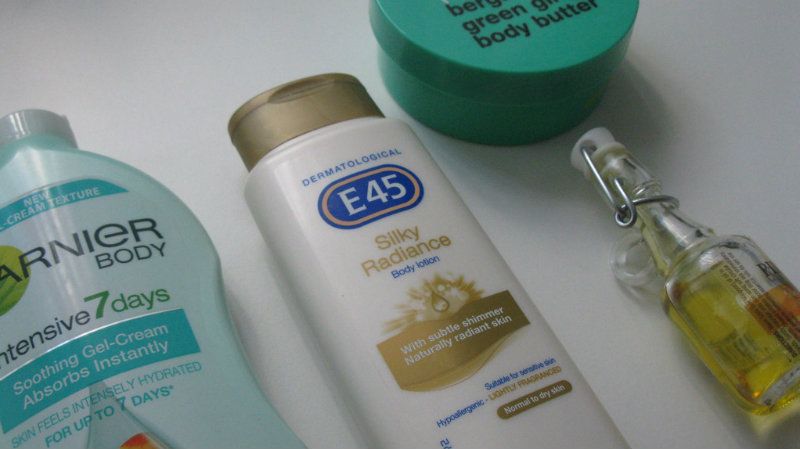 3. Pixy Softening Body Oil*
I'm not as good with body oils as I am with lotions. I just find them a bit messier and more cumbersome - but this one is worth it. The oil does exactly what it says on the (seriously cute) bottle - softens my skin. It sinks in a good bit faster than other oils that I've used, but it's still not something I'd use in the morning, just in case! Props also have to go to this product for its jasmine scent - it's divine and I can't get enough of it.
Even the packaging, whilst not strictly practical, is something special and eye-catching. I think it's fairly priced at €7.99, especially considering this is an Irish enterprise (
something which I do harp on about, I know, but it is so important to support our own!
). If you're looking for something to combat dry skin for the winter months, I think this would be a great product to keep your skin hydrated and comfortable.
4. Anatomicals Bergamot and Green Ginger Body Butter (from Cloud10beauty.com)*
I love a good body butter, and something with an unusual and refreshing scent is even better. I love bergamot and the scent is probably the best thing about this stuff: it's really uplifting, zingy and refreshing. It makes my skin feel
nice
, but not amazing or anything; it's very viscous in texture and not exactly what I'd really describe as a body butter. So, on the whole, a nice product but not something that I'd buy for myself as I prefer a much thicker body butter.
Let me know what your favourite body products are and if you've tried any of these ones!