I've mentioned before how I try to do a lot of my beauty shopping online. Feel Unique, Lookfantastic and House of Fraser are the main targets as I find that, even with the conversion rate, the products are much better value and my money goes a lot further. All three sites are also famed for having awesome and frequent sales and, last week, House of Fraser had one of their amazing Brand Events where there is 25% off virtually everything online.
I had a few things on my wishlist that I had almost bought the week before but, thanks to a hectic schedule and a forgetful mind, I managed to snag them with a cushy little discount. As I mentioned in an earlier post, I rarely do "hauls" any more as I know some people get annoyed by them but, I have plans to review and/or feature all of these products in the near future so, I just wanted to give a brief intro to them. Also, I wanted to use this post to tell you that it is well worth liking the House of Fraser Facebook page and signing up for their emails as you'll get prior notice of all Brand Events and sales!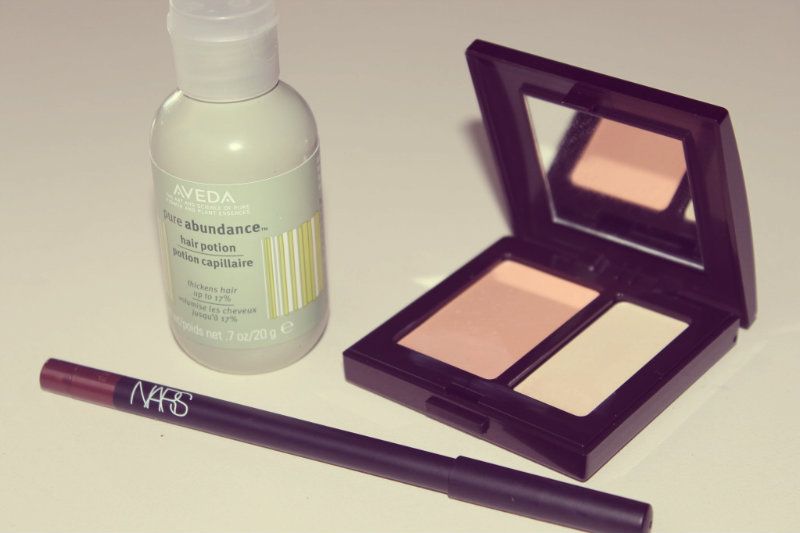 Aveda Pure Abundance Hair Potion ~
I have wanted this since one of my favourite YouTubers, LisaLisaD1 declared it better than any other volumising powder she had ever tried. Now, if you watch Lisa, you'll know that she buys and tries pretty much everything on the market so, I knew this would be worth a shot to breathe some volume into my perpetually straight hair. If you, like me, love hauls, then definitely check out
Lisa's channel
!
Laura Mercier Secret Camouflage Concealer ~
Another recommendation, this time direct from my friend and fellow blogger
Simone
! As you all know, I have been adoring the Laura Mercier Loose Mineral Powder Foundation and was eager to try some more cult favourites from the brand. Simone hails this as her Holy Grail concealer so, I picked it up and, without giving too much away, it's a bloody awesome concealer!
NARS Larger Than Life Liner in Via Appia ~
I collect eyeliners like they are going out of style and, even though I have more brown pencils than you could shake a stick at, I have been dying to try one of the Larger Than Life pencils from NARS which everyone has been raving about. My all-time favourite brown, MAC Teddy, is on its last legs so, I decided to replace it with Via Appia, a similarly bronze-brown shade. I'll report back soon on how I like it but, I do definitely want to get my hands on Rue Bonaparte, a creamy nude, from the same line.