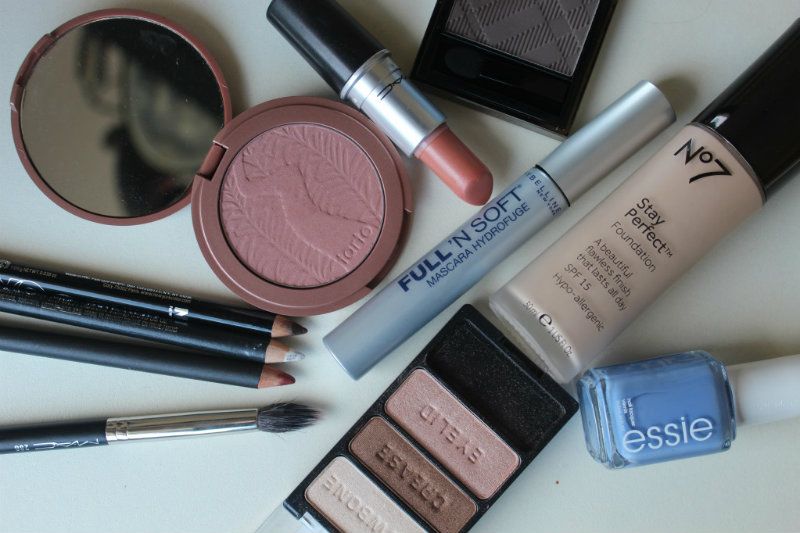 It's been a good few month since I last updated all you lovely people on what I'm currently lovely so, I thought I would do a quick round-up as we come to the end of yet another month! I've sort of been clinging on to the last slivers of summertime which explains the light and bright trend in this post but, I'm slowly starting to embrace the autumn and winter and all the good beauty booty they have to offer!
MAC 286 Brush ~
I feel bad about including this brush in here as it is limited edition from a few collections ago. I only recently rediscovered it in my collection and I have been loving it for giving a light wash of colour in the crease and blending darker shades out with a transitional colour. Definitely keep an eye out for this in future MAC collections.
Wet n' Wild Eyeshadow Trio
Walking on Eggshells ~
So many of you recommended this little palette to me before I went to New York and, honestly, I can't thank you enough! This has been my go-to everyday eye look as it is quick, easy and requires little thought. The shades are intensely pigmented and longwearing or around €2 and I'm only sorry I didn't pick up more combinations! (
Featured here
)
Essie
Lapis of Luxury
~ Never before have I repeatedly worn one colour on my nails for so long. This bright lavender-toned blue was just the perfect summer colour and it looked amazing on short, manicured nails. Sadly, I think it has had its final outing for this year but, I can't wait for spring to roll around so I can whip it out and wear it obsessively once again!
No7 Stay Perfect Foundation
Calico*
~ Dee and I both received this foundation when we went to meet Lisa Eldridge in conjunction with the launch of the No7 Match Made Service and we've both been loving it. I have been using it both on its own and mixed with the YSL Teint de Touche Éclat and it gives the perfect balance of coverage and dewiness to get me through the working day. (
Featured here
)
Burberry Sheer Eyeshadow Taupe Brown ~
I won't talk too much about this here as I have a full review coming up. However, it's fair to say that I am raging I didn't forgo some other purchases in New York to stock up on more of these bad boys! (
Featured here
)
MAC Lipstick Shy Girl ~
I totally rediscovered this lipstick on holiday. I don't have a clue why I decided to bring it after months of not wearing it but, I fell in love all over again and have been wearing this creamy coral peach shade as my version of a nude lip. I've also been pairing it with
MAC Lip Pencil
Chicory
which gives a great two-tone dimension to lips and is another favourite of the moment! (
Featured here
)
Tarte Amazonian Clay Blush Exposed ~
I recently dedicated a whole post to this little beauty so, I won't bore you by repeating it all again. Suffice to say, this is my
ideal
blush and is suitable for year-round wear so, I don't see this being off my cheeks anytime soon! (
Review here
)
MAC Eye Kohl Fascinating ~
This is an oldie but, a goodie! MAC Fascinating is one of those hyped-up products that every beauty blogger and vlogger seems to love and it's totally justified. This pure white eye pencils opens your eyes and makes you looks alert and awake and I find that it really brings together any make-up look as it is very chic and clean; perfect for work!
NYC Eye Kohl
Chocolate Brown*
~ The complete antithesis of the above, I love brown eye kohl for creating a smokey, sultry look. It's not as harsh as black which is especially good for during the daytime and, it also brings out my blue eyes. I find this the perfect go-to for smudging along my lashline and waterline when I don't have time to do a full eye look but, still want to look like I put some effort in!
Maybelline Full n' Soft Mascara ~
Last but, not least, we have the mascara I have been searching for my whole life. This is the most perfect mascara for creating soft, fluttery lashes that look miles long even though mine are actually quite short. Dee is just as obsessed with this mascara as I am and I've already put in an order with my aunty for more when she is over in the US next month!