God, we've gone absolutely bonkers for skincare here on the site over the past few months. We can't quite explain it but, it seems as though we are hoovering up every skincare product in our path! The latest brand to come into our line of sight is Pai skincare, a certified organic range targeted at sensitive and allergy-prone skin. As we both have different skintypes, we've been roadtesting two different products to give you a broader first impression of the brand and the products they offer.
Before we jump into our reviews, we just wanted to give some general opinions on the brand. Firstly, the products are beautifully packaged. From the intricately embossed outer boxes (not pictured) to the clean and simple, yet striking containers, these products manage to look both scientific and luxurious, which is no mean feat (One of our favourite skincare brands, La Roche-Posay, is overwhelmingly scientific in its packaging which can be offputting.). Price-wise, this is a middle-of-the-road skincare brand. It's nowhere near the price points of uber-luxury brands like Creme de la Mer, nor is it dwelling with drugstore brands like Simple and Boots Botanics. While you may balk at skincare prices, it really is the one area of beauty that we heartily suggest investing heavily into. Not only because a good skincare regime will aid a your make-up application and keep skin looking clearer and younger but, if you have sensitive skin, you'll appreciate how hard it is to find good products that are gentle.

Sinead ~ Normal Skin ~ Camellia & Rose Gentle Hydrating Cleanser*
The Camellia & Rose Gentle Hydrating Cleanser is intended as, well, a hydrating cleanser that removes dirt, impurities and make-up. I don't usually have much faith in products which claim to remove make-up as I never feel that my skin is thoroughly cleaned unless I wash it a second time which is not exactly cost-effective.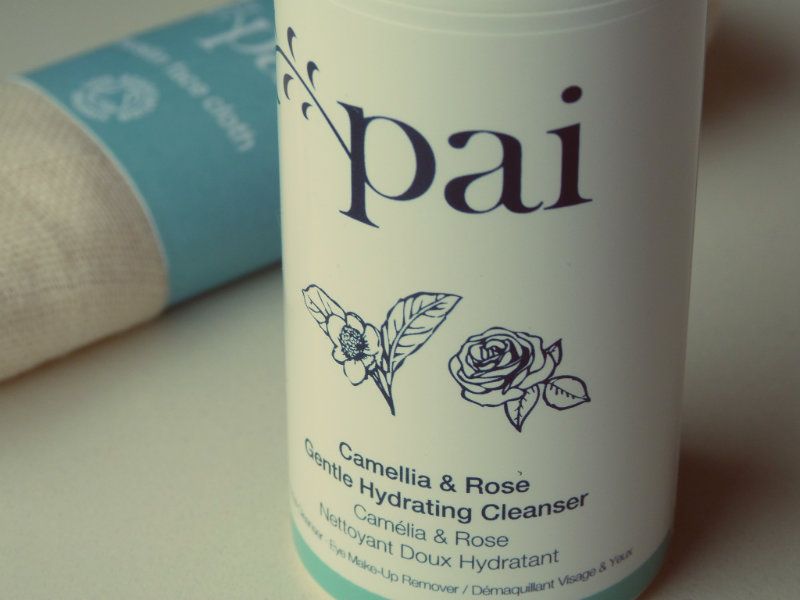 In the case of this cleanser, I am actually happy with how it sloughs off my slap at the end of the day. It came with a really high quality and exfoliating muslin cloth which I have been using and loving. However, as I mentioned in my most recent Clarisonic update, I have also been using it with the Clarisonic and, while a cream cleanser isn't my preferred formula, it has been performing really well and my skin has been looking particularly clear.
Price-wise, there are three sizes available at different price points; 50ml for €18, 100ml for €32 and 200ml for €45. A muslin cloth is included with both the 100ml and 200ml sizes which slightly offsets the price. I think this is a great option for skincare products to have as it means that you can try it in a smaller size before you commit to the larger and, unless you're bathing in it, 200ml should last you a huge length of time!
Honestly, I find it hard to fault this cleanser. It smells nice and light and is gentle and comfortable to use with little-to-no tightness after washing. I know that the prices may be off-putting but, if you, like me, have sensitive skin, you would find it hard to go wrong with this little one!
Dee ~ Combination Skin ~ Geranium & Thistle Combination Skin Cream*
The Geranium and Thistle Combination Skin Cream (€30)* is an all-natural face cream which does a good job at controlling oil and creating a smooth, matte base for make-up. If I am totally honest, I found it hard to get into using this as a day moisturiser as it contains no SPF. I've made it my mission these last few months to wear sun protection every single day, and it's a habit I really don't want to break.
So, in order to get use out of this stuff, I ended up using it on top of an SPF which can be a little greasy and streaky on my face (La Rocche-Posay Anthelios XL, if you're wondering). The Pai cream did a great job at smoothing things over and keeping my face nice and matte. So, in this case, I really did like the cream, but it doesn't contain everything that I'd usually look for in a day moisturiser - I usually prefer one that contains an in-built SPF as well as a matte finish.
What else is there to say about this? I like the glass packaging - a pump is always a plus - and it smells nice to me. The scent is quite a strong, herbal one though (it reminds me of some Clarins products), so that is worth noting if you prefer to steer clear of scented products. For comparison's sake, this reminds me of La Roche-Posay Effaclar Mat, which, by the way, is half the price. So - in short, I like this quite a lot, but it is quite expensive and doesn't meet all of my needs, so I can't see myself replacing it!