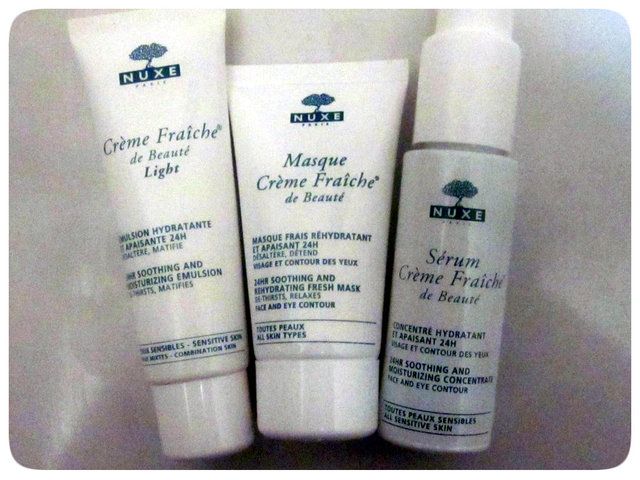 Another day, another skincare range! Well, not really. We have gone through quite an amount of skincare of late, though (see last week's review of Pai skincare
here
), and having used this range since the beginning of August, I feel like I can give you guys a really honest and detailed review.
The concept behind this skincare range is kind of bizarre: '
The new botanic milkshake for dehydrated and sensitive skin, that moisturises and soothes for 24 hours'.
If you break it down, though, it's a lot easier to see where NUXE are coming from with these products. They're meant to hydrate and soothe all skin types, which is really a great concept for this time of year. I've said it before and I'll say it again: skin that is oily can also be dehydrated, and if you start to treat your skin for dehydration, you will look
so
much more radiant and healthy.
Since discovering this, moisturising serums have become key to my skincare routine. They keep my skin plump, radiant, and (
hopefully
) prevent premature ageing. The
Sérum Creme Fraîche de Beauté*
is a brilliant all-rounder, and my favourite serum that I've tried so far. It's a milky liquid that sinks in really fast and can also be used on the eye area, so you can slap it on all over your face before bed, and go to sleep knowing that your skin has been well looked after! Every time I use this, my skin looks more radiant and well-rested the next day. At €34, it's not the cheapest skin product, but it is cheaper than my former favourite, the
Clarins Hydraquench Serum,
and it really is a fantastic product.
Now, on to the moisturiser -
Crème Fraîche de Beauté Light
. I absolutely love this apart from one fact, and it's the same gripe that I had with the Pai moisturiser that I wrote about last week - there is no SPF. At about €25, I would expect this as standard, but apart from this it is a great moisturiser. It does pretty much the same thing as the serum does - adds moisture and radiance, but without leaving my skin greasy. It creates a really smooth canvas for make-up application, and is great over my current SPF of choice, La Roche-Posay Anthelios XL. So essentially, it's very good but I probably wouldn't buy it myself as there is no in-built sunscreen (if you're looking for a moisturiser that does have SPF,
this one
from Avène
is brilliant and cheaper).
Rounding up this trio of products is the
Masque Crème Fraîche de Beauté.
Like the serum, this can be used on the eye contour area, and acts as an instant pick-me-up for skin. It is hydrating but not at all greasy, and ten minutes of this does amazing things for my mug. This is the third moisturising mask I've tried this year, and it's by far the best. Along with the other two products, it smells pleasant without assaulting your nostrils, and is just a complete pleasure to use - a really luxury, pampering product. Best of all, it's not ridiculously expensive at about €24. I love this and recommend it especially if you suffer from redness or dry skin coming into the colder months.
So, to round up, this is a great line of products. I've yet to come across a NUXE product that I didn't love, so if you haven't tried them and are in the market for new skincare, give them a bash!