We all hate panda eyes, right?! Unless you're in your early teens and/or a big fan of Avril Lavigne, runny, smudged eyeliner is just not a great look. Over the past couple of years, we've seen a lot of big high-end brands bring out super-pigmented pencil liners that are different to traditional kohl pencils in that they set after a few seconds and will not budge after that! Liners in this vein would be Urban Decay 24/7, NARS Larger than Life, Armani Eyes to Kill Waterproof...you get my drift.
Recently, more affordable brands have brought out their own waterproof offerings. I have four liners to show you today from Rimmel and Sleek - let's see if they live up to their high-end cousins!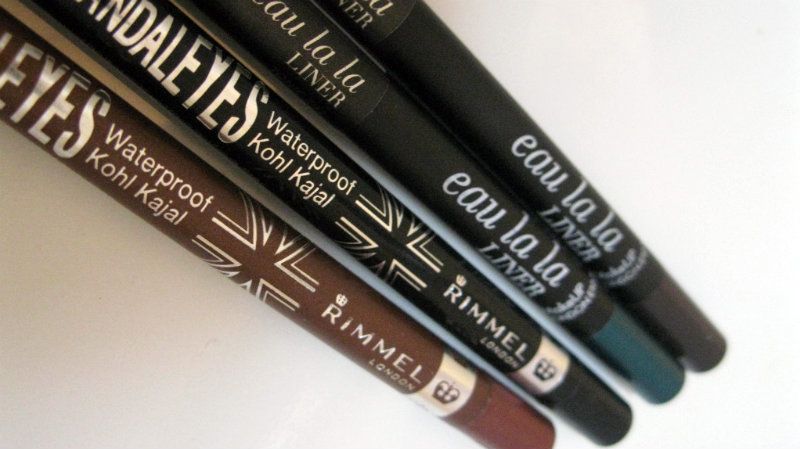 This little collection of liners began the other week when I saw the new Rimmel Scandal'Eyes Waterproof pencils for sale in Penneys. As soon as I swatched them, the first thing I noticed was how Urban-Decay-esque they were. At about €4 each, I snapped them up and resolved to blog about them! As I began to trial these, I received two more very similar products from Sleek, sent to me to review from
Cloud 10 Beauty,
and I knew that a comparison post was in order!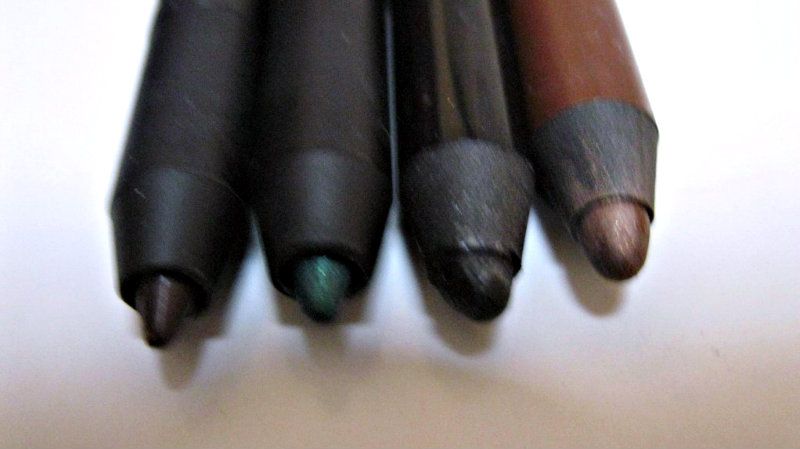 L-R: Sleek Cocoa, Sleek Tonic, Rimmel Black, Rimmel Bronze
Colours
So, colour-wise, from Sleek I have Cocoa (dark, almost burgundy brown) and Tonic (bright emerald green). The Rimmel liners are Black and Bronze - fairly self explanatory, I think! They're both the same size and format: traditional liners that you sharpen with a parer. I love the Rimmel black - it's super-dark and, for comparison's sake, way blacker than the Urban Decay 24/7 pencil in Zero. The bronze is gorgeous, too - I love the shimmer running through it and have been loving it paired with MAC's Woodwinked eyeshadow.
I think I can safely say that I adore all of the colours equally, although I'm not quite sure how I'd wear the green. Cocoa is a really interesting colour - it's like a matte version of one of my favourite eyeliners
ever,
Avon SuperSHOCK in Blackberry. I'm a huge fan of these kind of almost-black shades, as they work for pretty much any eye colour, and are just that little bit more interesting. They're also hard to come across, so I was impressed to see such an interesting and unusual shade from a high street brand.
Formula
In comparison to a lot of traditional eyeliner pencils, both brands' liners are exceptionally smooth, pigmented and really easy to work with. Pigment-wise, the weakest of the bunch would have to be Sleek's Tonic, but only to the extent that you might have to line your eyes more than once with it - after that, it's perfect. The Rimmel liners are a little chunkier, which I do prefer as I don't have to sharpen them as often. They are also a teeny bit softer to use - but overall, I think that the formula of these liners is excellent, and very similar all round.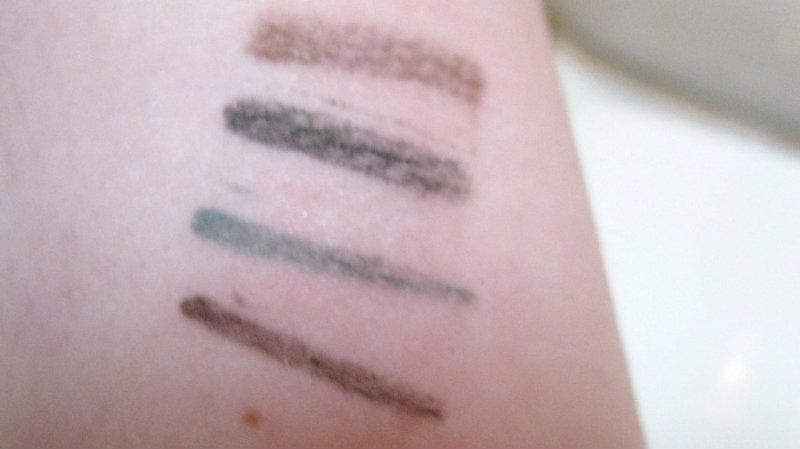 Longevity
Again, longevity is really similar. When I tested these, I found that they lasted just as long as each other. If I went to touch up my makeup during the day, it really wasn't necessary to re-do my eyeliner. It would have been interesting to do a comparison with a black liner from Sleek on one eye, and the Rimmel on the other, but honestly, in wearing and swatching these, there was no clear winner in terms of longevity. For the above picture, I swatched them all on my hand, let them set, and then rubbed vigorously. Here's how they looked after - not bad!
Verdict?!
Honestly, I love both the Sleek and Rimmel liners. The shades are great, and I think I'll be picking up more from both brands. The Sleek ones are slightly more expensive at €5.99, though, but they do have some seriously striking and unusual colours, and a
bigger range
than Rimmel do. I'm pretty sure that these are meant as multi-purpose pencils (like Illamasqua's ones), and I'd love to pick up a red in the future to use on my lips! Of course, Rimmel is much more widely available in the Republic of Ireland than Sleek is, and if you see them in your local chemist, you won't regret picking one up!