When you try as many beauty products as I do on a daily, weekly and monthly basis, it's rare that one really stands out and, when it does, I know it's a good one! I don't know whether it was the pared down collection I brought on holiday or the fact that the different weather and environment allowed for different products to shine but, there were a few items that really surprised me over the two weeks I was away and ones which I reached for on a daily basis.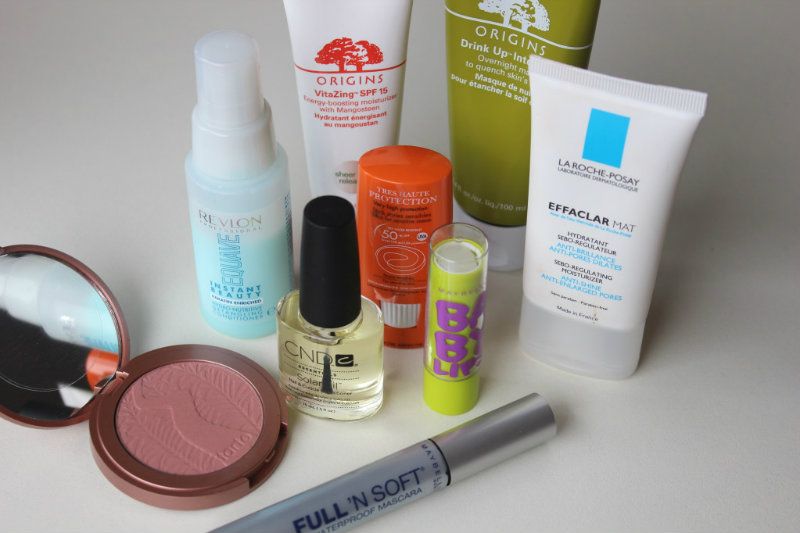 Origins VitaZing
When I first reviewed this product, I mentioned how underwhelmed I was by it and how I was going to keep it aside for my holidays. I did just that and I'm now reporting back with only words of praise for this little tube of tinted wonder.
I wore this every night in lieu of a normal foundation. The shade blended in well with my (ever-so-slightly) sun kissed skin and gave me a really natural, healthy glow. I do understand that this may not provide enough coverage for everyone but, if, like me, your skin improves in the sun, I would definitely urge you to check this out for your next summer holiday.
Revlon Equave 2 Phase Leave-In Conditioner
I've spoken about this at length already so I won't bore you with the details. While I had always loved this as a detangling spray, it really came into its own as a constant conditioning product and sun protectant for my hair. There was no frying or drying of hair and no unmanageable tangles from the wind. Oh, and it smells so good which is a major plus!
Tarte Amazonian Clay 24H Blush "Exposed"
After wanting this blush for months I think it's understandable that I found any excuse to wear it on my holiday! The great thing about it is that it is extremely longwearing and, so, withstood the heat and humidity really well. The nudey pink shade is really flattering and gives my skin a really natural glow.

Maybelline Full and Soft



This is only a new purchase but, from the first moment that wand touched my lashes, it was love! Perfect for natural-looking, thick, fluttery lashes for daytime (and yet can be built up for evening) this was my go-to mascara for the entire trip. The waterproof formula doesn't smudge, run or flake during pooltime yet it cleans away easily at the end of the day with a good bi-phase remover. Could this be the perfect mascara?!?
CND Solar Oil
Again, another new product that really came up trumps throughout the course of my holiday. CND Solar Oil really nursed my nails when my Shellac took a bit of a battering and I started to peel it (Naughty, I know!) and also when my cuticles started to dry out from the air conditioning. My nails feel relatively strong, despite having had the Shellac on, so, a little bit of these each night worked wonders while I was away!
Eau Thermale Avène SPF Stick
You know that feeling when you're out in the sun and suddenly one part of your body starts to feel incredibly hot and you just know that it's getting scorched? Yeah, that happened a lot while I was away. However, this pocket-friendly stick was an absolute lifesaver when walking around the islands. Anytime I felt that my skin was getting too hot, usually around the extremities; ears, nose, knees and elbows, I just popped a bit of this on directly from the tube and carried on my merry way.
Maybelline Baby Lips
Yep! Another newbie and it's a goodie! I had heard SO much about these before going to the US that I was intrigued to try one. Some people really dislike them but, I found this really great both during the day and at night. It has an SPF 20 I think so, it really protects and nourishes lips during the day but, it also kept my lips hydrated and flake free throughout the night even with the air conditioning on full blast.
La Roche-Posay Effaclar Mat
I have only recently reviewed this so, I won't bang on about it too much here. However, I do just want to give it the nod it deserves for keeping my skin matte and shine-free under the ridiculous Caribbean sun! It also made for a great base under the Origins VitaZing and photographed really nicely.
Origins Drink Up Intensive Mask
Ah. This ole gem never lets me down! Dehydrated skin is so common when travelling. From the recycled airplane air to the constant air con, I always feel like my skin is being sapped of any moisture it naturally has but, a quick slather of this stuff at night (or during the flight, much to the amusement of my fellow passengers!) sorted it right out!
Do you have any staple holiday products?