Autumn is fast approaching and along with the crisp air, crunchy leaves, hats and scarves comes a change in beauty trends. Gone now are the pale pastels and neon lips of summer, replaced largely with smokey, earthy tones that flatter and warm the complexion.
Budget brand NYC has everything the trend conscious could want to revamp their look for the upcoming season. Ranging in price from €1.49 to €3.99, we have a whole pile of stuff to show you including some pretty special eye quads that I think will have you hot-footing it to the nearest chemist!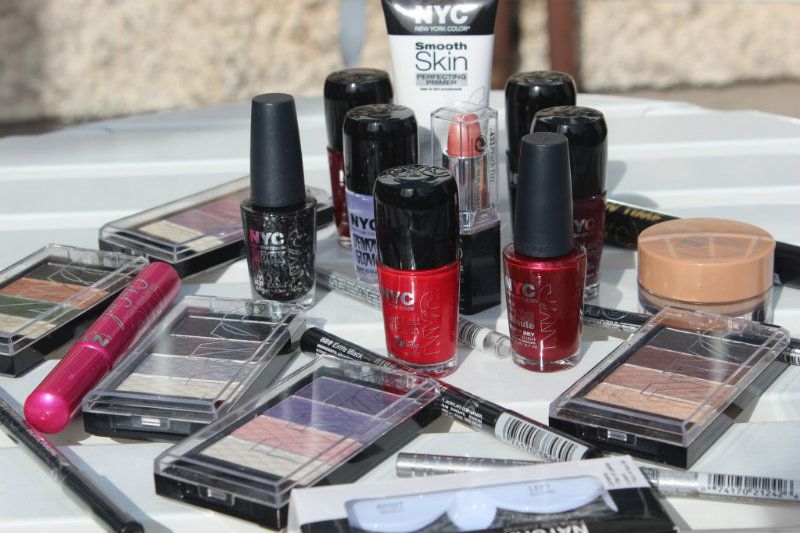 The Metro Quartet Smokey Eyeshadow* quads really made me go
ooh
when they fell out of the parcel. Not only is the shade selection pretty incredible, with neutrals, smokeys and brights taken care of but, the chunky plastic packaging and low-key branding belies their €3.49 price tag and makes them look and feel a lot more luxurious.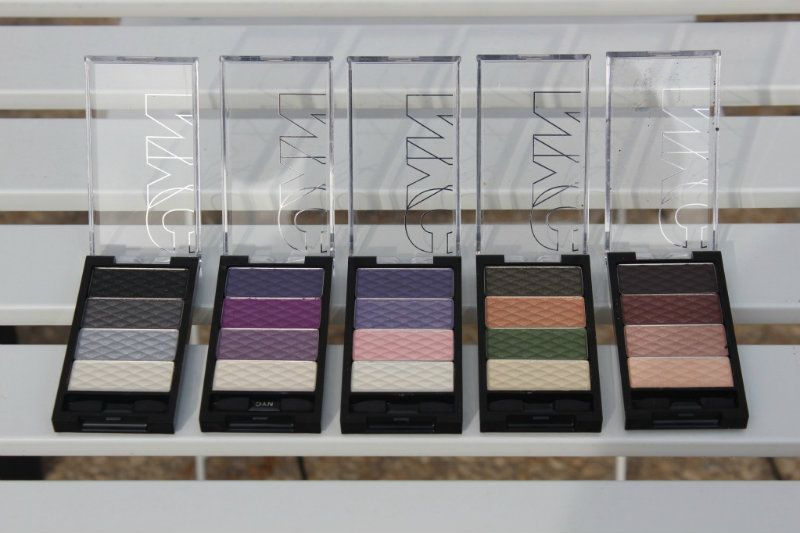 (L-R): Gothic Harlem, Queens Boulevard, NY Tribute, Fashion Bootcamp, Best of Broadway
Now, obviously for less than four quid, these eyeshadows are not going to be the best on the market. Some of the paler shades are a bit chalky while the black is poorly pigmented. However, these poorer performing shades can be whipped into shape with a bit of water or mixing medium so, for the price, you're not getting a bad deal. I did have swatches done of each palette but, realised the post would be miles too long so, I'm going to try something new and let you view the swatches in an external album
here
if you are interested!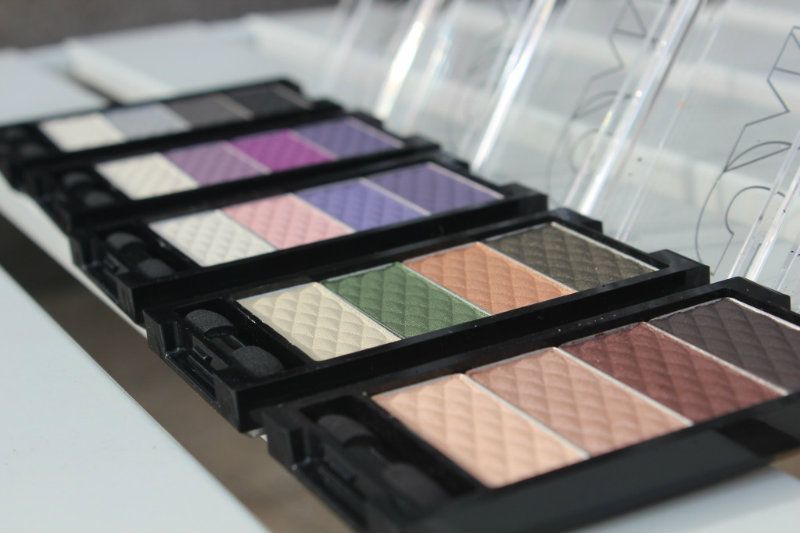 (L-R): Gothic Harlem, Queens Boulevard, NY Tribute, Fashion Bootcamp, Best of Broadway
Nail polish* is probably one of the brand's most celebrated products and, honestly, it's easy to see why. All of the NYC polishes I have ever used have been highly pigmented and boast a decent wear-time, usually 4+ days with a good topcoat. There is a huge range of shades across the brand and, starting as cheap as €1.29, they won't break the bank.
(L-R) City Blackout, Boundless Berry, Fine Red Wine, Chelsea Cherry, Chelsea, Rock Muse Smokey Top Coat, Demon Glow Top Coat
For the autumn/winter season, dark, vampy shades are at the forefront with a collection of wines, burgundys, plums and blacks making up the majority of the season's edit. There is also a bright, blood red shade, Chelsea Cherry, which would suit both Halloween and Christmas as well as a glittery black top coat and even a glow in the dark top coat perfect for the spooky season!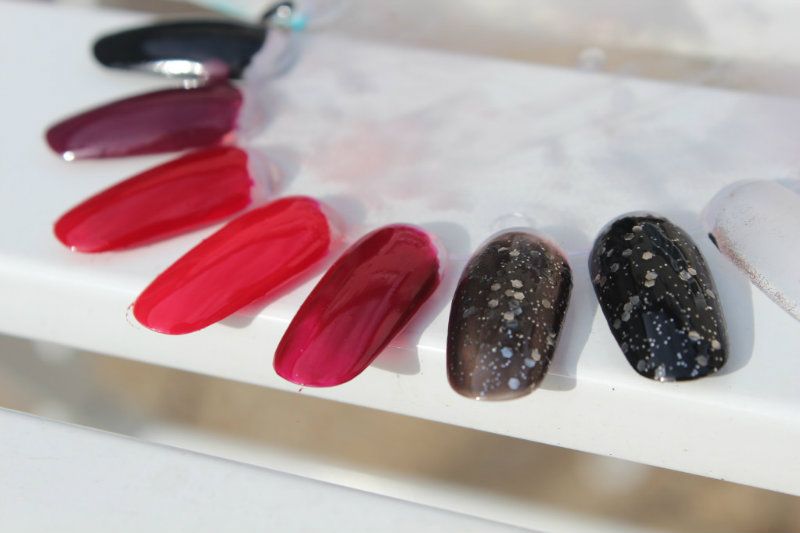 (L-R) City Blackout, Boundless Berry, Fine Red Wine, Chelsea Cherry, Chelsea, Rock Muse Smokey Top Coat, Smokey Top Coat over City Blackout
The eyeliners* included in the A/W 2012 edit are very complimentary of the nail shades with a plum, reddened-brown and glittery black making the cut. With prices starting at €1.49, I didn't expect much, if anything from the quartet I received. However, I was pleasantly surprised with the Kohl Kajal in Chocolate Brown (I've been wearing it all week!) as well as the Showtime Glitter Pencil which was not at all grainy and will be great for Christmastime. However, I really don't rate the Automatic Eye Pencil. This plum colour looks spectacular in the hand but, has poor colour payoff. The packaging was also flimsy and, after the superb eyeshadow quads, I had hoped for more. Again, swatches
here
.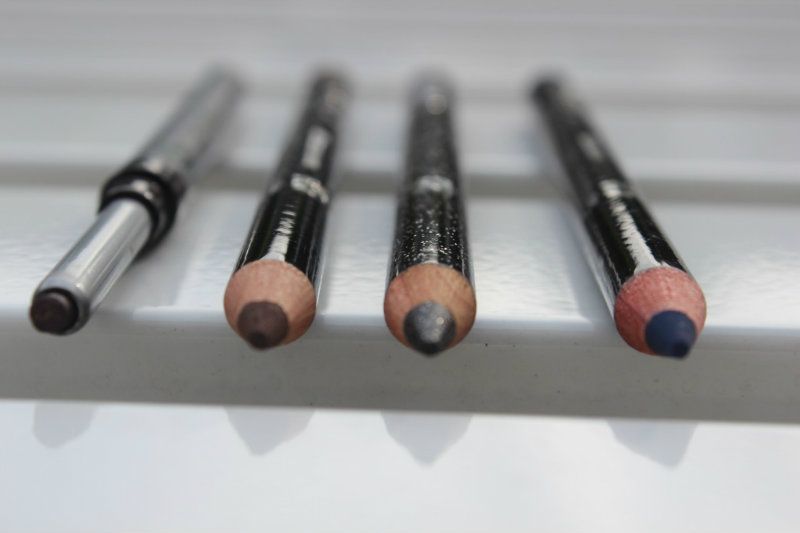 (L-R): Plum, Chocolate Brown, Showtime Glitter Black, Blue
For lips, NYC have a zillion amazing shades in varied finishes. However, to complement the smokey, sultry eyes and nails, they have selected the Ultra Last Lipstick in Peach Fizz*. This is an orange-peach with just a hint of gold shimmer running through it. The formula is good and the packaging is, thankfully, in the same vein as the eyeshadow quads. I do think the brand's lipstick range is worth checking out for those occasions when you just need a lipstick for one event or one outfit and don't want to spend the big bucks. At €2.49, this won't leave you destitute like some brands I can think of! Swatch
here
.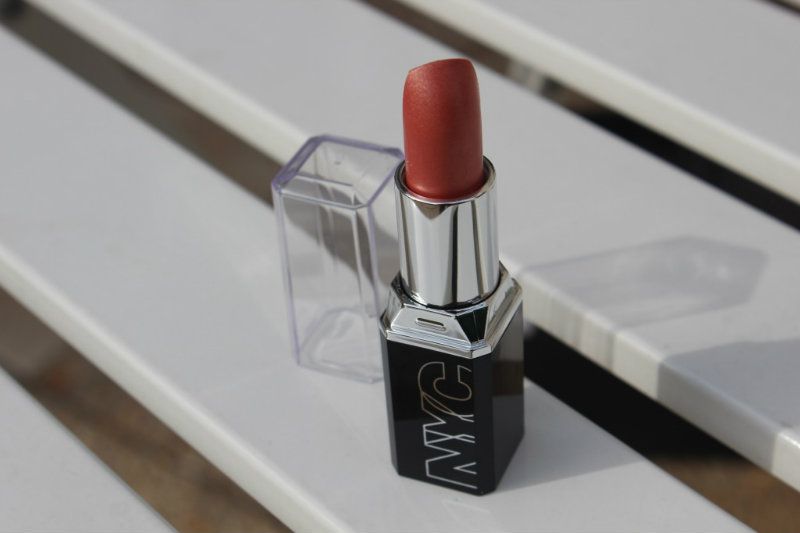 Peach Fizz
There is a lot more to the A/W edit from the budget brand than I have time or words to go into detail on. For face there is the Smooth Skin Perfecting Primer (€3.49) which promises to improve skin's texture, minimise pores and reduce shine. There is also the Smooth Skin Mousse Foundation (€3.99) which looks very similar to the popular Maybelline mousse foundations so, some of you may like this as a cheaper alternative. There are only three shades available however which may prove problematic for those very pale or very dark skinned people.