This post is part of my Summer Lovin' series. I'll be posting every Monday in the run-up to my own holidays in August and will be covering some of my own summer favourites!
I started doing these Summer Lovin' posts as both an outlet for my own excitement and a guide to summer-friendly products and trends as well as travelling tips and tricks for anyone who is interested. Writing that first summer-inspired post, there was still a good three months until I would embark on the trip of my life (so far!) and it didn't seem like a reality.
However, now there is a mere 7 days to go until we board that plane and I am so excited I can barely contain myself! So, I figured, what better time to do a post on my travelling essentials, that is the beauty products which I rely on during longhaul flights!
The flight time to New York is long enough at around six hours so, you're going to want to take care of your skin when in an environment that is so heavily air conditioned and full of recycled air. Even the oiliest of skins are prone to in-flight dehydration so, it's prudent of everyone (
men too!
) to take a chunk of that long flight to prep and protect your skin! And, sure, if nothing else, it is the perfect opportunity to take the time to give yourself an uninterrupted pamper!
I probably won't wear any make-up to the airport save for a slick of mascara and my eyebrows filled-in so, the first thing I will do after take-off is douse a cotton pad in some Vichy Micellar Solution (in a Muji spray bottle) and cleanse my skin.
I will then use the Caudalie Beauty Elixir to tone my skin and prep it for some heavy duty moisturisation. I don't think this is the best toner out there but, it will do the job and its great to have as a relaxation aid if you, like me, get a bit nervous on flights!
With the skin being so thin and delicate around the eye area, this will be the first part of your face to tighten with the telltale signs of dehydration so, a good, heavy-duty eye cream will serve you well on a plane. I'm bringing my current favourite, Weleda Wild Rose Soothing Eye Cream, and will probably slather this on pretty thickly around the eye area to protect the skin and, with any luck, work on those dark circles!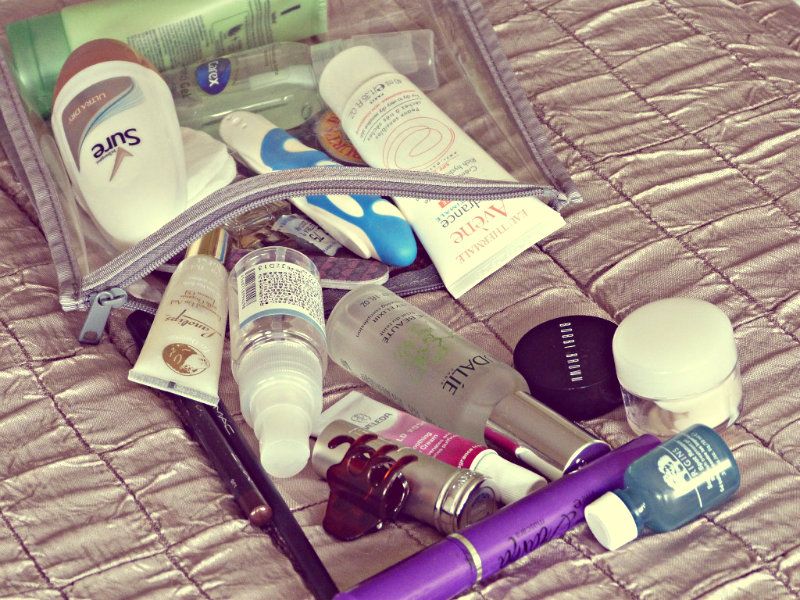 With the delicate eye area taken care of, it's time to focus on the rest of the face. I recommend an intensely hydrating masque that you can apply a thick layer of a leave to soak in for the duration of the flight. I know Liz Earle do one as do many other brand but, I'll be taking a Muji pot full of my Holy Grail Origins Drink Up Mask to keep my skin totally hydrated instead of dry, grey and tired which always happens when I fly.
Finally, care for your lips with a good strong balm. I really recommend both the Avène Cold Cream and Lanolips for a really intense moisturisation but, if you'd like a dash of colour, the Korres Lip Butter sticks are a great option.
That's really it for my in-flight routine. I'll also bring a hand and nail cream and, depending on my skin at the time, maybe the Origins Spot Treatment Gel if necessary. I'll throw in some concealer, mascara, liner and lipstick to do a quick touch up before we land but, that's about the height of my make-up. All of the above fits comfortably into a Muji clear bag which is airline-approved size and really durable so, it should last quite a while and there'll be no mad dash for a Ziploc when you're next going away!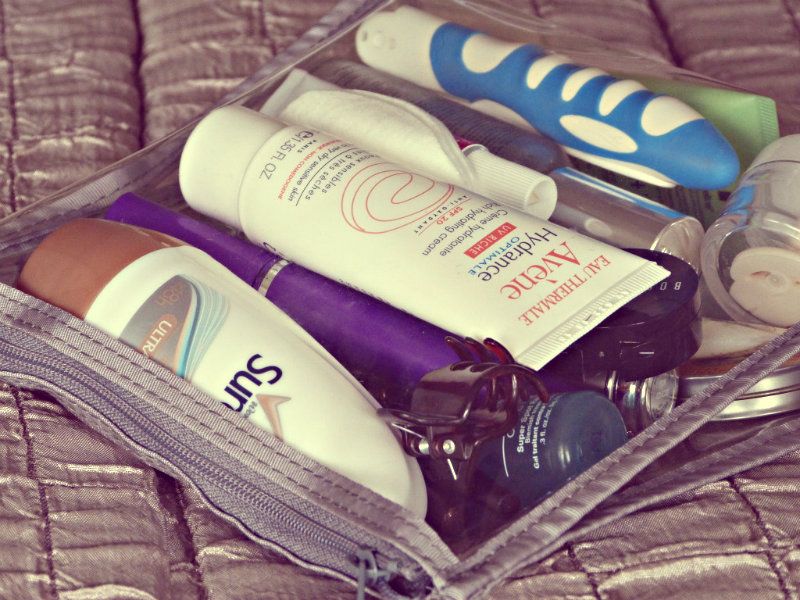 I think it goes without saying that I wouldn't be this high-maintenance on a shorter flight. However, when on a plane for any decent length of time, you're going to want to take preventative measures against the recycled air. It may seem really vain to give yourself an in-air facial but, if you care for your skin accordingly come sun, rain or snow, there is no reason why you shouldn't help it along when on an airplane too! I'm only bringing products on the plane which I would have brought on holiday regardless so, it is no extra effort to pop them in your handbag instead of a suitcase!
There are loads of amazing videos on YouTube which show what people bring on longhaul flights but, two which really standout to me are this one from Lisa Eldridge and this one from Simone Loves MakeUp! Other handy things to remember to bring on the airplane include spare contact lenses, eye drops, hand sanitizer, a toothbrush (which is what the blue and white, vaguely phallic-shaped thing is!) wipes and tissues!
Do you have any in-flight "must-haves"?!