This post is part of my Summer Lovin' series. I'll be posting every Monday in the run-up to my own holidays in August and will be covering some of my own summer favourites!
This is it! Today I'm off on my travels for a much-needed holiday and I cannot wait! So, what better way to round-up these Summer Lovin' posts and send me on my way than a sneak peek into my holiday make-up bag!
Now, as we are going to New York City before our cruise, I plan on buying a fair whack of cosmetics so, with that in mind, I tried to condense my make-up bag as much as possible without leaving out any of my must-have products. If you're not a make-up obsessive, you will probably think this is still too much but, if you are a fellow cosmetics fiend, hopefully you'll understand how hard it is to whittle everything down!
Base
La Roche-Posay Effaclar Mat - The only primer you need when dealing with hot, sticky, muggy, sweaty weather. Not only does it keep skin hydrated but, it also works to smooth pores, even skin texture and give skin a matte appearance.
Origins VitaZing - This hydrating moisturiser with a slight tint is perfect for during the day on holiday to even out skintone and give a little glow. (Full review here)
Chanel Lift Lumiére - I had to borrow this from my mam as I got a spray tan done and, being ghostly pale naturally, I didn't have a foundation the right shade! I only really need this for more formal dinners and in case I have a bad skin day.
Bobbi Brown Creamy Concealer/Corrector - I never would have thought that a concealer would make it onto my "Can't Live Without List" but, here we are. (Full review here)
Laura Mercier Loose Mineral Powder Foundation - A Holy Grail product for both Dee and I, this will be my go-to foundation and powder most of the time while I'm away as it is light yet, good coverage and does well in the heat. (Full review here)
Chanel Soleil Tan de Chanel - Intended as a bronzing make-up base, this Chanel mousse is a holiday staple for bloggers everywhere. Thanks to a great tip from my buddy Simone, I have been using this daily as a bronzer with my MAC 182 kabuki brush but, when abroad and with a bit of colour, I can see myself using it all over to add to whatever sunkissed glow I get. (Full review here)
To save space and to avoid bringing oodles of unnecessary make-up, I packed my Z Palette with all of the blush and eyeshadow I am likely to need while away. (Full review here)
Eyes
MAC Paint Pot "Painterly" - An absolute staple for any make-up collection, this flesh-toned, matte eyeshadow base will work perfectly to hold my make-up in place while also intensifying colours.
MAC Paint Pot "Indianwood" - Pretty much the same spiel as above but, I love using this with any deep bronze, gold and brown eyeshadows to add a bit more dimension than Painterly gives.
MAC Eye Kohl "Teddy" - Nothing too interesting but, this bronze-brown eye liner is a staple in my make-up bag.
MAC Eyebrow Pencil "Fling" - While I love many brow products, Fling is the easiest to travel with and the quickest to use for a perfectly defined brow.
Avon Supershock Gel Eyeliner Pencil - My all-time favourite black eye liner.
Sleek Ink Pot "Dominatrix" - One of the only gel eyeliners I can actually use!
Max Factor False Lash Effect 24/7 - I ADORE this mascara. The fact that it is so long-wearing and completely waterproof makes it perfect for holiday - just remember to have a heavy-duty remover to hand when it comes to bedtime! (Full review here)
MAC Eyeshadow Quad - Oops. I just realised as I was writing this post that I forgot my ultimate favourite eyeshadow quad so, this is a sneaky last minute addition to the suitcase! If you're starting out a MAC collection or just want some neutral shades that look amazing together, I definitely recommend this foursome of Crystal Avalanche, Vanilla, Quarry and Smut.
Lips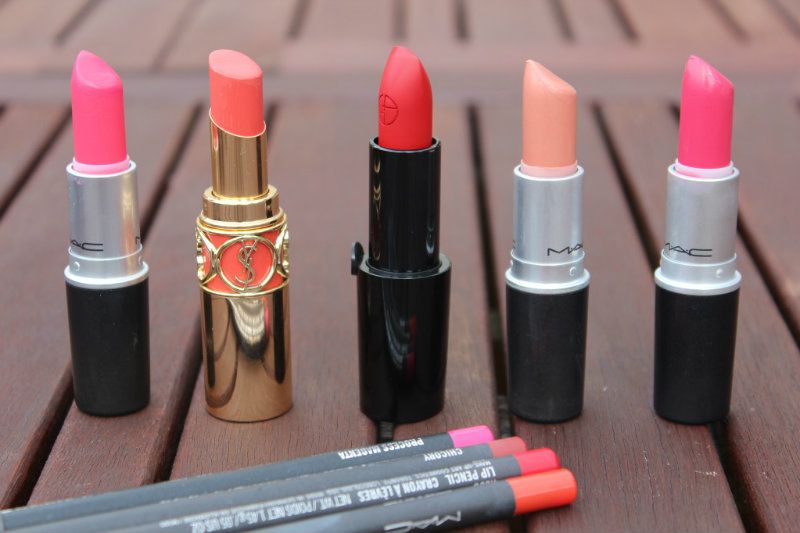 MAC Lipstick "Impassioned"
YSL Rouge Volupte "Orange Shiver"
Giorgio Armani Rouge d'Armani "Rouge"
MAC Lipstick "Shy Girl"
MAC Lipstick "Lustering"
MAC Chromagraphic Liner "Process Magenta"
MAC Lip Liner "Chicory"
MAC Lip Liner "Redd"
MAC Pro Longwear Lip Pencil "What A Blast!"