As beauty addicts, there is nothing we love more than wiling away the hours in department store beauty halls or reading up on products online. While shopping for make-up can be quite clear cut as all you really need to know is whether you are warm-toned or cool-toned and then choose the shades that best compliment this undertone, shopping for perfume is a whole different, decidedly more confusing, kettle of fish!
With over 1000 different fragrances on offer, House of Fraser have a few key tips to make choosing the perfect scent a whole lot easier. We've selected a few of our favourite fragrance buying tips from House of Fraser, and thrown in a couple of our own too, to guide you (and ourselves!) in the right direction next time you are looking to change up your scent!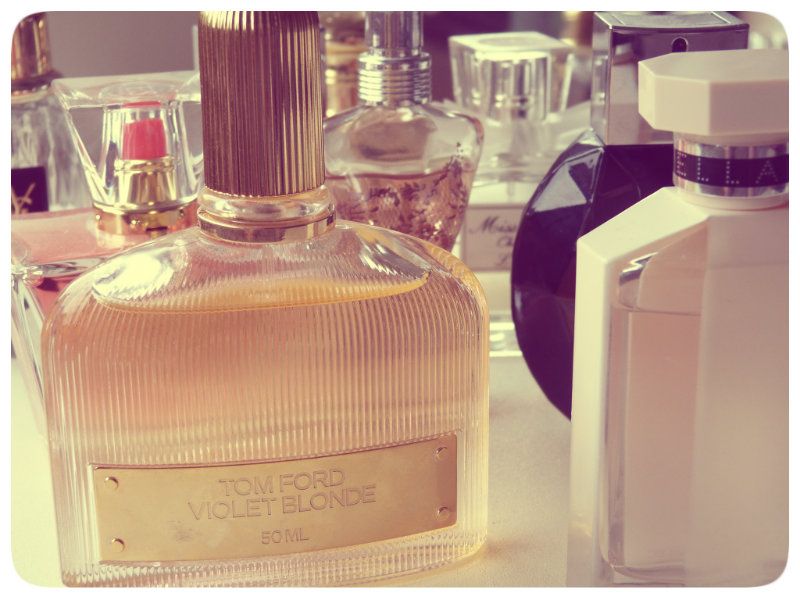 It's incredibly important to keep your body chemistry in mind. Fragrances smell different on everyone once they settle into the skin and react with your chemistry so, what works for a friend may not work in the same way for you. Even if you fall in love with a friend's signature scent, try it out for a few hours before investing.
Like a piece of music, perfumes are composed of a mixture of notes. Top notes are the strongest and are what we instantly pick up on when sniffing a fragrance; middle notes make up the heart of the perfume and emerge as the stronger top notes begin to fade; base notes give the overall perfume depth and come to the fore as the middle notes dissipate. Base notes influence the scent of both the top and middle notes and can take up to 30 minutes to come through so, bearing this in mind, it is best to spritz yourself with a perfume and then walk off, allowing the notes to develop fully before you buy as the perfume can smell entirely different once all of the notes have developed.
While taking a walk around a department store after spraying a perfume allows the notes to develop, it also gives you a chance to see how your body and skin reacts to the fragrance. For instance, you may suffer an allergic reaction to one ingredient or the particular combination of notes in that perfume. For instance, Dee discovered this way that her skin reacted badly to Issey Miyake fragrances and now knows to steer clear of them.
Referring back to the first point on chemistry, you will never discover the perfect perfume by smelling it off a card. Rather, you should always apply the scent directly to the skin. As the perfume mingles with your own chemistry and warms on the skin, different notes will emerge that won't be as clear from a spritz on a card. This could be the difference between loving or hating a fragrance or, as Sinéad has learnt the hard way, being made entirely nauseous by the scent of a particular perfume on her own skin!
Despite the age-old tale of spritzing one wrist and rubbing the scent onto the other, we're supposedly not to do this when testing fragrances. It is suggested that rubbing the wrists together flattens the individual notes in the perfume and it doesn't develop as it should. Rather, one small dot of perfume on each wrist ensures that you get the full benefit of the fragrance and you can decide if you like it for what it actually is.
Once you decide on your perfect perfume, you can prolong the scent by spritzing it in your hair or on a scarf or clothing item you are wearing. To intensify the scent, use the corresponding body cream, shower gel and/or deodorant that most fragrance brands offer these days (and often in amazing value gift sets along with the perfume!). Happy Spritzing!
Each month, House of Fraser choose a fragrance brand to promote and this month that brand is one of our all-time favourites, French powerhouse Clarins. Click here to buy Clarins perfume from House of Fraser*.
*We do not benefit from any sales made through this link.
NB: In order to finance the day-to-day runnings of the blog, we have decided to accept select Sponsored Posts. 100% of the proceeds made from these posts will be put straight back into the blog in order to fund things like layout design, giveaways etc. Our loyalty remains with you, the reader, and we will only ever agree to Sponsored Posts which we write ourselves, are in-keeping with the tone of the blog and are in no way influenced or directed by the brand in question. Sponsored Posts will always be noted as such and will never replace our usual beauty content. To see today's beauty post, click here. For more information on our Sponsored Post policy, please click here.